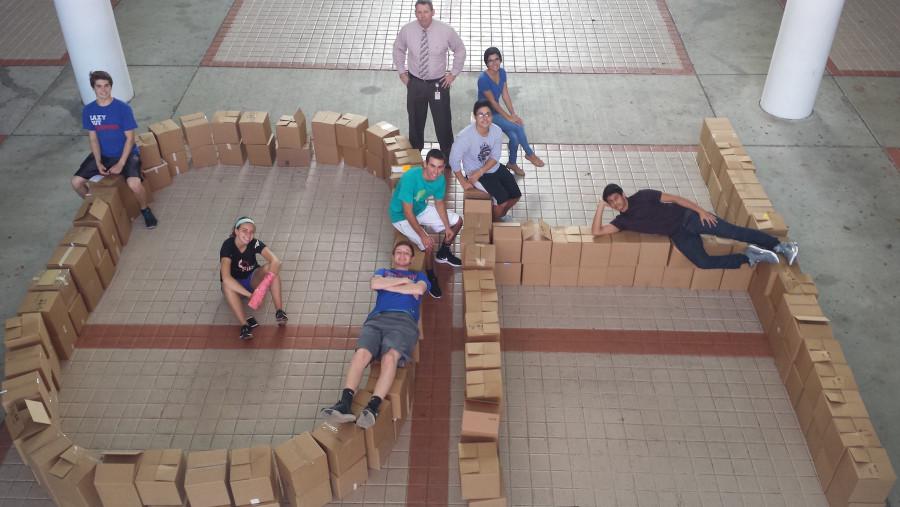 Contributing to Boca Helping Hands (BHH) Thanksgiving Box Brigade, Olympic Heights impressively collected 370 boxes of food over a three week period which ended November 17. When all was said and done, OH provided more than one-sixth of BHH's projected need for this year's Thanksgiving Drive.
Hoping to surpass last year's donation of 190 baskets, OH's initial goal was to donate 225 boxes. With an outpouring of support this year, that goal was quickly exceeded.
In addition to the students and their families, a generous contribution came from several mini-drives led by Ms. Gibiin, Ms. Hamilton, Ms. McCabe, Ms. Qian, Colonel Ingersol, Ms. Lucia, Ms. Lehan, Ms. Borah, Ms. Needleman, Ms. Tavoletti, and Mr. Wells and the Wells Foundation.
When OH first became involved with BHH's Thanksgiving Drive several years ago, OH's contributions solely came from National Honor Society (NHS). When the Olympians Advanced Placement Academy (OAPA) was established in the fall of 2012, English teacher and NHS sponsor Ms. LeGrand decided to team up with OAPA Coordinator Ms. Lawrence to substantially increase the school's donation. With this year being the first year with four OAPA classes, the donations increased significantly. Additionally Lawrence opened up the Thanksgiving Drive to the entire school.
Mr. Krupa's seventh period American History Honors class provided tremendous help in bringing the 370 boxes to the school parking lot and loading the truck for BHH. Seniors Alec Fisher, Nisreen Shehadeh, Jared Spector, Eric Jacobowitz, Taylor Doherty, Mark Rivera, and Muhammad Shaheer also contributed with this effort.