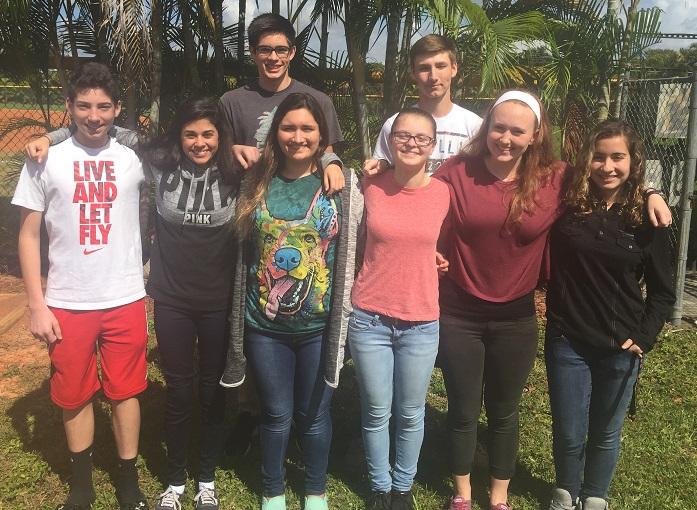 On February 13th and 14th, Olympic Heights engineering students participated in CodeDay Boca Raton, an all-day event hosted by the Digital Media Arts College (DMAC) at their local campus. The event was open to computer programmers in high school where they were given a unique opportunity to collaborate on innovative projects.
CodeDay occurs nationwide at three times a year (in November, February and May) in 38 cities simultaneously. StudentRND, a nonprofit organization, created CodeDay in an effort to spark interest in the STEM field and particularly encourage racial minority and female participation.
The OH engineering academy was well represented at the event. Sophomores Andrew Marino, Adam Will, Oliver Casey, Isabella Zuniga, Kaylee Cunningham and Nicole Freites in addition to junior Madison Flynn and senior Desiray Marin comprised nearly half of all participants.
The students in attendance were invited to pitch ideas for new games, apps and websites at the onset of the event on Saturday at noon and were set to work for the next 24 hours. OH's various teams endeavored on making multiple platform computer games, a website designed especially for tracking swimmer times and an educational game app.
However, the experience was far from "all work, no play." The CodeDay staff prepared interactive workshops, fun group activities and friendly competitions. As the night wore on, students relied heavily on caffeine-power, a circumstance which lent itself to a heated Red Bull can stacking contest.
Another highlight of the night for students was a "Twitter war" between the numerous CodeDay locations, where participants from cities including Los Angeles and Chicago connected via social media, each vying for the most attention on the twitter feed for #CodeDay.
In conjunction with being an entertaining and educational opportunity for OH STEM students, CodeDay proved to be a platform for OH engineers to shine. All of the OH representatives produced remarkable products, given their experience and time constraint.
Most notable, though, was sophomore Kaylee Cunningham who won the CodeDay award for Best Application for her app, "Animal Graphing." It is a math game designed for young students who are just setting out on developing graphing skills. The app disguises graphing practice as a challenge to match an animal with its habitat by tracing a path along a graphed function. Cunningham was also recognized for her coding prowess as she won the Congressional App Challenge with fellow OH engineering student Jared Spector.
Also, engineering teacher Ms. Nirmala (Miss Nimmi) Arunachalam could not be more thrilled with her students' progress. She explains that coding and computer science is a new endeavor at OH, and programs like CodeDay can really bolster her students' education. "I'm hoping that the kids who go to events like this and get some experience will go on, and it will show up in our classrooms as new skills learned," asserts Miss Nimmi.
Such growth in the engineering program with respect to coding is likely to bode well for the academy, especially given that they will be embarking on AP Computer Science next school year.