NEWS ANALYSIS: Venezuela in Crisis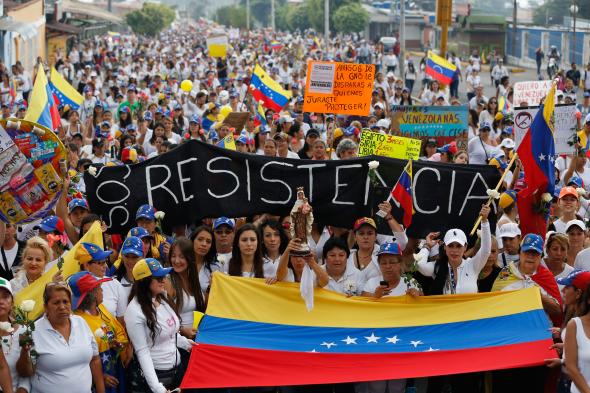 Hang on for a minute...we're trying to find some more stories you might like.
The swelling pimple on the face of South America, the United Socialist Party of Venezuela (PSUV) is about to pop. After years of discontent with the party formed by Hugo Chavez, the country has erupted into violent protests and it seems it can only get worse. The promises Chavez made to the people of Venezuela have gone unanswered, and the party he left behind is crumbling because of it. So, what happened?
The beginning of this turmoil started back in 1992, when Hugo Chavez led a failed coup d'état against the Democratic Action government. This attempt landed Chavez in prison, yet he was pardoned in 1994 by president Rafael Caldera. From 1994 to 1998, Chavez toured Venezuela and neighboring countries spreading his message of democratic socialism and ended up winning the 1998 election.
As soon as he was elected, Chavez made quick work of abolishing democracy. He did his best to remove the judiciary and congressional systems, and when that failed, he appointed his comrades into those positions.
His first major move was to set aside $21 million to repair roads and hospitals. He offered free medical care and vaccinations, along with lowering the cost of food. Chavez created a new constitution in 1999, firmly establishing the beliefs of education, a civilian-military unity, social justice and national sovereignty.
He then raised taxes and fraudulently expropriated all oil companies in the country. However, this caused Venezuela's GDP to fall by 27% in 2003, costing the oil industry over $13 billion. This lead to the government devaluing Venezuelan currency (the bolivar) multiple times to stave off bankruptcy.
Chavez was in office from 1999 until 2013, when he died from cancer. While many of the policies Chavez employed seemed to work on paper, he butchered the middle and upper classes and nationalized countless companies. His policy's effectiveness fluctuated with the price of oil, the main export of Venezuela. Chavez's economy was a house of cards held up by the record oil prices while agriculture and industry were crushed by state confiscation of property.  Additionally, he admitted that much of his government's philosophies were derived from Marxism.
That brings us to today, where, under the presidency of Nicolas Maduro, the country is as volatile as it has been since the rise of Chavez.
Venezuela's economy is a mess. The inflation rate in Venezuela is 100%, the highest rate in the world. The social policies enacted by Maduro and Chavez cannot function due to low oil prices. There are shortages of food: most people spend their days bouncing from line to line to gain necessities.
More than 70% of Venezuelans do not trust their government. Massive, violent protests have killed over 100 people and have shut down many of the programs Venezuelans need to survive. The country is extremely divided between left Chavistas, those who believe in Chavez's movement, and literally everyone else. The current government accuses the opposition of trying to exploit the poor to help themselves. Conversely, the opposition argues that Maduro has been power-hoarding by self-appointing Supreme Court justices and creating a Constituent Assembly to circumnavigate the opposition-controlled legislature.
While the current government is holding on for dear life, the opposition has gained much traction and their demands are clearly outlined. They want to have general elections this year, they want the release of all political prisoners, they want an easier way to get necessities into Venezuela, and they want a more neoliberal economic framework.
The current government is crumbling. The military, seen as the largest ally to Maduro, has had multiple deserters, including one helicopter pilot who attacked the Supreme Court building with his armed copter and dropped grenades all around the building.
The current government is becoming a dictatorship. Maduro is seemingly sinking into the dictatorship his critics have called him out on. Speaking of those critics, many of them are "disappearing," presumably being taken as political prisoner by the government.
The newly formed Constituent Assembly unsurprisingly granted itself the power to "legislate over matters directly related to guaranteeing peace, security and sovereignty." This nullifies the opposition controlled legislature, and solidifies power in the hands of Maduro and the PSUV. The creation of the Constituent Assembly legally adds two years onto Maduro's term while they work to rewrite the constitution, presumably to give itself and Maduro more power. The question, however, is whether the government will be able to maintain law and order for that long.
So, what happened? A democratic socialist country with a charismatic, yet ineffective, leader has turned into a dictatorship with an uncharismatic and ineffective leader, with the government preventing free elections, threatening the opposition with jail sentences and kidnappings, and planning to dismantle and rebuild the foundation of the country in two years to give itself power. Venezuela is a divided country, half loyal to the government, and half loyal to its destruction.
Venezuela's current government was built on the back of Chavez, and that government is becoming what Chavez hated most as evidenced in his words: "The only way to save the world is through…socialism that exists within democracy; there is no dictatorship here."