OH's Shane Ellis and Chris Dascher to Play in Florida/Georgia All-Star Game; Join Five Other Lions in PBC All-Star Game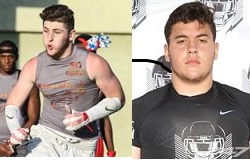 Hang on for a minute...we're trying to find some more stories you might like.
The honors keep rolling in for the Olympic Heights football team as two Lions have been selected to represent the Sunshine State in the Sixth Annual Florida vs. Georgia All-Star Game and seven players have been selected to play in the Palm Beach County All-Star game.
Tight end Shane Ellis and defensive end/linebacker Chris Dascher will be traveling to Riverdale, Georgia, just south of Atlanta, to play on the Florida all-star team against the Georgia all-star team on Jan. 6. OH coaches Bee Alfred and Quintin Betancur will be on the Florida coaching staff at the game which will be played at Southern Crescent Stadium at 2:00 p.m.
Ellis and Dascher are still considering scholarship offers from various colleges and universities. Eliis is considering offers from Akron, Valdosta State, Stetson, and Florida Institute of Technology. Dascher has received offers from Stetson, Marist, Univ. of Massachusetts, and Florida Institute of Technology.
One week after the Florida/Georgia All-Star Game, Ellis and Dascher will be joining five other players representing OH in the 2017-2018 Lytal, Reiter, Smith, Ivey, and Fronrath Law Firm All-Star game which features the best senior players in Palm Beach County.
In addition to Ellis and Dascher, the American team, being coached by Lions head coach Baz Alfred and his staff, features OH players quarterback James Micioni, running back Reis Clark, wide receiver Michael Ippolito, defensive lineman Sebastian Bruno, and defensive back Spencer Racine.
The Palm Beach All-Star game will be played on January 13 at John I. Leonard High School. Kickoff is at 1:00 p.m. Admission is $10.