Defense Shines As Girls Soccer Downs Boca Christian 2-0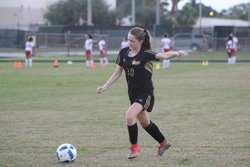 Hang on for a minute...we're trying to find some more stories you might like.
It's hard to win when you don't score, and in soccer it's hard to score when you don't get off a single shot on goal.
That was the case for Boca Raton Christian when facing the Olympic Heights girls' soccer team on Monday, Jan. 8, as the OH defense shut down the Blazers 2-0. The win gives the Lions an important bounce-back win after a 5-0 loss to Boca Raton on Saturday, Jan. 6, and runs the team's record to an impressive 12-3-2.
The Lions missed two scoring opportunities in the first half as a Danielle Smith shot on goal hit the post just before the water break and Hannah Nemery was denied on a point blank shot on an amazing save to keep the score tied at zero through the first half.
However, freshman Kaley Tanis scored two goals in the first four minutes of the second half with assists from Haley Jacobowitz and Sydney Durrance. Tanis's first goal came on a shot that curled away from the keeper and hit the side netting for the 1-0 lead. Tanis's second goal came shortly after a Skylar Deutch shot hit the post following a corner kick.
Boca Christian continually tried to mount attacks but to no avail as defenders Katy Cierpik, Ava Trachenberg, Sara Pinheiro and Makayla Comstock did not allow any shots on goal. Goalkeeper Victoria Barreto was forced out of her penalty box only twice to clear balls, collecting her 13th shutout of the season.
"Despite coming off of vacation, we looked good in some aspects of the game," coach Jim Cappello said after the win.  "We lacked execution in the final third, and need to play with more intensity if we are to do well in the final weeks to come. This was a great way to come back after playing Boca on Saturday, but now we must focus on Fort Lauderdale."
The Fort Lauderdale Flying L's visit OH on Wednesday, Jan. 10, with the girls playing at 6:00 p.m and the boys playing at 8:00 p.m.