OH Girls Soccer focused on goal of winning a district title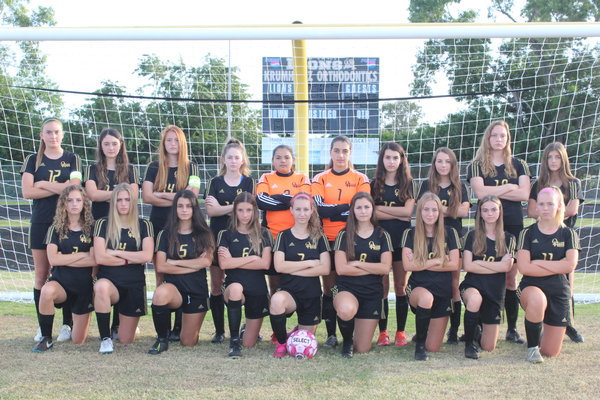 It's that time of year when soccer season is back with a vengeance.  And the Olympic Heights girls soccer team is looking to wreak some of that vengeance by winning a district and possibly a regional championship.
Last year, the girls varsity soccer placed second in the district and this season is looking to improve on that impressive finish. This year they are hoping for first in district as well as placing in the regionals. 
The new season got off to a good start at the annual Cappello Jamboree, hosted by OH, with a 3-0 win over Somerset Canyon Academy and a 4-0 win over Palm Beach Lakes. 
Seven games into the 2019-2020 season, the Lady Lions are 5-2 with their two losses being one-goal differentials. The team lost their regular season opener to Spanish River 1-0 on Nov. 11, then rattled off four straight wins by a combined score 0f 29-0. 
A 3-2 loss to Seminole Ridge on Nov. 22 sent the Lady Lions into the long Thanksgiving Break eager to get back on the field to atone for that loss, which they did last night with 6-1 win over John I Leonard.
Junior forward Sydney Durrance leads the team with seven goals scored to date, and junior midfielder Alyssa Smith leads the team in assists with seven. Freshman goalkeeper Olivia Calnek has poste four shutouts in six starts with 14 saves against three goals allowed, one of which was on a penalty kick.
Head Coach Jim Cappello is excited about this season's team featuring a blend of promising freshmen and his hard-working returning players. He expects the team to reach its goal of a district championship "if all the girls work and play as a team" and "executes what they need to, follow through, and practice the basics."
Cappello points to West Boca and Seminole Ridge as his team's toughest opponents and biggest rivals. Senior team captain Lindsey Poloskey feels very confident going into the new season with the addition of new talent which should surprise the opponents they will face. "My personal goal with this team is to beat our biggest rival West Boca," Poloskey comments.
Kaity Cirerpik, a junior on the team who has played on the varsity team for the past two years looks at this season a bit differently. She is excited about playing new teams on the schedule, but at the same time she is nervous about the unknown competition. Cirerpik also has her sights set on a district title.
An interesting side story to this year's OH girls soccer squad is junior forward Ariana Steighner's return to the team after tearing her ACL in December of last season as the team was putting on an exhibition for the filming of a WPEC Channel 12 segment featuring Steighner as the area "Athlete of The Week." 
It was a very emotional time for Steighner as she was one of the team leaders and in that one misstep that wasn't in a game or even a practice, she found herself in surgery and facing five months of physical therapy.
However, Steighner never gave up hope of returning to the field for this season and pushed herself hard to achieve that goal. "Even though it was a tough process to go through and an injury that would take hard work in order to get back to playing sports again, I have developed a perspective that has benefitted me, not only as an athlete but as a person," Steighner explains.
Cappello is very happy to have Steighner back with the team, although he has been taking a cautious approach to her return. She started the season on the junior varsity team, scoring a goal in the first four minutes of the season opening match against Spanish River.  Now, Steighner is back on the varsity team, having scored one goal and posting one assist in three games played.
  If the first few weeks of the season are any indication as to what is to come, this may well be the season the Lions girls soccer team achieves their goal of winning a district championship and more. 
The Lady Lions soccer team will next play at Saint John Paul II Academy on Thursday, Dec. 5 at 6:00 p.m.
Leave a Comment