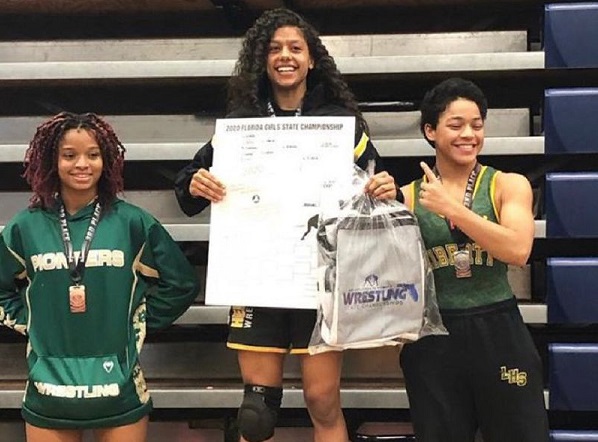 Every high school athlete dreams of winning a state championship. However, this accomplishment is only awarded to one team or one competitor per state classification. Winning a state championship is difficult. Winning two state championships is even more difficult. Winner two consecutive state championships is even that much more difficult. However, Olympic Heights own Leidaly Rivera did just that when she won her second consecutive state championship in girls wrestling on Feb. 15 at Dr. Phillips High in Kissimmee, Fla. 
What makes Rivera's feat even more amazing is that she has only been involved in wrestling  three years, beginning in her sophomore year of high school. She was recruited by OH head wrestling coach Boomer Mears in the hallways during school, and her brother had to convince her to give the sport a try. 
Rivera has committed herself to wrestling, practicing "two to three hours everyday." She broke down her practice regiment, explaining, "I begin with warmups and then move on to calisthenics, which is running and gymnastics. Takedown practice is next and then live practice with an opponent." She believes her practice is what has propelled her to these newfound heights in the wrestling world. Her motto of sorts is "Practice makes permanent."
Rivera explained that her first state title was great preparation for the second. "The second was a tougher match but winning the first was more difficult," Rivera explained. "I felt more prepared and more confident [in the second state championship]." When asked of her emotions after the second title, Rivera claims "I honestly didn't know how to feel. I was just ready for Nationals." 
"She put in the time, did the little things and prepared for all the success she had on the mat," Mears commented.  "I can't wait to see how she does at the next level in college."
Although a multi-sport athlete, also playing flag football and weightlifting, Rivera is settled on wrestling in college at either Grandview University or Limestone College. Rivera has big plans for her future and hopes to one day compete in the Olympics.