NCAA football is back, but with some changes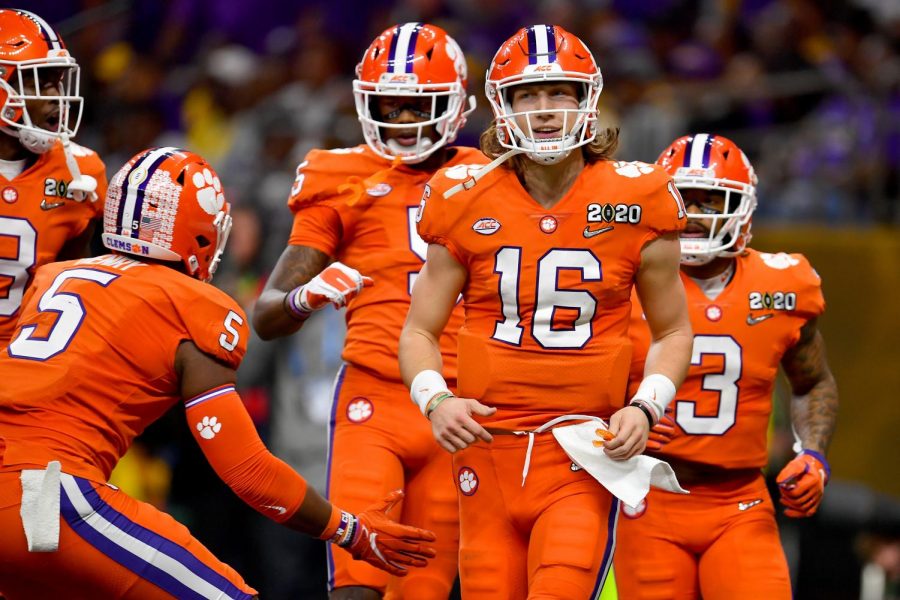 College football season is finally underway. Fans have been waiting all year to watch their favorite team in action. But this season, it's much different. All the college football teams that are playing have decided to mainly go forward with an in conference-only schedule. 
In the Power-5 Conferences, the ACC will play 10 conference games and one non-conference game. The Big 12 has decided to play nine conference games and one non-conference game. 
The Big Ten originally announced a postponement of the fall football season with hopes of playing in the spring. But, at the latest Big Ten board meeting it was decided by an unanimous vote to start the season on Oct. 24, according to the Milwaukee Journal Sentinel. 
The Pac-12 has chosen to postpone their season with the hopes of playing in early 2021, which most likely means no bowl games or college football playoffs for the Pac-12 teams. The SEC started its 10 conference games only schedule on Sept. 26. 
The other two conferences that have decided to postpone their seasons are the MAC and the Mountain West, who are both a part of the Group of Five conferences. Both of these conferences are looking at a spring season, which will be very different especially with the majority of teams in the Group of Five playing their seasons this fall. 
The American Athletic Conference, Sun Belt, and Conference USA will play eight conference games and up to possibly four non-conference games. At least with this type of schedule, each of these conferences will still be able to hold a conference championship, and especially for the Group of 5 Conferences, this is important because teams in these conferences have a very slim chance of making it to the college football playoffs.
A big change this year was that one of the best teams in the nation, Notre Dame, joined the ACC conference for the 2020-2021 season. Notre Dame has always been what is known as an independent, which means that they were not a part of any conference. But since schools have decided to mostly do in-conference play due to the pandemic, it was in Notre Dame's best interest to join a conference for this college football season. 
On the Paul Finebaum Show, Notre Dame head coach Brain Kelly said "'[Notre Dame athletic director] Jack Swarbrick, obviously, and with our pre-existing relationship with the ACC, was able to put something together with [ACC] Commissioner [John] Swofford. We're very grateful for the opportunity, but it is a little bit different. I will say this, guys are excited because it affords them an opportunity to play for an ACC Championship, whereas before, every year, we virtually have to be perfect and perfection is hard to be.''' Giving a team like Notre Dame the chance to play in the ACC will mean that there will be more competition than ever before in this conference. 
The ACC features the Clemson Tigers, currently ranked as the number one team in the country, led by quarterback Trevor Lawrence and running back Travis Etienne. As of right now, pollsters are giving Clemson the best odds to win it all this year. Then, we have this young North Carolina team, where quarterback Sam Howell threw 35 passing touchdowns last season to set an ACC and FBS single-season record as a true freshman. Behind Mack Brown as the North Carolina Head Coach, this team will only get better and they are a team to keep an eye on this year.
With Notre Dame in the conference this season, starting quarterback Ian Book is looking to end his college career on a high note. And the Miami Hurricanes and their high-powered offense are looking like a real threat this season after posting a 3-0 start with a 52-10 drubbing of a weak FSU team on Saturday. The Canes will be put to the test, however, when they travel to Clemson for an Oct. 10 showdown with the current top-ranked team in the nation.
As of now, the college football playoffs are looking like they will still be happening this season, even though some teams might not have the chance to participate. With this newest decision by the Big Ten about starting around Oct. 24, it seems that those teams may be eligible for the playoffs. This is great news for fans of teams in the Big Ten, especially when it was originally announced there would be no fall Big Ten season.