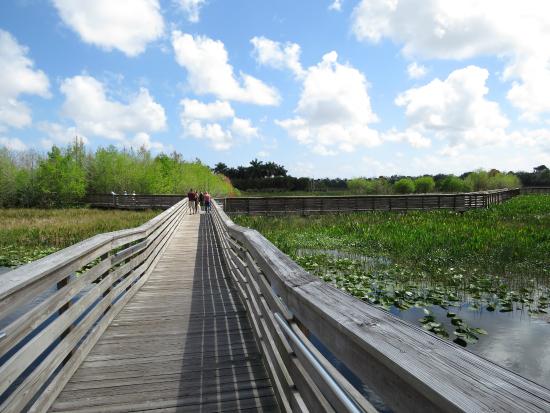 Since the pandemic hit in March of last year, it has been hard for people to find safe things to do other than sitting in their rooms watching Netflix, forgetting that it is important to get out of the house and to do it safely during this trying time. Getting exercise is good for both the mental and physical health. Below are some great activities and places to go to get some famous Florida sunshine.
The weather has been relatively nice recently, providing great conditions for long walks. Daggerwing Nature Center and Green Cay Nature Center have boardwalks and indoor exhibits. In both of these places, one can see all sorts of wildlife. When walking the boardwalk, one will see all types of birds, alligators, turtles, butterflies, and more. The boardwalk at Green Cay is the longer of the two and a great place to see all sorts of wildlife in the wetlands.
Organizing sport games, such as volleyball, with family or friends is a great way to get exercise while still staying safe and enjoying the sunshine. Getting out early will help to get that exercise in before the famous Florida heat takes over. 
A great place to go play is Burt Aaronson South County Park has soccer and baseball fields, basketball courts, as well as both concrete and sand volleyball courts. This is a very popular destination for many Olympic Heights students and others from around Boca Raton. Aside from the athletic sites, there are playgrounds, pavilions, picnic tables, and lakes. At the lakes, one can boat, jet ski, or fish. The lakes also provide a beautiful setting for taking in the sunset.  
On days when it is nice and warm, there is nothing better than a socially distanced day at the beach. One can even go for those picture perfect moments.  Or for those wanting to cruise on the water and have some cash to spare, there are boat and jet ski rentals available. 
Overall, this pandemic does not seem like it is going anywhere anytime soon, so it is important to find fun outdoor activities to participate in. This is especially important because most kids are still participating in virtual school and therefore they are inside all day, in front of computer screens.
Remember, however, to make sure those in your group are COVID-free and that everyone is wearing a facial covering and social distancing as much as possible.