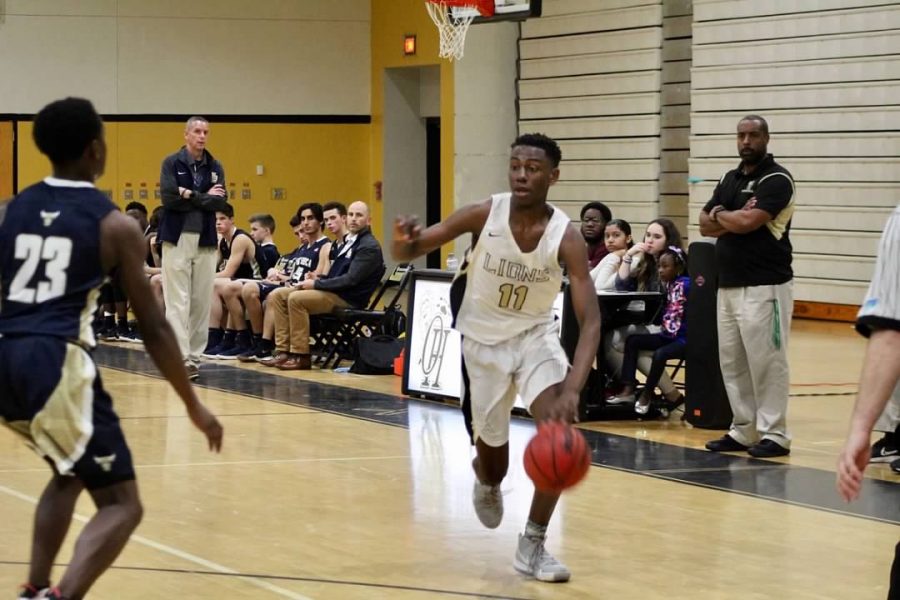 Olympic Heights basketball player Micah Octave has been named the South Florida Sun-Sentinel Palm Beach County large schools boys basketball Player of the Year.
Octave, a senior guard, led the Lions to its best season in 15 years and the team's second regional playoff appearance since 2004 while averaging 20.1 points, 8.3 rebounds, and 4.5 steals per game.
Other OH winter sports athletes making the South Florida Sun-Sentinel Palm Beach County first teams in their respective sports are girls soccer player freshman Cameron Celce and wrestling's sophomore Bill Charles.
Octave, who scored double digit points in all but two of the team's 15 games, was also instrumental in leading the Lions to an undefeated regular season. "I just wanted to do the best that I could do for my team to win," Octave told the Sun-Sentinel. "We won a lot of games this year, and that's all that mattered."
Octave returned to OH for his senior year, where he played his freshman and sophomore seasons, after spending his junior year at Grandview Prep. Octave is currently deciding which of the several collegiate offers to accept in taking his game to the next level.
"He does everything," OH head basketball coach Keith Mackrey told the Sun-Sentinel. 
"Defensively, he's a monster. He just disrupts everybody's offense, and he turns that defense into his offense."
Other OH winter sports athletes gaining recognition from the Sun-Sentinel are:
Boys Basketball 2nd Team: Marc Steig; Honorable Mention: Caleb Mackrey, Nick Peart
Boys Soccer Honorable Mention: Roberto Bontempo, Matthew Labrador, Brett Mazo
Girls Soccer 2nd Team: Alyssa Smith; Honorable Mention: Olivia Calnek, Kaitlyn Cierpik, Devyn Gillman, Michelle Mar, Lindsey Osinoff
Wrestling 2nd Team: Jaafar Abulqab, Pedro Azevedo, Jake Blair, Andrew Moss, Issiah Pierre; Honorable Mention: William Eltringham, Carlos Garcia, Brandon Lehrman, Alain Marsuli, Parker Poloskey