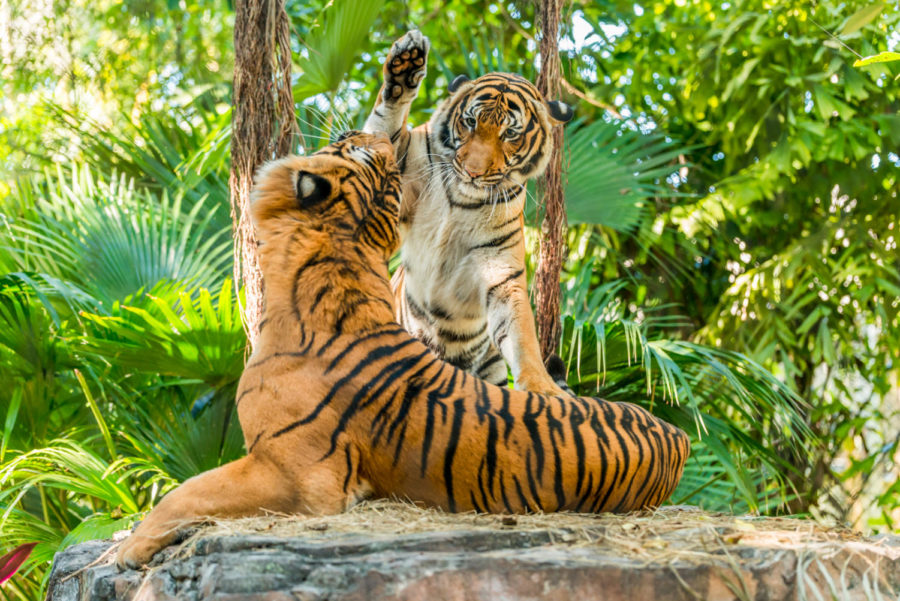 Millions of people visit zoos annually. However, that changed dramatically in the spring of 2020 when the COVID-19 hit when zoos were forced to close to limit the spread of the pandemic. However, many zoos opted to create virtual interactive activities to keep their zoos available in some form to the public. Many zoos used social media to live stream the animals and to post updates on the zoo. Many zoos made use of their own websites and social media pages while conducting virtual fundraisers in order to help cover the high cost of properly caring for their animals with no admission tickets being sold. Overall, zoos were hit hard financially and socially by the pandemic.
 Gradually, as national restrictions were lifted, zoos began to reopen. The zoos put safety restrictions in place in order to protect their visitors and staff. Most zoos in America still have a mask mandate while visiting. Some places allow for the mask to be taken off as long as guests are distanced from other parties, while others require that a mask is worn the entire time. Most also placed extra sanitation stations around their property. 
Many also placed social distancing stickers six feet apart along the pathways around the zoo and its exhibits to act as safe-distancing reminders for patrons as they enjoy the zoo experience. These guidelines are not just important for the visitors and staff, but for the animals as well, as some of them are susceptible to the virus. For example, tigers and other big cats can contract the coronavirus. 
Palm Beach Zoo is the closest zoo to Boca Raton. Resting on 23 acres, it houses over 550 animals. Christine DeMichael, the Director of Marketing and Communications at the Palm Beach Zoo, explained,  "The Palm Beach Zoo & Conservation Society was closed for 75 days, from March 18 to June 5, 2020. During this time we focused on cutting expenses while continuing to care for the animals at our usual high standards. We received an outpouring of support from the community in the form of financial and food donations for the animals."
 These donations throughout the pandemic helped to keep the Palm Beach Zoo afloat. Now that the zoo has reopened, it has the necessary safety precautions in place, allowing for guests to remove masks as long as they are not around other people. However, the zoo does require masks in specific areas such as near certain animal exhibits, indoor areas, walking in the restaurants, and restrooms. There are some attraction closures such as keeper talks and animal visits. One specific attraction that is closed is the Lorikeet Loft bird feeding, which is typically an interactive visitor attraction. 
Another nearby popular zoo/safari park is Lion Country Safari. Lion Country Safari m Loxahatchee, spanning over 600 acres. It features a drive-through safari that can be enjoyed from the safety of the guest's vehicle. Lion Country Safari has been popular since the initial coronavirus restrictions began to be eased. It allows for guests to have a safe experience from their own car as they drive through the acreage and see ostriches, rhinos, gazelle, lions, and other exotic animals. 
This is a unique experience that can be enjoyed from a safe distance, which means a mask is unnecessary as guests are safely in the bubble of their own car. In order to keep the visitors safe, some of the zoo's attractions are closed. These include the Budgie Feeding, Safari Falls Water Park, and the Safari Queen boat ride, which is only open on weekends. Masks and social distancing are mandated when on foot in the park. 
Zoos are slowly recovering after their sudden hiatus due to the coronavirus. When it becomes safe, the zoos will fully reopen the rest of their attractions to the whole public. Eventually, zoos around the world will be visited by millions of people once again, and reach their former glory. As the summer quickly approaches, this is a great outdoor activity to experience with friends and family, while supporting the local zoo and animals who live there.