2015 VMAs Offer Unforgettable Moments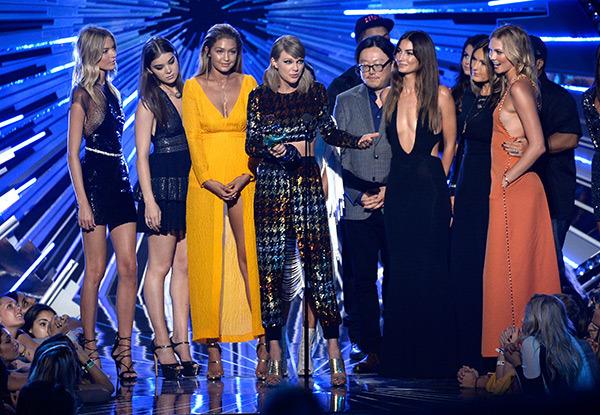 Upon hearing that Miley Cyrus would be returning to the stage as the host for this year's Video Music Awards, speculation quickly predicted that these VMAs would be as wild as Miley's unforgettable performance with Robin Thicke in 2013. They definitely were not wrong.
The award show kicked off with a fairly normal, yet stunning performance of "The Night is Still Young" by Nicki Minaj and Taylor Swift. This came as a surprise after some brief Twitter beef between the two singers; however, they left the stage all smiles and have clearly come to terms.
Based on some of Cyrus's controversial actions in the past, the viewers were potentially in for anything, but it came as no surprise that her outfits were striking. In typical Miley fashion, she was practically naked with just enough covered to be acceptable for live TV. OH student Krystal Bogel believes that Miley was trying to be "extra provocative" for this year's show.
Although there was plenty of drama, the awards did not disappoint this year. Taylor Swift beat everyone out with the most awards of the night, winning five total, including Video of the Year for "Bad Blood," along with Best Female Video and Best Pop Video for "Blank Space."
A few other noteworthy winners included "Uptown Funk" by Mark Ronson featuring Bruno Mars. Considering the song topped the Billboard Top 100 for 13 weeks, it is not surprising that it earned the award for Best Male Video. Nicki Minaj also won the Best Hip-Hop Video award for her hit single "Anaconda."
In a turn of events, Minaj's performance and award didn't end up being her most memorable moment at the award show. During her speech for "Anaconda," she called out Cyrus and questioned, "Miley, what's good?" Viewers found it hilarious and it even spawned merchandise to venerate the drama for years to come.
The most shocking aspect of the VMAs came in the form of a legendary speech from Kanye West, who apparently may be running for president in the coming years. Kanye took to the stage after Taylor Swift presented him the Michael Jackson Video Vanguard Award.
He started off by acknowledging a conflict with Swift from the 2009 VMAs and apologized for barging onto the stage when she won the Best Female Video award. Then his speech headed south real quick. According to junior Liana Ortiz, the speech "was a beautiful train wreck."
He proclaimed the problems with award shows themselves, ranted about issues involving kids, and declared that he will be running for president in 2020. However, Kanye did fire up the crowd more than anyone else did the whole night.
It's clear that this year's show had more than enough drama for one night, and almost every celebrity involved got in on it one way or another. Junior Julia Bell offered up some wise words regarding our admiration of celebrities. She asserts that "all celebrities are crazy and it's bizarre the way we idolize them." One thing is for sure after this year's show: it's going to be a huge feat for next year's VMAs to rival the craziness of 2015's awards.
Leave a Comment