Panera Bread: Worth the Dough?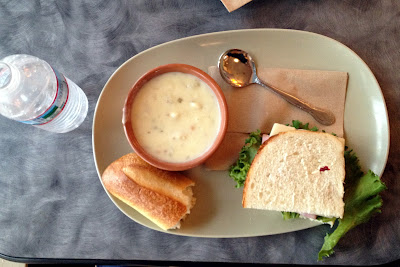 Aashish Madamanchi, Contributing Writer
January 28, 2014
Hang on for a minute...we're trying to find some more stories you might like.
Panera Bread, Mission Bay Plaza, Boca Raton
Panera Bread is known for its classic cafe atmosphere, filled with businessmen sitting in booths, firing away at their iPhones while accompanied by the presence of smooth jazz in the background. This Panera is up to par in most areas but lags behind its counterparts when it comes to service. The customer always comes first, however this isn't the case at this specific location; coupled with long lines, chaos reigns.
Food: Panera's food is simply amazing—there is no other way to put it. The soups are made from scratch and served piping hot, accompanied by a small piece of a french baguette. Favorite soup by far is the Broccoli Cheddar, but be warned it is not completely vegetarian because the soup is made with chicken broth. The salads at Panera have a fresh, crisp taste combined with an explosion of flavors in the mouth. Sandwiches are also very nice and light, great for a quick lunch that is satisfying. This location dishes out some very good food with moderately large portion sizes.
Atmosphere: A classic cafe with modern decor that holds true to Panera's image. The one thing that stands out here is the outdoor seating. Outside are an array of tables, most of which reside under the shade of the Panera itself, so you can feel the calm breeze while sipping your coffee. Inside are comfortable booths and large tables, catering to slightly larger groups. (Just a warning, the WiFi at Panera is free but only works until 12:30 p.m.; a slight annoyance for those trying to work at Panera while chowing down.)
Service: The biggest issue at this location was service. Most of the employees are high school students and are often chatting away, paying no attention to those waiting in line. Ordering the food took a long time as only 1 cashier was present; eventually a second one showed up and the lines cleared up pretty quickly. They accidentally billed me more and after showing it to the cashier and speaking with the manger, they fixed it up fairly quickly. Some of the tables and booths were not even clean, with crumbs and food scraps on the floor. Service could definitely be improved.
Final Verdict: 3 / 5
The food and atmosphere make Panera a great place to hangout and chill but their service definitely needs improvement. Great location and close to many places such as the gym and movie theaters.