Straight Outta Compton a Must-See for Rap Music Aficionados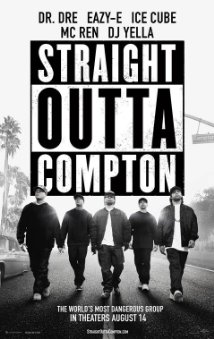 Straight Outta Compton came out strong with $24.2 million opening day, and that's no surprise. Straight Outta Compton tells the true story of rags to riches from the perspective of six men looking to make a name for themselves in Compton, California.
Right out of the gate, the familiar Universal globe spins to the sound of Eazy-E's voice reciting a famous line from NWA's hit "Straight Outta Compton": "You are now about to witness the strength of street knowledge." NWA (Niggaz Wit Attitudes) was a rap group formed in 1986 that paved the way for rap music, which was more or less unheard of at the time. Members included Arabian Prince, DJ Yella (played by Neil Brown Jr.), Dr. Dre (Corey Hawkins), Eazy-E (Jason Mitchell), Ice Cube (O'Shea Jackson Jr, Ice Cube's son present day) and MC Ren (Aldis Hodge).
The first scene of the movie is set at a drug house, where Eazy-E finds himself in deep tension owing someone money. Straight Outta Compton wastes no time to hurl the viewer into the world of low income neighborhoods of LA during the 90's: a world ridden with drugs and gangs. To no surprise, police brutality towards minorities plays a big part in this movie. Whether it's NWA's manager screaming at LAPD about how his clients cannot be arrested simply for their skin color, or the song that followed the members of NWA getting called "gang bangers" and being searched without any prior reason, "F*** tha Police." Additionally, it shines a light on how industries take advantage of new and hungry artists.
All the characters in the movie are strong, ambitious men not afraid of going after their dream and knocking down anyone who stands in their way, while encouraging their fans to be the same way. Multiple times the members of NWA end up throwing punches, are on the receiving end of punches, and even are the cause of riots in California. A baseball bat is taken to glass in a pristine office, guns are pulled every minute, and cops chase them down relentlessly. At some point some of the rappers are forced to decide between keeping their street cred or careers afloat. If you haven't already guessed, the movie is rated R.
Straight Outta Compton gives the viewer a look into Ruthless Records, NWA's record label founded by music manager Jerry Heller and Eazy-E. It's a nostalgic film almost, giving nods to other West Coast rappers of the time who are still famous today. It jam-packs the culture of West Coast hip hop and rap into a two hour and thirty minute showing. That amount of time for "a movie about a bunch of rappers" may seem to be a bit much, but viewers find themselves intertwined with the chaos of severed relationships, systematic racism, huge popularity and huge cash flow. At the end of the movie, viewers comes to realize they've felt contempt, sadness and even chuckled a bit at certain lines, leaving the theater knowing of NWA's legacy if they already had not.
Straight Outta Compton reminds all of who paved the way for modern rap and on the same note, conveys the message to chase one's dreams and hold one's ground. Six men fight their way through the limelight and gang violence to eventually become huge staples in the genre of rap music. This movie speaks levels of ambition and perseverance. Not only is it a big hit in the box office, the film makes late 80's babies nostalgic of their younger years seeing NWA rise to fame, shows millennials who gave modern day rappers their start, and depicts the struggles of being a minority in America.
Leave a Comment