Okeechobee Music & Arts Festival Debuts with Big Name Acts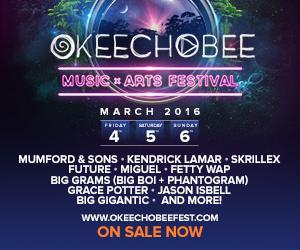 Florida has decided to add yet another music and art festival.
In addition to powerhouse festivals such as Ultra, EDC, and SMF, the first annual Okeechobee Music and Arts Festival (OMF) will be a three-day, all-day music festival and campout. Even in its debut year, OMF has a huge lineup of well-known musical acts including: Mumford & Sons, Kendrick Lamar, Future, Skrillex, Fetty Wap, and Bassnectar, just to list a few.
OMF will run over the weekend of March and will host more than 80 bands and artists on five massive stages, making this one of the biggest music festivals Florida has to offer. The campsites are 20 feet by 22 feet, big enough to accommodate two tents and a vehicle, and include necessities such as showers and bathrooms. As well as regular campsites the venue is offering spaces for people to bring RV`s and campers as well as many hotels for those who wish to stay off property.
As festivals have raised health issues in the past, OMF is willing to allow small amounts of alcohol in, but will be cracking down hard on drugs that have tainted festivals in the past. To accommodate for the inevitable injuries and mishaps, the festival will provide a 24-hour health tent to ensure the safety of everyone in attendance.
Fortunately for some of the high school age festival junkies, all minors are allowed admission as long as they are with someone over the age of 18. Unfortunately, for some of the high school age festival junkies, the lowest admission prices are a little over $300.
OMF is a rain or shine event, but with Florida weather who can really tell? This event hopes to compete with the likes of Coachella, and other larger festivals around the country and put Okeechobee on the map. The anticipated first year attendance is only 20,000 people. Although the festival is still in its infancy, the organizers hope to bring a positive impact socially and economically for Okeechobee.
Leave a Comment