McDonald's Flips Its Arches in Support of Women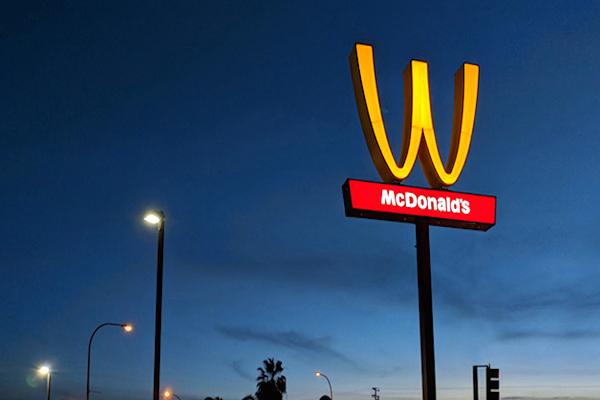 Hang on for a minute...we're trying to find some more stories you might like.
As the year of 2018 continues, so does the appreciation for women in America. After the Times Up Movement bringing awareness to sexual harassment made its national debut on the red carpet at the Golden Globe Awards on January 7, the fight for women's equality was brought to the forefront of the public's attention.
Now, one of the most famous fast food restaurants in the world has acknowledged women by honoring them on March 8: International Women's Day. In the CNN Money article "Why McDonald's is flipping its arches for a day" by Danielle Wiener-Bronner, Time Calkins, a marketing professor at Northwestern University's Kellogg School of Management states, "International Women's day is a perfect opportunity for brands to talk about their commitment to empowerment."
In order to make this tribute to women extravagant, 100 United States McDonald's locations flipped the iconic M sign upside-down to look like a W. Also, to mark this special occasion, McDonald's employees greeted customers in shirts and hats with a giant W logo in the center.
While television broadcasts and other campaigns have made women's rights a headline, McDonald's has never done anything like this before. "'For the first time in our brand history, we flipped our iconic arches," McDonald's Chief Diversity Officer Wendy Lewis told CNN Money.
One of the unique things about the way McDdonald's is executing this accolade towards women is that this demonstration will not only be seen on the news, but it will also be seen while people are driving on the roads and visiting the restaurants in their communities. McDonald's iconic golden arches vary in size, but all are relatively large and very easy to spot while passing by the fast-food restaurant.
The McDonald's family clearly wanted to salute women in a major way. In the cnbc.com article "McDonald's is turning its golden arches upside down to make a statement" by Abigail Hess, McDonald's spokesperson Lauren Altmin states, "We have a long history of supporting women in the workplace, giving them the opportunity to grow and succeed. In the U.S. we [McDonald's staff] take pride in our diversity and we are proud to share that today, six out of 10 restaurant managers are women."