OH's Kaylee Cunningham and Robert Berkowitz Win Pathfinder First Place; Cunningham Takes Fourth at International Science Fair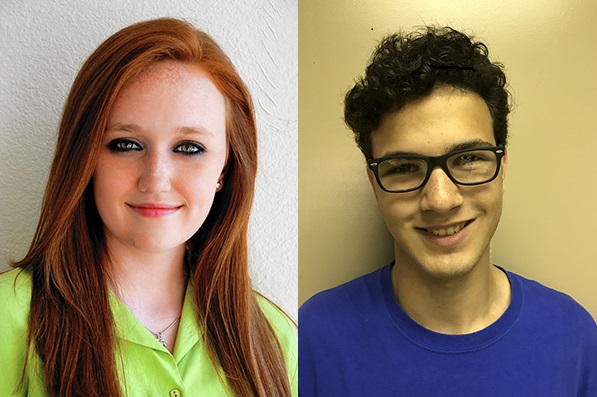 Hang on for a minute...we're trying to find some more stories you might like.
Olympic Heights seniors Kaylee Cunningham and Robert Berkowitz both won first place in their respective categories at the 2018 Palm Beach Post Pathfinder Scholarship Awards on May 17 held at the Raymond F. Kravis Center for the Performing Arts in West Palm Beach. Cunningham won in the Computer Science category, and Berkowitz won in the Foreign Languages category. Senior Brooke Hall earned a third place award in the Drama category.
The Pathfinder Awards recognize the best and the brightest of Palm Beach and Martin counties' high school seniors, awarding more than $171,000 in scholarships to 54 college bound students. Cunningham and Berkowitz each were awarded $4,000 in scholarship money with Hall receiving $2,500.
Cunningham was not on hand to accept her first place award because she was in Pittsburgh where on the very next day, May 18, she was awarded fourth place for her Science Fair project at the INTEL International Science and Engineering Fair in Pittsburgh.
Cunningham's Science Fair project concerned the development of a sports bra designed to resist radiation penetration thereby reducing the risk of breast cancer. More on Cunningham's project can be found in the Torch story of April 19 on her qualifying for the international completion at the following link:
Cunningham's passion for all things science and engineering has been evident through her years at OH.that at her school and in her community. She helped organize the OH Engineering Academy "Girl Engineers of Tomorrow" (GET) event designed to attract middle school girls with similar interests. She has been recognized by the U.S. Congress for her development of an app designed to assist students in their study of mathematics. Additionally, she has worked on programs to designed to secure cyber vulnerabilities. She placed first in Code Fever Miami's "Launch a Start-Up in a Day Hackathon" for best start-up company idea. She also has been a member of the OH Astronaut Challenge team qualify for state finals for three consecutive years.
Cunningham will attend the University of Florida and plans to double major in computer science, with a cyber security concentration, and nuclear physics. Her goal is to work in the nuclear industry, re-programming the antiquated software of nuclear reactors to digital format and increasing software security.
Berkowitz came to OH already well-versed in the study of the French, German and Danish languages, developing a real interest in Chinese during his high school years. He has won top awards at Florida statewide Chinese competitions over the past three years. Berkowitz was president of the National Chinese Honor Society and vice-president of the Chinese Club while at OH. He has promoted enrollment in Chinese courses at middle school open houses and tutored students in Chinese.
Berkowitz will attend the University of Washington where he will pursue a double major in biology and Chinese, with the goal of conducting research into cancer in China due to the country's rapid industrialization and pollution.
Hall has been an integral part of the OH theatre program since her freshman year. She has won numerous directing awards at local and state competitions during her time at OH. She will be attending the University of Miami where she will pursue a degree in musical theatre.