Who is the G.O.A.T.: Michael or LeBron? Brady or Rodgers?
Fifteen national championships, Fifteen most valuable player awards, and four almost guaranteed trips to the Hall of Fame in their respected sports. Aaron Rodgers, Tom Brady, Lebron James, and Michael Jordan are all considered legendary athletes, but only two of the four can be considered the G.O.A.T. (greatest of all time) of their sport. Jordan and Brady are considered by most to be the greatest players of all time in their respective sports, while the achievements of and the obstacles overcome by James and Rodgers are often underappreciated.
The legendary feats and careers of the two G.O.A.T.s and two non-G.O.A.T.s are very similar. First, Jordan and Brady have both won many more titles than most players in their sports. Jordan has six titles while Brady has five. Rodgers and James, on the other hand, have four combined championships with James having three of the four.
James and Rodgers have each pulled off legendary feats in individual games. Back in 2012, after already "choking" in a finals series the year before, James – then on the Miami Heat – had to lead his team in game four of the NBA finals against the Oklahoma City Thunder's Kevin Durant, Russell Westbrook, and James Harden. Already up 2-1 with two more wins needed, Heat fans knew this was a game that would ultimately decide the result of the series.
With about five minutes left in the fourth quarter, James went up for an awkward shot and came up  limping with cramps in his legs. He left the game for about two minutes. He came back into the game, hit a clutch three pointer to give the Heat the lead and sealing the victory. James went on to lead his team to win the series and capture his first NBA championsip.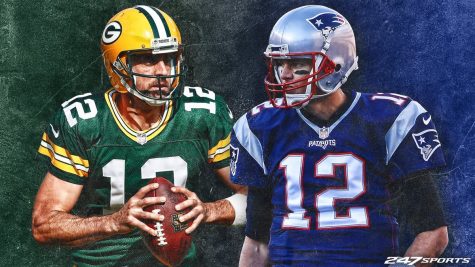 Rodgers pulled off an amazing and similar feat this season in his first game back from a shoulder injury that kept him out most of last season. Playing against the Chicago Bears in the first Sunday night contest of the season, Rodgers, like James, sustained an injury in the middle of the game when he was sacked and defensive tackle Roy Robertson-Harris landed on his Rodgers' leg. Many feared the injury was a torn ACL or something having to do with his left knee.
However, Rodgers made a surprising return with about nine minutes remaining in the third quarter. The team was getting completely outplayed at the time. with the score being 20-3. Rodgers was not his usual self until the fourth quarter, when, with his team trailing 20-3, he threw a vertical pass along the sideline to receiver Geronimo Allison for a 39-yard touchdown. About four minutes later, Davante Adams joined the comeback party, catching a 12-yard pass from Rodgers. Down 23-17. Shortly thereafter Randall Cobb caught a Rodgers pass and went 75 yards for the game winning touchdown.
Both James and Rodgers have consistently pulled off jaw dropping plays and performances and have had put up legendary stats, but they are still not considered the greatest to ever play their sports.
Although there is no official ruling for the best player in a sport, many argue Brady and Jordan as the best. There are great arguments here with Jordan leading the Chicago Bulls to six championships and Brady pulling off miraculous comebacks and winning five championships.
However, both Brady and Jordan have seemed to have an easier path. First, they both have had two of the greatest coaches of all time. Bill Belichick is considered a living legend as the Patriots coach, and Phil Jackson won 11 titles as a coach for the Bulls and Lakers. As a result, both have received wisdom from two of the greatest coaches in all of sports.
Rodgers' coach Mike McCarthy and James' coaches Erik Spoelstra and Tyronn Lue have not been bad coaches at all, as they coached them to championships, but the wisdom and assistance  from coaches Belichick and Jackson have been more advantageous compared to that given to James and Rodgers.
Finally, Rodgers and James have seemed to be forced to do much more given a combination of greater competition and lack of talent. Brady, compared to Rodgers, has been given many more tools on offense and defense to help take the weight off of his shoulders. He has been able to throw to receivers like Randy Moss, Rob Gronkowski, and Deion Branch. Rodgers has had some very talented receivers, but they do not compare to Brady's bunch.
James and Jordan have both had hall of fame type teammates like Chris Bosh and Dwyane Wade for James, and Scottie Pippen and Dennis Rodman for Jordan. Although having great players, Jordan did not have to face a 73-9 team and that same 73-9 team after adding Kevin Durant the next year. Lebron had to face legendary power forward Tim Duncan – who had five championships by the end of his career – three times. James had to beat a team comprised of perennial all-stars Russell Westbrook, Kevin Durant, and James Harden.
Jordan, on the other hand, faced a declining Magic Johnson Lakers team and John Stockton's Jazz, admittedly a very good team, yet they had little experience in the Finals. Jordan also  faced the Phoenix Suns led by Charles Barkley in a Finals series, but Barkley did not have a very strong supporting cast.
All four athletes are spectacular at what they do whether it is throwing a football or shooting a basketball. Although Jordan and Brady have done so many things in their careers, one must look at the tools they have to work with. Rodgers and James have had less to work with but have still pulled off similar achievements. There will never be a definitive conclusion on who's the best, so the world may as well appreciate all the talent for what it is.
Leave a Comment