Marine Life-Killing Red Tide Becomes a Political Issue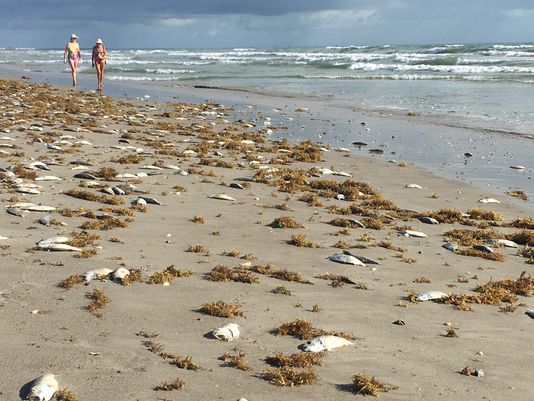 Hang on for a minute...we're trying to find some more stories you might like.
On the weekend of Sept. 30, beach goers were shocked to find several Palm Beach County beaches closed. This was due to complaints of dead fish being found and visitors' eyes and throats hurting. Affected beaches included Lake Worth, Lantana, Jupiter, Palm Beach, Palm Beach Shores, and Riviera Beach. The culprit turned out to be an algae bloom known as the red tide, which gets its name from its ability to discolor water to red or brown.
The red tide is a dinoflagellate growth named Karenia brevis. As reported by Alex Horton of The Washington Post, "A red tide is a natural phenomenon that develops miles offshore before making its way to the coast, where it feeds on a variety of pollutants, including phosphorus and nitrogen from fertilizer, along with other runoff and wastewater. The toxins can aerosolize in the wind that drifts ashore, triggering respiratory problems or worsening conditions such as asthma. … Scientists have found that the algae thrive in warmer waters and increased carbon dioxide levels."
Olympic Heights Marine Science teacher Heather Jewett explains where such nutrient runoff originates, explaining, "It comes from Lake Okeechobee. The pollutants (nitrogen and phosphorus) from surrounding farms enter the lake, and then they enter the ocean from the two canals going east and west." This year's red tide followed an outbreak of toxic blue-green algae in Lake Okeechobee, which spilled into the lake's estuaries.
The red tide occurs naturally on Florida's gulf coast, but it very rarely affects the Atlantic coast. Typically, a red tide may bloom in the fall and run its course throughout the winter. This current and particularly persistent red tide began last year in October after Hurricane Irma swept Florida. Hurricanes can deposit fresh water and increase nutrient-rich runoff from land, thus worsening algal growth.
The bloom crept up the Gulf coast into Florida's Panhandle over the summer, and now finally reached South Florida and the Atlantic coast in early October. Jewett states, "It has only been on the west coast, but the ocean currents brought it down to the Keys and then up on the east coast."
The red tide is concerning because of the dangerous effects it has on marine life and even humans. It has already killed a great number of fish, turtles, and manatees by attacking their central nervous systems. The toxins it releases move up the food chain, and tainted seafood can even reach our own dinner tables. Toxins that disperse into the air can cause skin and respiratory issues for humans such as coughing, sneezing, and itchy throats. Such irritations, along with the stench of rotting marine animals on beaches, are very harmful to the tourist industry. Seaside attractions, shops, and restaurants all lose visitors.
There had been hopes that Hurricane Michael would be able to break up the lingering algae bloom in the Gulf of Mexico, but it failed to do so. Robert Weisberg, a professor of physical oceanography at the University of South Florida, asserts, "Michael blew red tide at the water's surface into shore, but deep ocean currents that have been feeding the bloom since the summer also have persisted." So, the red tide could continue to cause problems there in the weeks ahead.
Meanwhile, the outbreak in South Florida has largely subsided. Beaches here quickly reopened. The Sun Sentinel's David Fleshler forecasts for this week, "Broward County could see a moderate level of red tide through Friday, with a low level in Palm Beach County and none in Miami-Dade." Higher concentrations of red tide were instead detected further north along Brevard and Indian River counties.
The environmental concerns from algae blooms have been causing political turmoil as well. Both Democrats and Republicans are blaming each other and arguing over campaign contributions from companies associated with pollution, such as the sugar industry. Current Florida governor Rick Scott, who is running as the GOP candidate for U.S. Senate in the Nov. 6 midterm election, has been recently confronted by angry protesters, calling him a "coward" and chanting, "Hey, hey, ho, ho, red tide Rick has got to go."
Scott is being blamed by many for his multimillion-dollar budget cuts to environmental agencies. PolitiFact reports that Scott cut $700 million in funding from Florida's water management oversight in 2011. His opponents claim that if the state had been given proper funding, measures could have been taken to reduce the impact of the toxic algae bloom.
However, there is still hope on the horizon. Floridians can work individually to prevent dangerous algae blooms simply by using less fertilizers and nutrients on their lawns and gardens. Scientists are continuously making progress in researching new innovations and solutions, such as patenting a pumping system to purify tainted water or introducing natural compounds and filter-feeding organisms that can combat the red tide. Perhaps most importantly, Floridians can make sure to vote in the midterm elections on Nov. 6 for politicians who prioritize environmental protection rather than big industries and corporate profits.