UCF Football Team's Playoff Hopes Rest on Losses by Higher Ranked Teams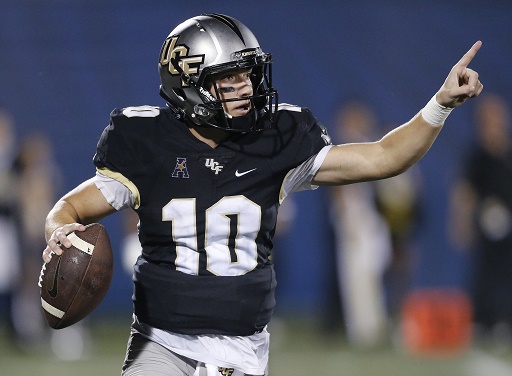 Hang on for a minute...we're trying to find some more stories you might like.
The University of Central Florida football team made its way onto the national radar last season with its perfect season. Despite it's perfect record through the regular season, UCF was not ranked among the top four teams by College Football Playoff (CFP) Selection Committee, thereby leaving the Golden Knights out of the playoffs. However, after defeating Auburn 34-27 in the Peach Bowl, UCF caused a bit of controversy by declaring themselves national champions.
Oddly, enough, the current NCAA record book recognizes UCF's claim as the 2018 national champions as determined by the Colley Matrix. That same rule book also recognizes the University of Alabama as the national champions based on it winning the CFP.
So far this season, UCF is undefeated, a feat only matched by three other teams (Alabama, Clemson, Notre Dame) thus far and holds the number nine ranking in the Associated Press poll. Alabama, Clemson, and Notre Dame are ranked one through three respectively.
However, the first CFP ranking (which actually determines which four teams advance to the playoffs) were released Tuesday, Oct. 30, and were not as kind to UCF, ranking them at number 12. While a number 12 ranking is nothing to scoff at, the problem for the Knights is that it looks like they will probably not climb much higher in the rankings just by remaining undefeated. In order for UCF to have a shot at climbing in to the top four, it will have to rely on many of the top ten teams losing in addition to continuing its own winning streak.
The first CFP rankings had Alabama at number one, Clemson at number numer, a one-loss LSU team at number three, and Notre Dame at number four.  To many, if UCF were to run the table and finish its regular season undefeated, leaving them out of the CFP would just seem wrong.
The largest obstacle in the way of an undefeated UCF team's claim to a CFP spot would be its strength of schedule, a major factor in determining the CFP rankings. ESPN's college football analyst Kirk Herbstreit, on ESPN's Saturday program College GameDay, claimed that "there are other teams out there that are as deserving or more deserving." He explained, "You need to play somebody [good] in order to be rewarded."
The problem is that since UCF is in the American Athletic Conference, a non-Power Five conference; thus, their conference games do not allow for a strong strength-of-schedule ranking. Also, because games are scheduled several years in advance, UCF's non-conference games are not against great teams either.
Also on College GameDay, Desmond Howard expressed that UCF Athletic Director Danny White should start scheduling more games with "mid-level" Power Five teams. What Howard doesn't realize is that this has been done for the past few years.
In the past five years, White has scheduled games against North Carolina, Pittsburgh, Maryland, Georgia Tech, Michigan, Stanford, South Carolina, Penn State, and Missouri. White claims, "[Playing mid-level Power Five teams] is exactly what our scheduling model is because I can't get higher level Power Five teams to play us home and home."
Another on the Power Five bandwagon is ESPN analyst and radio host Paul Finebaum. Finebaum said, "I want to see if the committee listens to the noise, plays the political correctness game and ranks UCF ahead of a school like Kentucky, who has done something this year. [UCF] shouldn't be anywhere near the Top 10." That "something" Finebaum refers to is the fact that Kentucky beat Florida in Gainesville and took Texas A&M to overtime in their matchup, both ranked teams. UCF has not played a ranked opponent and is not scheduled to for the rest of the season (the closest being against formerly ranked South Florida).
"It [the Power-Five bias] is growing and growing and getting to the point where it's not even factual," White mentions in defense of his squad. Many feel that White does have justification for this statement with seven Power-Five teams ranked ahead of UCF with one loss each, and one (Florida) ranked at number 11 with two losses.
Again, the counter to White's claim is that the Power-Five teams play a much tougher schedule than do the non-Power Five teams. The 11 teams ranked above UCF have a current average strength-of-schedule ranking  of 17, with LSU ranked the highest at number two and Washington State ranked the lowest of the eleven at 54. UCF's strength-of-schedule ranking is 89. The seven teams UCF has defeated this season have a combined record of 20-35, none of them with a winning record.
Wins matter, but a strength-of-schedule ranking can negate a perfect record as is evidenced with UCF. The Knights schedule does get a bit tougher in their final four games of the regular season. The combined record of UCF's remaining four opponents is 21-11, including Cincinnati and USF, both with 7-1 records.
UCF is gearing up for its Thursday night game against Temple (5-3) at Spectrum Stadium in Orlando.  A big win there followed by three more should propel the Knights further up the CFP rankings. However, as UCF does not have full control of it own playoff destiny at this point, Knights Nation has to pray for some miracles in the form of losses by those Power Five teams ranked in the top ten in order to have a glimmer of a hope of breaking into the top four and securing a playoff spot.