OH Girls Soccer Closes Out 15-Win Season; Readies for Potential Showdown with West Boca in District Tournament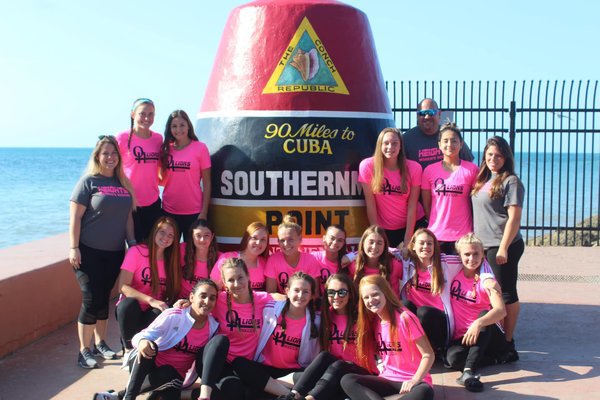 Coming into this year, Olympic Heights girls soccer coach Jim Cappello had very high expectations for his team, and as the team approaches next week's district tournament, it would be an understatement to just say that those expectations have been met.
The Lady Lions wrapped up their 2018-19 regular season with a 8-0 drubbing of Lake Worth on Thursday night to run their record to 15-2-2 for the season and a 6-0-2 record in district play, good enough to finish in a first place tie atop the district standings.  
A perfect illustration of how successful this season has been for the OH girls soccer team thus far is not so much in the 15 wins but more so in those two ties. That's because both of them came against district rival West Boca whom the Lions had lost to in every previous match ever played between the two teams. And it is the perennial district powerhouse West Boca squad that the Lions now share first place in District 14-4 with.
Since both teams finished district play with identical records and had the two tie games against each other, a coin flip determined that West Boca will be the number one seed and OH will be the number two seed in the district championship tournament which OH is hosting.
Barring any upsets along the way, it is likely that OH and West Boca will face off for the third time this season in the district championship game on Tuesday, Jan. 29, and this time, the game cannot end in a tie. The Lions will begin tournament play against Fort Lauderdale on Tuesday, Jan. 24 at 7:00pm.
And the Lady Lions are looking forward to a possible championship game against West Boca. "We are determined to do everything in our power so we can beat them after what happened last year, and that being them beating us in the district finals in penalty kicks," forward Ariana Steighner says. "There is always an extra gear when we play them because most of those girls have played with us our whole lives and we want to go out and make a statement that we are the best team in Boca."
If the previous two meetings between the two rival schools is any indication, a possible third match for the district championship will be predicated on defense as the two previous matches ended with 0-0 and 1-1 scores. Goalkeeper Victoria Baretto, who has 15 shutouts on the season, notched five and eight saves respectively in the two games against West Boca.
To win the district championship, "it will take an overall team performance and executing what we have been practicing all season," explains Cappello.  "Both teams are so evenly matched, it is really going to be eliminating mistakes and taking advantages of any they make.
" We have the best goalkeeper in the county with Victoria Barreto between the pipes,"Cappello continues. "Our defense of Kaitly Cierpik, Ali Ciepik and Maddie Celce has been solid against them.  With the change of moving Ava Trachtenberg up, it should open up the game even more. The last phase is to get more play in the final third so Sydney Durrance and Skylar Deutch, who each have 17 goals, can do their job."
The Lady Lions' strong play this season has otherwise not gone unnoticed. The squad was named radio station ESPN 106.3's Team of the Week for Dec. 10. The award is given to the team in Palm Beach County that set themselves apart from the others in their respective sport. During that week, the Lions had a record of 3-0 with a ten goal differential.
Another major accomplishment for the team, was Steighner being named CBS12 Athlete of the Week. After putting up 11 goals and 9 assists in the first 11 games of the season, Steighner was the clear-cut candidate for this award.
After playing Junior Varsity last season, Steighner made the varsity team this year but was not expecting to break out in the way that she did. In just a few games into the season, she was moved from the position of midfielder to striker giving her more of an opportunity to score, which is exactly what she did.
"I have been working so hard this past year in the hopes to get to where I am now," Steighner says. "The payoff has been very rewarding, and I appreciate all my teammates and what they do for me every day because without them, I wouldn't be where I am right now."
These OH girls have proven that they can compete with any team not only in Palm Beach County, but in the state. They have continued to go out onto the field and show how dominant they are in every facet of the game. Whether it's scoring amazing goals, or doing the dirty work, these girls think they have what it takes to go all the way, and the question that everyone is asking is, who is going to stop them?
Leave a Comment