Where Will New Orleans Pelicans Superstar Anthony Davis Be Playing His Next Game? Here's a Run-Down of Potential Teams and What It Will Take to Get Him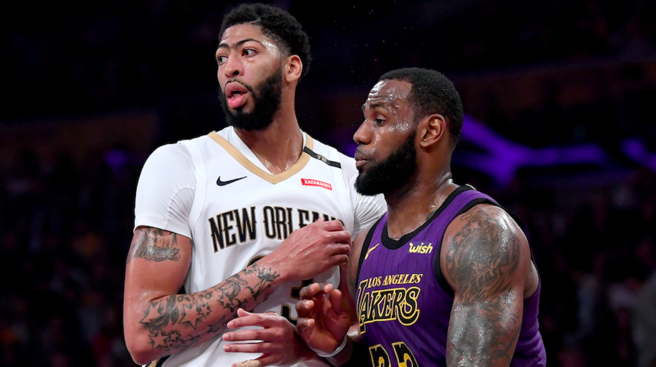 Anthony Davis, the perennial all-star power forward has played his last game with the New Orleans Pelicans after he announced his long-anticipated request to be traded. Davis's trade demand has led New Orleans to put the superstar on ice until a trade can be made. Now, it is certain that the Pelicans will be watching the NBA from mid-April until June from the couch, as Davis will look to find a way to the Los Angeles Lakers.
The Pelicans have only made the playoffs twice during Davis's reign of terror in the league, being stopped by the eventual champion Golden State Warriors in 2015 and in 2018. Davis has not shown much frustration up until now which made many question his competitive nature in trying to win a championship. Now he is looking to go to a team in which he can help do just that.
The Pelicans have never given much help to Davis. This year's squad is the most talented Davis-led team; however, they are sitting in the 13th slot in the Western Conference hoping to make a post season appearance. Here's a look at each of the top two players Davis has been playing alongside in all seven of his professional seasons:
2012-13: SG Eric Gordon (only played 42 games); PF Ryan Anderson
2013-14: PF Ryan Anderson (only played 22 games); PG Jrue Holiday (Only played in 34 games)
2014-15:  SG Tyreke Evans; PG Jrue Holiday
2015-16: SG Tyreke Evans; PG Jrue Holiday
2016-17: C DeMarcus Cousins (only played 17 games); PG Jrue Holiday
2017-18: C DeMarcus Cousins (only played 48 games); PG Jrue Holiday
2018-19: PG Jrue Holiday, PF Julius Randle
This list reveals the lack of attempts this organization has made to build a solid foundation for which Davis can flourish. The DeMarcus Cousins experiment was the only shot the front office took; however, it failed as the components of that trade are enjoying success. Buddy Hield is looking to be a Most Improved candidate and Justin Jackson, Frank Mason, and Harry Giles have shown loads of potential. Meanwhile, DeMarcus Cousins is balling… for the Warriors. The Pelicans rejected the idea of paying DeMarcus Cousins the big bucks directly after a torn Achilles, but that backfired on them. Now Davis wants out and a few teams have a solid supporting cast to give him.
Los Angeles Lakers: The obvious choice here is the Lakers. The team has multiple assets and a max contract slot open in the summer to pay Davis his well deserved super-max extension worth over $230 million. The pairing of Davis with LeBron James is a serious threat to the Warriors and the rest of the league. The Lakers would most likely have to give up Lonzo Ball, Kyle Kuzma, Rajon Rondo, Michael Beasley, and a couple of first picks to get in on the Davis sweepstakes. The Pelicans are aware of the interest and will charge the Lakers more than any other team, so Magic Johnson better be ready to unload his assets.
Boston Celtics The Celtics are in a dangerous situation in trying for Davis. Anthony Davis Sr., father of the superstar big man, has told ESPN, "I would never want my son to play for Boston," citing the Isaiah Thomas issue. "No loyalty. Guy [Thomas] gives his heart and soul and they traded him." However, neither Davis gets a say in where the younger Davis ends up. The Boston Celtics can offer the best deal to the Pelicans; however, they must wait until July 1 if the Celtics want Kyrie Irving and Davis paired together, which would most likely be the case. The C's have up to four first round picks in this year's upcoming draft with two potentially in the lottery as well as Jayson Tatum, Jaylen Brown, Marcus Smart, and Terry Rozier, all good young players with much upside to entice the Pelicans to deal them the multiple time Most Valuable Player candidate. A lineup consisting of Irving, Davis, Gordon Hayward, and Al Horford, plus whoever doesn't get shipped to New Orleans, is a scary thought and a definite threat to take home the 18th title in franchise history.
New York Knicks The Knicks are trying to speed up the rebuilding process. They haven't been serious title contenders since 2000 in the days of Patrick Ewing and haven't won a title since 1973. The city of New York is anxious to see its beloved Knicks finally take home a trophy again. Fans and the front office hope that Davis is the answer to their problems. The Knicks are looking to pair up newly acquired point guard Dennis Smith Jr. with Davis and then look to free agency to finish the job. Having Davis on the roster does indeed make the team a more enticing free agency option, but the superstars of the class will also have to look at the rest of the roster. The best free agents this summer include Kevin Durant, Kawhi Leonard, Kyrie Irving, and Klay Thompson. The Knicks have the cap space for two of these guys and the franchise believes they can do it. The biggest issue with this fantasy is that the Knicks would have to give up any and everything they have. Worse, they can only hope that big time free agents join the mix this off season. The Knicks would have to really impress Davis, and then some free agents, to sign him long term. They would most likely have to give up rookies Kevin Knox and Allonzo Trier, as well as other young talents in Emanuel Mudiay and Frank Ntilikina along with their highly coveted draft pick, who may very well turn into Duke freshman phenom Zion Williamson. This would not leave much for the Knicks to build around barring the signing of a top free agent or two.
Los Angeles Clippers The Clippers were a team on Davis's expanded list of preferred teams. An agreement between the Clips and Pelicans would be interesting. The Clippers may be the deepest team in the league, regularly running a 12-man rotation. Doc Rivers would be able to fit Davis right into the "run 'n gun" system employed. A starting lineup of Patrick Beverly, Avery Bradley, Danilo Gallinari, Tobias Harris, and Davis is certainly enough to be in the conversation for home-court advantage in the first round of the playoffs. This would especially work because the bench would consist of Lou Williams, Montrezl Harrell, Boban Marjonivic, and Luc Mbah a Moute among others. The trade would start off with rookie point guard Shai Gilgeous-Alexander and shooting guard Jerome Robinson plus salary fillers in Marcin Gortat and Mike Scott. The deal would also need to include the rights to Cleveland's first round pick in this year's draft on protections and a protected Dallas first rounder in this year's draft as well. The Clippers have a solid supporting cast for a superstar should one join the squad and are currently sitting in a playoff slot. Should Davis be inserted to this lineup, the win column will see an increase.
Milwaukee Bucks The Milwaukee Bucks are in the driver seat of the East, only up half a game on the Raptors but no signs showing a drop. Giannis Antetokounmpo is a top player in the league but hasn't shown much in the playoffs. A pairing of the Greek Freak and Davis would be extraordinary defensively with extreme versatility to guard every position from two spots on the court on top of the obvious offensive talent held by the two. Davis has proven to be great in the playoffs, just a bad supporting cast hurt him both times. The two MVP candidates are both under 26 years of age and if the Bucks can lock up Davis with an extension, their future is looking to a trophy. Milwaukee would need to give up all-star Khris Middleton, Malcolm Brogdon, Thon Maker, and Tony Snell on top of their fist and second rounders this draft for Davis, but it's absolutely worth the swap for an MVP and Defensive Player of the Year candidate.
Toronto Raptors A trade between Toronto and New Orleans is an interesting thought. A big three consisting of Kawhi Leonard, Kyle Lowry, and Davis is no small feat, and pairing this with possibly the most talented bench unit in the association is definitely enough to challenge the real title contenders. A trade in which the Raptors give away a combination of Pascal Siakam, O.G. Anunoby, Fred VanVleet, Serge Ibaka, Jonas Valaciunas, and a couple of first round picks for Davis, and maybe Nikola Mirotic, would leave the Raptors with a solid starting five with a good bench ready to contend.
Philadelphia 76ers The 76ers are a bit of a mess; however, the amount of talent they have has placed them in third place this season and last. The pairing of Joel Embiid and Ben Simmons and the new addition of Jimmy Butler has not had the best connection. The three of them are not consistent shooters from deep, Simmons can't even shoot a jump shot, and all three have complained for larger roles in the offense. Davis can shoot and score from anywhere on the floor. Maybe cashing in on Simmons and Markelle Fultz with Wilson Chandler and a protected first rounder to fill out the deal for Davis and Elfrid Payton may be able to push the Sixers over the edge in their Finals pursuit. However, the 76ers are probably not going to even consider trading away Simmons, but it's worth a thought.
Chicago Bulls Should the Pelicans go into full rebuild mode, the Bulls may be able to sneak away with Davis. A trade consisting of Lauri Markkanen, Wendell Carter Jr., Jabari Parker, and a few other fillers plus a couple of first rounders for Davis, and maybe another filler, would put the Bulls in playoff contention for next season. Chicago's team of Davis, LaVine, and Dunn with one of the worst benches in the league is not nearly enough to contend for a title. However, a good free agency signing and some good veterans would pick up the Bulls and put them back to title searching for the first time since Derrick Rose's days with them.
Davis has reportedly made it clear that he wants to play for the Los Angeles Lakers. Any team attempting to bring him in must be aware that he may be a one-year rental. They need to be able impress Davis enough to lock him up long term, the way the Oklahoma City Thunder did with Paul George.