OH Flag Football Trounces Oxbridge Academy 26-0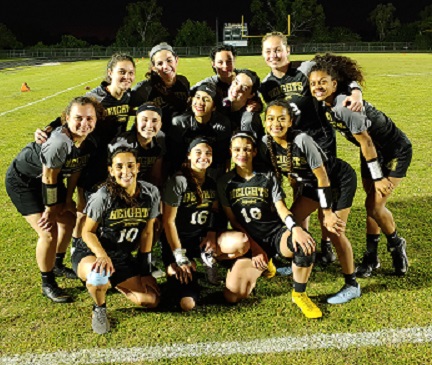 Hang on for a minute...we're trying to find some more stories you might like.
Faith Krost caught two touchdown passes and added a punt return for touchdown to lead the Olympic Heights flag football team to a 26-0 rout of Oxbridge Academy in the Lions' district play opener on Wednesday night at Corey Lewis Stadium.
After the Lions opening drive of the game stalled forcing a punt, Felipa Pinheiro intercepted an Oxbridge pass. On the very next play, OH quarterback Alexis Durrance connected with Krost on a 30-yard touchdown pass. Durrance then found Victoria Barreto in the end zone for the one-point conversion to stake the Lions to an early 7-0 lead.
Soshi Halperin's interception put an end to Oxbridge's next possession, setting up another Lions' score when Durrance and Krost hooked up on a 15-yard touchdown pass. Ashley Simonowsky caught Durrance's one-point conversion pass putting the Lions up 14-0 as the first quarter came to a close.
The Lions continued to play shutdown defense into the second quarter, forcing a Thunderwolves punt from their own 10-yard line. Krost picked up the short punt on one bounce and returned it 30 yards for her third touchdown on the night.
The Lions put the finishing touch on the game with a Madison DeSilva 5-yard touchdown run, leading to the final score of 26-0. The Lions are now 2-0 on the season and 1-0 in the district, and will travel to Suncoast on Wednesday of next week.