OH's Cassandra Michel Wins Pathfinder First Place in Academic Excellence; Three Other OH Seniors Win Awards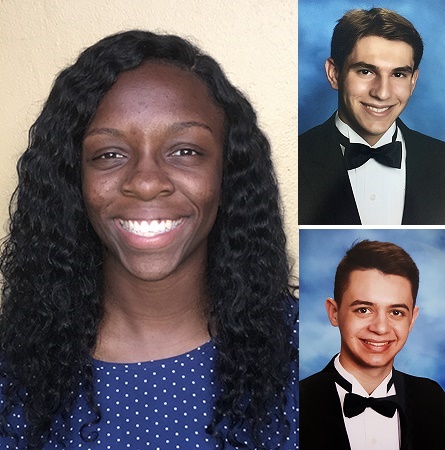 Olympic Heights senior Cassandra Michel won first place in the Academic Excellence category at the Pathfinder High School Scholarship Awards sponsored by The Palm Beach Post last night. Bryce Sontag and Jacob Pasternack each won a third place award in the categories of Foreign Language and Community Involvement respectively.
Also, in the auxiliary awards, Mariana Vallejo won the Executive Women of the Palm Beaches Award in Business.
According to The Pathfinder Awards website, the awards "are presented each year to high school seniors in Palm Beach and Martin counties who have demonstrated outstanding achievement in 18 academic, vocational and athletic categories. These seniors are nominated by their schools, they do not self-apply. The Pathfinder Awards program is one of the largest and most comprehensive high school scholarship programs in the state."
In presenting Michel her first place award, the Pathfinder committee stated, "From her earliest days in school, Cassandra Michel had trouble learning. She described herself as being 'completely lost' in first grade. Later that year she was diagnosed with a visual integration learning disability. She began taking advantage of extra time to complete her work and tests. With grit, determination and willingness to seek help from teachers and classmates, Cassandra soon excelled academically. Last year she took, concurrently, not one but two super-challenging AICE classes. One in sociology. The other in psychology. She was the top AICE sociology student that year. Cassandra has a 4.6 honors point average and is an AP Scholar with Honors. She's president of Family, Career and Community Leaders of America and captain of the varsity track and field team. Cassandra aspires to earn a master's degree in neuroscience and a Ph.D. in psychology."
The Pathfinder Award winners receive college scholarships of $4,000 for the first-place winner, $3,000 for the second-place winner and $2,500 for the third-place winner in each category.