NBA 2019 Mock Draft: Williamson the Consensus First Pick; Miami Heat to Pass on Bol Bol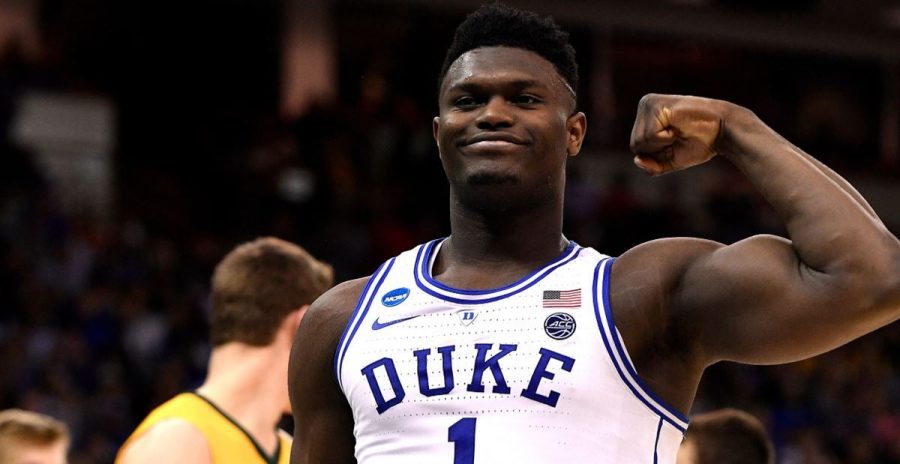 This year's NBA draft class has one of the biggest stars in the history of the draft. Zion Williamson overshadows the likes of every potential all-star from this year's selections. The six foot seven 285-pound beast is the consensus first overall selection. With that being said, Ja Morant and R.J. Barrett still have the opportunity to be the best player from this class and the rest of the selection pool is loaded with potential. Thursday, June 20, is the draft and this mock draft will give an idea of how things could shake out.
1. New Orleans Pelicans – F Zion Williamson
Zion Williamson is a freak of nature. He is six foot seven and weighs 285 pounds. This makes him the second heaviest player in the league, and he's not even in the league yet. The only player heavier than Williamson is Philadelphia's seven foot three monster Boban Marjonovic. Williamson is drawing comparisons to NBA greats. Scottie Pippen called him "The greatest prospect since Michael Jordan." Stephon Marbury says that he will be "way better than LeBron [James]." The Duke product will be a great addition to the team's new young core in Lonzo Ball and Brandon Ingram. Those three and the fourth selection of this draft will be the future of this franchise.
2. Memphis Grizzlies – PG Ja Morant
Ja Morant proved himself to be special with his extreme athleticism and outstanding playmaking ability. His first round triple-double had his draft stock jump Duke stud RJ Barrett. Morant is a great player to build the post Mike Conley and Marc Gasol era of the Grizzlies around. The franchise chose Jaren Jackson Jr. last year from Michigan State, who is an excellent two-way big man. The pick and roll between these two will be special. This is a great pick for a bouncy playmaker who can help this team redirect the pathway of its future.
3. New York Knicks – SG R.J. Barrett
The second of the Duke freshman superstars, R.J. Barrett is a volume scorer who can knock down the three-ball. He is all set to take over the league with his next level scoring and playmaking abilities. Barrett can help bring the Big Apple back on the basketball map. His offensive abilities are there and next to Dennis Smith Jr. and Kevin Knox, his scoring can do even more damage with the defense focused on a few options. What many forget is his defense. Barrett can guard three positions and can turn defense into easy offense. This pick would give the Knicks their generational talent, albeit not the one they originally wanted. Now it's a matter of what they do with it.
4. New Orleans Pelicans (via LAL) – SF Cam Reddish
Cam Reddish's draft stock may have fallen this year, but the Pelicans would be getting a future superstar with this selection that came to them in the trade of Anthony Davis to the Los Angeles Lakers. Reddish has certainly not gotten worse this year. He just had to share the ball with other Duke members Zion Williamson, R.J. Barrett, and Tre Jones. Reddish can knock down NBA range threes with ease and can score from anywhere on the court. Don't let his inconsistency cover the fact that Reddish is a great offensive talent and will be a star in the league for a long time. His fit next to last year teammate and the Pelicans' young core is unquestionably great. This pick provides great upside to a team focused on the future.
5. Cleveland Cavaliers – PF De'Andre Hunter
De'Andre Hunter is fresh off a National Championship with the Virginia Cavaliers, in which he had a stellar 27 points and nine boards along with his always impressive defense. Not in the top ten until the tournament in most mock drafts, Hunter is not the flashiest selection. However, it's not all about flashiness for Cleveland. Hunter is a long three-and-D player who will be a great piece to build around next to Collin Sexton. He can knock down the three-ball and will lock up the opposing team's best player once he gets used to the speed of the NBA. This defensive duo can be special for Cleveland.
6. Phoenix Suns – PG Coby White
Coby White was not expected to be a lottery pick at the beginning of the season; however, he has surpassed all expectations with his amazing scoring ability displayed towards the end of the regular season and in the tournament. White can knock down threes at a high rate and can get to the rim. He has a score-first mentality but is unselfish as well. The Suns are in dire need of a point guard. Tyler Johnson is not the long-term answer. White can help fill out the starting lineup for the Suns very nicely with Devin Booker, Deandre Ayton, and Josh Jackson.
7. Chicago Bulls – PG Darius Garland
Darius Garland has been underrated by most when looking at this class. His torn meniscus holds him back from most calling him a top five selection; however, he has all the tools to become a superstar. The Bulls need a point guard as Kris Dunn has failed to prove himself as a starter in the league. Garland averaged 16.8 points through five games, while also shooting 47.8 percent from three. He can knock down shots at a high clip and can finish at the rim. Next to Zach LaVine in the backcourt, Darius Garland would shine in Chicago.
8. Atlanta Hawks (via DAL) – SG/SF Jarrett Culver
Selecting Jarrett Culver would give the Hawks a great off-ball scorer next to Trae Young. Culver is an outstanding scorer at six foot six with outstanding finishing and passing abilities. He can be the focal point of the Atlanta offense for stretches, but he has proven that he's most effective as a second option. This selection would create a young, talented two-way forward tandem with John Collins. Culver's shooting and defense will have him secure in the top ten and the Hawks would be a great fit for him.
9. Washington Wizards – F Rui Hachimura
The Gonzaga product Rui Hachimura is a wild card in this year's draft. Some experts have him being drafted as high as fourth while others place him in the mid-twenties. Washington could use the forward to team up with Bradley Beal and John Wall. His versatility could create matchup nightmares for opposing teams as he can do a bit of everything on the floor.
10. Atlanta Hawks (via DAL) – C Jaxson Hayes
Jaxson Hayes proved himself to be a top player during the regular season. He established himself to be the best shot blocker in the draft and a great rim roller. The Hawks do not have a talented defender on the roster as of now, but to have a defensive anchor as skilled as Hayes, as well as a wing defender in Culver, the Hawks are positioning themselves to be one of the most improved teams next season.
11. Minnesota Timberwolves – PF Brandon Clarke
Brandon Clarke is another great defensive product of the draft. His shot blocking abilities are only matched by his perimeter defensive skills. At six foot eight, he is able to keep up with most forwards, but his bounce allows him to check big men as well. His offensive game needs some work, though. He can get off the ground quickly, but his jumper is questionable. He has solid touch around the rim and a few basic post moves. Clarke is an intriguing prospect for the Timberwolves, who could use a defensive wing alongside Andrew Wiggins and Karl-Anthony Towns.
12. Charlotte Hornets – F Sekou Doumbouya
Doumbouya is one of those picks who the selecting team better know is a project. These types of picks sometimes turn out, e.g. Giannis Antetokounmpo, and sometimes don't, such as Alexis Ajinca. With Kemba Walker possibly leaving for L.A., Charlotte has the time to remain patient. The Hornets are betting on Doumbouya's length and athleticism, hoping to build his skills with time and play him next to Malik Monk and Miles Bridges in their future.
13. Miami Heat – G Kevin Porter, Jr.
Kevin Porter Jr. is a bit of a risk due to his limited time and production on the floor during his only year of college at USC, but the Heat are in good position to take it. Porter provides great skill in isolation. He can score all levels and has keen passing vision. His biggest flaw is his attempts at making SportsCenter's top plays rather than the simple play. He was suspended for much of last season due to his off-court issues; however, Miami is a place that can shape him, and his game, up to professional levels. The future will be bright in Miami should this selection be made as point forward Justise Winslow is slowly reaching his potential, wing scorer Josh Richardson is taking big steps to be a great two-way player, and Bam Adebayo is quietly becoming a versatile big man that can handle the ball and shoot jumpers as well as bang inside. Adding KPJ gives the team that go-to bucket getter they have been longing for.
14. Boston Celtics (via SAC) – C Bol Bol
The Celtics are in no need to rush a draft pick to play big minutes, which allows them to select Bol Bol with the fourteenth pick. Son of former NBA seven foot seven center Manute Bol, Bol Bol has no lack of size. He is a few inches shorter, listed at seven foot two, but this Bol has a nice outside jumper and a decent handle. He is recovering from foot surgery, so that is why he is a late lottery pick; however, with a full recovery and some added muscle (he only weighs 208 pounds), Bol can be an all-star in this league.
15. Detroit Pistons – SG/SF Romeo Langford
The Detroit Pistons are at a lack of scoring options outside the paint. Big men Blake Griffin and Andre Drummond are most comfortable in the post and the Pistons do not have a scorer from the perimeter to balance the attack. That's where Langford comes in. Langford's draft stock has fallen this season, due to his inability to lead his Hoosiers to the Big Dance, but his scoring ability is undeniable. He's got a lot of tricks in his bag on that side of the ball. His defense makes him a good fit next to Reggie Jackson and will allow the Pistons to get in transition off steals and rebounds. Langford is a great pick for Detroit to attempt a playoff run.
16. Orlando Magic – SF KZ Okpala
Okpala has the potential to be an all-star point forward. He has a tight handle and keeps his composure through traffic. He is six foot nine with a seven foot two inch wingspan. This length provides him with astonishing defensive potential. Although he holds a small sample size, only shooting three threes a game, Okpala has greatly improved his distance shooting, connecting on 37 percent of his treys. He needs to build some muscle; however, he is a great developmental piece for the Magic. The slow development should match that of Markelle Fultz, Mo Bamba and Johnathon Isaac.
17. Atlanta Hawks (via BKN) – PF PJ Washington
PJ Washington is one of the most polished scorers in this draft, which could be utilized in Brooklyn. Washington can bang inside and knock down mid-range jumpers. His NBA three pointer is a bit of a concern but that can come with time. Aside from Washington's offense, his on-ball defense is stellar. He can guard four positions; however, his off-ball defense is another story. He can't spot a play occurring and doesn't help on drives nearly quick enough even at the collegiate level. This is a point of concern for the Nets, but his offense provides a second point of attack from the pick and roll run by D'Angelo Russell.
18. Indiana Pacers – SF Nassir Little
Nassir Little began this season looking like a top ten selection in this draft; however, his stock has fallen since then. He still provides great athleticism from the forward position. He can run in transition but will not be doing much creating on the offensive end. He cannot hit jump shots, so that may be an issue, but his length and explosiveness provide some potential at the 18th pick.
19. San Antonio Spurs – C Goga Bitadze
Goga Bitadze is an all-around skilled foreign big man who just finished playing in Europe. Sound familiar? Take a look at the championship 2014 San Antonio roster. Manu Ginobili, Tim Duncan, Tony Parker, Patty Mills, Boris Diaw, Corey Joseph, Marco Belinelli, Tiago Splitter, Aron Baynes, and Nando De Colo were all on that roster and all born outside the United States. Bitadze can shoot from distance, knock down shots in the midrange, pass the ball, and get to the line. His length gives him great ability to block shots on the other end. This pick has lots of upside, looking to play like a low-end Kristaps Porzingis.
20. Boston Celtics (via LAC) – PF Grant Williams
The Celtics are missing a traditional big man, and this pick won't completely solve that issue. However, the Tennessee product plays a similar style to Draymond Green. He will provide hustle on every play. In addition, he can break down defenses with his stellar passing abilities from the power forward position. He can play on and off-ball defense at a high level and can run in transition. He can score off drives but won't win over any teams by his handle. The Celtics could use a guy like this to motor the team to the finals.
21. Oklahoma City Thunder – G Matisse Thybulle
Thybulle is a defensive guard. He can get steals and block shots consistently, but he isn't the best on ball defender. He hasn't had many chances to show this skill, considering Washington's 2-3 defense, but he hasn't shown much in his few chances. His offensive game is very raw. He is a very streaky shooter and doesn't get to the line too often. He can get careless at times, but his hustle is always there. His fit next to Russell Westbrook is questionable considering neither are outstanding shooters, but the Thunder need to make moves with high upside in the future, such as this one, this late in the draft.
22. Boston Celtics – SG Keldon Johnson
The Celtics are making another high risk, high reward selection here with Kentucky's Keldon Johnson. Johnson is very good at getting to the basket on drives and finishing through the defense. He has good touch around the rim, but he needs that to translate to his outside game. He needs to provide shooting at his size in today's NBA and if he can do so, he will be considered a steal in a few years from now. His fit with Boston isn't necessarily the best considering the have Jaylen Brown and Jayson Tatum, but with his upside, it is worth the selection.
23. Utah Jazz – SG Nickeil Alexander-Walker
Nickeil Alexander-Walker getting drafted at 23 is a steal already. His shooting from range and off the dribble is already at an elite level for an NBA prospect. He needs to improve scoring over a defender, but that will come with time. He possesses average playmaking and finishing abilities. His athleticism isn't off the charts and that is the biggest thing keeping Alexander-Walker outside the lottery and top 20 in this mock. Playing alongside Donovan Mitchell will be very good for Alexander-Walker as he Mitchell will be able to collapse the defense and kick out to him for corner three-balls, as seen already with Joe Ingles.
24. Philadelphia 76ers – SF Cameron Johnson
Cameron Johnson is hoping his shooting and positionless play style are enough to make him a first-round pick. Johnson holds the ability to post up smaller guards and knock down threes when left open. He's not great at guarding quicker guards, but at six foot eight he can play in lineups at either forward position. With Philadelphia's positionless style, the North Carolina product fits right in.
25. Portland Trail Blazers – C Mfiondu Kabengele
Kabengele has been rising up draft boards since his big performance in the tournament. Private workouts have also helped his case. He may be one of the older prospects of this draft at 22, but he is big, athletic, and can knock down the long ball. Portland could use a stretch-five off the bench for their current playoff run, especially with the concern over Jusuf Nurkic's injury. Kabengele would provide the Trail Blazers with a high energy finisher and rim protector.
26. Cleveland Cavaliers (via HOU) – SG Talen Horton-Tucker
Talen Horton-Tucker will be just 18 years old when he walks across the stage and shakes Commissioner Adam Silver's hand on June 20. Horton-Tucker is an elite athlete with little basketball skills or instincts. He is just six foot four as an off-guard, but he has an astonishing seven foot one wingspan. His extreme length allows for easy steals and blocks. He can become a great defensive player who can get out and run in transition. Horton-Tucker, Collin Sexton, and De'Andre Hunter could provide Cleveland with an elite defensive trio in the near future. On top of that, these three won't be turning this Cleveland roster into a playoff contender; thus, the Cavaliers can add more young talent to the roster next year.
27. Brooklyn Nets (via DEN) – SG Tyler Herro
Tyler Herro is a good shooter from distance and can improve even more in that area. He draws comparisons to Klay Thompson; however, he will most likely never reach that level. Herro proved his shooting abilities off the catch but he is not one to create for himself or his teammates. He is a good fit for the Brooklyn pick-and-roll offense as he can sit in the corner opposite another shooter and let D'Angelo Russell have his space to the basket.
28. Golden State Warriors – PG Carsen Edwards
Carsen Edwards had one BIG game with Purdue last season. He dropped 42 points and nailed ten threes. His production was mostly on his own dribble, proving his shot creating and shot making abilities. Edwards hit 28 threes in four tournament games. His fit in the league and especially with the Warriors is proven on that stat alone. He has a great handle and plays unselfish, but he doesn't rack up too many assists. That doesn't matter with the Warriors system though. He could run with the bench unit with Shaun Livingston and Andre Iguodala running the offense, allowing him to just worry about scoring.
29. San Antonio Spurs (via TOR) – C Bruno Fernando
Fernando is a double-double guy every night. He battles on the boards and can roll to the rim efficiently on offense. He can provide San Antonio with a rim roller and can play him alongside, previously selected in this mock draft, Goga Bitadze. His average three-point shooting can stretch defenses enough to spread the floor for such scorers as LaMarcus Aldridge and DeMar DeRozan. Fernando is a good free throw shooter as well. On defense he provides a shot blocker and big-time rebounder. San Antonio doesn't have another player like Fernando on the roster, so he is a great fit for their roster.
30. Milwaukee Bucks – PG Ty Jerome
Ty Jerome is just a smart basketball player. He is a good shooter and likes to get his teammates involved in the offense. At six foot five, he can post up smaller point guards and can also knock down free throws after creating contact inside. He needs to improve his defensive abilities, but until he develops that, the Bucks can cover for him as they hold the number one defense in the NBA this season.