With frostbite and helmet issues behind him, Raiders' Antonio Brown may be ready to play football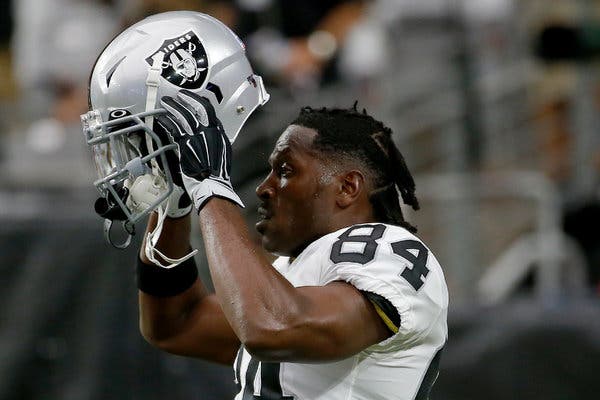 Antonio Brown has been one of the best receivers in the National Football League since being drafted out of Central Michigan in 2010. But with his success comes extra baggage. Brown has always put himself into the headlines, whether it is problems with his teammates, or doing an excessive celebration after a touchdown. Keeping all of that in mind, this time is the most controversial of all. The NFL just passed a new rule where all players are required to wear the newest and safest helmet, but Brown has other ideas in mind. He claimed that he won't play if he can't wear his old helmet.
As for the helmet controversy, Brown filed a grievance with the NFL on Aug. 12 which was quickly denied. Brown then filed a second grievance asking for a one-year grace period which would allow him to wear his old helmet for the 2019 season. That grievance was denied by the NFL as well on Aug. 23. 
According to Brown's agent Drew Rosenhaus, Brown is moving on from the "helmet fight" with the NFL, but he is moving forward with a deal for an approved helmet in the near future, according to ESPN.
According to ESPN, Rosenhaus told SiriusXM NFL Radio that Brown has "multiple offers on the table right now from various companies to custom-make a helmet for him and pay him quite a bit of money."
"He won't be missing any time," Rosenhaus said, "and he'll be getting paid a lot of money to do so. It's sort of a happy ending, even though he won't be able to wear the old helmet."
Brown just received a new contract worth fifty million dollars over three years, so he has big expectations on him for this year to not only have a great individual season, but also to help lead the Raiders to the playoffs.
Coming off his seventh Pro Bowl appearance and a season where scored the most touchdowns in his career, Brown requested a trade from the Pittsburgh Steelers. Many are praising the Oakland Raiders for acquiring Brown while only giving up a third and a fifth round pick, which is ironic because the Cowboys gave the Raiders a first round pick for a less-talented receiver in Amari Cooper earlier in the season. 
This isn't the only time Brown has been in the news since his trade to the Raiders. He recently took a trip to Italy and did what many professional athletes do, cryotherapy. But instead of taking the necessary precautions, Brown went in to the tube with no shoes on, and when he came out he discovered frostbite on the bottom of both of his feet. This injury has kept him out of practice throughout all of training camp and most of the preseason. 
Trading for Brown, means that the Raiders are very confident in their team and want to make a push to win now. They drafted defensive end Clelin Ferrell at the fourth pick in the draft and running back Josh Jacobs. After a 12-4 season in 2016, the Raiders have exponentially decreased in wins, finishing last season with only four wins. After bringing in Jon Gruden to be the new head coach last year, there were very high expectations, but they disappointed by finishing last in their division. Many blamed quarterback Derek Carr for the bad season, but due to the lack of weapons that he had, not all the blame can be put on him. 
Leave a Comment