Lions lose at Boca High 29-0; drop to 0-2 on the season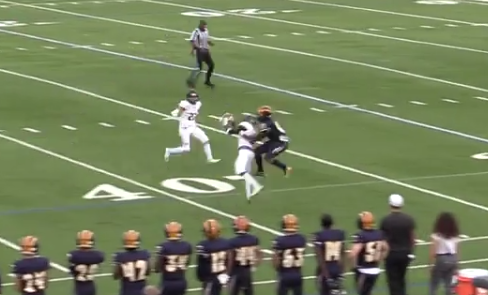 Many of the same problems – missed blocks, missed tackles, and penalties – that plagued the Olympic Heights Lions in their season opening loss to Lake Worth last week came back to haunt the team in last night's 29-0 loss to the Boca Raton Bobcats last night in a weather-shortened game, dropping the Lions to 0-2 on the season.
Things looked to be getting off to a good start for Lions as cornerback Patrick Pierre intercepted a Boca Raton pass on the third play of the game's opening possession, setting the OH offense up on their own 40-yard line. But the Lions went three and out and were forced to punt.
The Bobcats took their next possession on a 65-yard drive to take a 6-0 lead, scoring on a fourth and goal from the 3-yard line. On the Lions' ensuing possession, OH quarterback Blake Moreland was sacked on the first play and intercepted on the second, giving the Bobcats the ball on their own 45-yard line.
The Lions defense was able to force a Bobcat punt, but on OH's next possession, a Moreland tipped pass was intercepted and returned for a 20-yard Bobcat touchdown, posting Boca Raton to a 13-0 lead-
The Bobcats added another touchdown on their next possession after a 3-yard touchdown pass capped a three play, 60-yard drive.
The Lions were able to put together a drive late in the second half, featuring a series of Moreland to wide receiver Juan Gonzalez completions, but with time running out, a Matthew Shook field goal attempt was blocked to bring the first half to a close with the Bobcats holding a 20-0 lead.
The Lions' opening drive of the second half came to an abrupt halt when Charles Davis fumbled while fighting for extra yardage after taking in a short Moreland pass. The Bobcats capitalized on the turnover on the very next play on a 24-yard touchdown pass, extending their lead to 27-0.
The Bobcats tacked on a safety when Moreland was flagged for intentional grounding on a pass from his own end zone, leading to the final score of 29-0 when the game was stopped due to lightning with 2:59 remaining in the third quarter.
As was the case in the first half, any semblance of drives the Lions were able to put together in the second half – most of which featured Moreland scrambling for his life before hooking up with a OH receiver – were thwarted by mishaps and penalties.
The Lions will look to clean up those mistakes as they prepare for tough match-up at Palm Beach Central scheduled for Friday, Sept. 6, at 6:30 p.m.