Lions fall to 0-3 after 53-0 loss at Palm Beach Central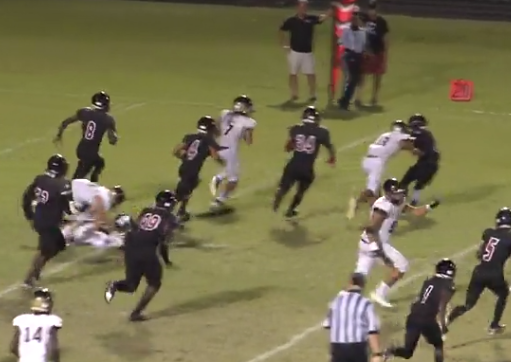 You knew it was going to be a long and ugly night for the Olympic Heights football team last night against Palm Beach Central when the Lions – at only five minutes and 22 seconds into the game – were down 21-0 with Palm Beach Central having run only one offensive series.
When the clock mercifully struck double-zeros to end the fourth quarter, the Lions found themselves on the short end of a 53-0 Bronco beat down, dropping their record to 0-3 on the season.
The Broncos got the scoring started early when after holding the OH offense to a quick three-and-out on the game's first possession they returned the Lions first punt for a touchdown. After forcing the Lions to punt on their next possession, Central went 60 yards on three plays to score again on a 40-yard touchdown pass.
The Lion's third possession was also a three-and-out, but things got worse when the punt snap sailed over the punter's head into the end zone where it was recovered by Central for their third touchdown of the game, staking the Broncos to the early 21-0 lead.
While OH quarterback Blake Moreland spent the better part of the night scrambling around in his own backfield trying to elude the Bronco pass rush, Central went on to score on its next two possessions to take a 34-0 halftime lead.
The OH defense only managed to stop one Central drive in the first half when the Broncos turned the ball over on downs after driving down to Lions' 20-yard line. On the subsequent drive, the Lions did manage to put together some semblance of a drive, but that came to an end when time expired in the first half.
The second half was more of the same as the Broncos scored on their first three possessions, taking a 53-0 lead on a 71-yard touchdown pass. The Lions were unable to put up any type of offensive threat in the second half.
As the game was winding down to a close, it appeared that Central was desperately trying to get their score to 60 points as they kept throwing deep in the final minute of the game. The Lions' defense was able to keep the Broncos from reaching the end zone for the eighth time when Central turned the ball over on downs deep in OH territory.
Last night's game was moved from the originally scheduled date of Friday, Sept. 6 due to Hurricane Dorian. That means that Lions will only have three days to prepare for this Friday's home  game against John I. Leonard.