Lions fall behind early in 33-13 loss to Forest Hill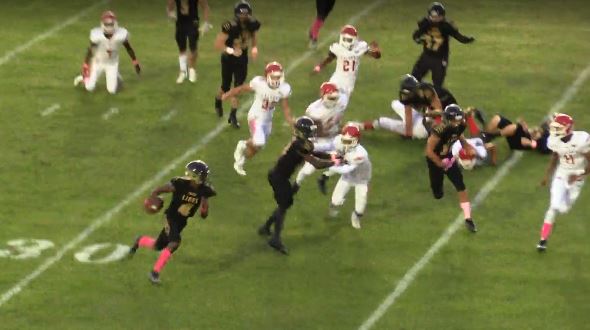 The Olympic Heights football team put up a tough fight against the Forest Hill Falcons but couldn't manage to capitalize in key situations, ultimately losing their homecoming game 33-13 at Corey Lewis Stadium on Thursday, Oct. 17.
As has been the case throughout most of their losses this season, the Lions found themselves behind early as the Falcons scored on their first three possessions and were looking for their fourth consecutive score which was denied when OH cornerback Jekkaven Smith intercepted a Falcons' pass in the end zone on a first and goal play from the OH 9-yard line.
The Lions offense did manage to put together two good drives in the first half, but the first of those that saw OH move the ball from their own 30 to the Forest Hill 5-yard line, ended when the Falcons picked off an OH quarterback Blake Moreland pass at the goal line. That drive included 34-yard and a 19-yard gain on a passes from Moreland to Jake Sonn and William Anusbigian respectively. Moreland also had a 21-yard run on the drive.
Trailing 21-0 late in the first half, the Lions drove 71 yards to post their first score of the game on a Nick Palmenteri one-yard touchdown run. On that drive, Palmenteri played a wildcat quarterback position on all but one play of the drive as Moreland was receiving treatment for a hand cut incurred on the Lions' previous possession. In fact, Palmenteri ran the ball on 10 of the drive's 12 plays. Palmenteri's  one pass attempt was a 27-yard completion to wide receiver K'ameronn Joseph that set up his one 1-yard touchdown run on the very next play.
The second half saw OH and Forest Hill exchange unproductive drives and fumbles until the Falcons managed two consecutive scoring drives of 55 yards and 57 yards respectively, putting the score at 33-7 late in fourth quarter.
The Lions final score of the game came on a 9-yard touchdown pass from Moreland to wide receiver Juan Gonzalez, capping a 65-yard drive in the final minutes of the game, leading to the final score of 33-13.
The 2-6 Lions will next host the winless West Boca Bulls (0-7) on Friday, Oct. 25. Kickoff is at 6:30 p.m.