OH HAPPENINGS: Pathfinder nominees announced; Engineering Academy students host CyberDays event; Thanksgiving Box Brigade underway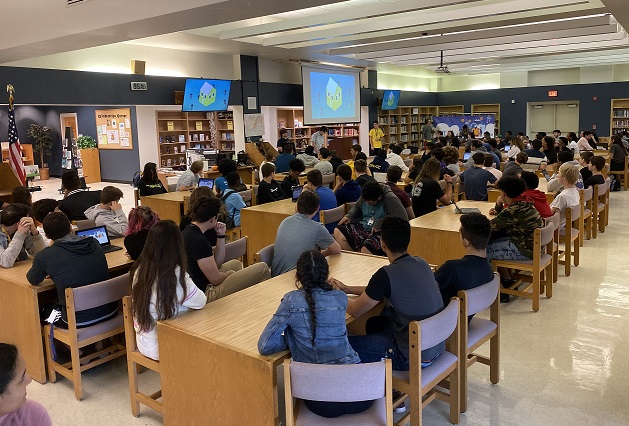 OLYMPIC HEIGHTS PATHFINDER NOMINEES ANNOUNCED: The Pathfinder High School Scholarship Awards are presented each year by the Palm Beach Newspapers, Inc, publishers of the Palm Beach Post, to those high school seniors in Palm Beach and Martin counties who have demonstrated outstanding achievement in 18 academic, vocational and athletic categories. Awards include college scholarships of $4,000 for the first-place winner, $3,000 for the second-place winner, $2,500 for the third-place winner in each category.
The 2020 Olympic Heights nominees are : Maxwell Wyatt (Academic Excellence); Genevieve Krieger (Forensic Speech); Jacob Tucker (Communications); Andrew Kaye (Community Involvement); Jack Minor (Business); Marie Preuss (Foreign Language); Ty Delaney (Computer Science); Sophia Keane (Tech Vocational); Francois Khouri (History); Dylan Smurlick (Science); Isabelle Eisenberg (Drama); Victoria Caroll (Music-Instrumental); Brandon Rachlin (Music-Vocal); Lindsay Poloskey (Athletics); Ashley Perry (Literature); Olivia Santa (Art); Alexa Domash (Math); Kevin Alves (Reach for Excellence).
Congratulations and good luck to these outstanding and very deserving nominees!
CYBERDAYS EVENT:  The Engineering Academy hosted a CyberDays event in the media center and gym on Tuesday, Oct. 29 and Wednesday Oct. 30 in order to raise awareness about cyber security issues that affect our students in their digital lives. The event was the culminating event of the Engineering Academy's celebration of October as Cyber Awareness month with the theme being "Own IT. Secure IT. Protect IT." 
The CyberDays Event allowed for teachers to bring their classes to the media center or gym for presentations run by students from the Cybersecurity class.  Students attending the presentations learned of the nature of the cyber risks that they face, and got practical advice on how they can have a healthy digital footprint. They also played a Jeopardy game that focused on those topics, reminding them of their cyber safety.
THANKSGIVING BOX BRIGADE: The annual Olympic Heights Thanksgiving Box Brigade to assist Boca Helping hands in feeding the less fortunate is underway. Boxes can be picked up from Ms. Koher in room 2112 beginning Thursday, Oct. 24. Filled boxes can be turned in to Ms. Koher in room 2112 from Monday, Oct. 28 through Friday, Nov. 8. Boxes will not be accepted after Nov. 8. The list of required items to fill the boxes can be seen here.