OH HAPPENINGS: Three OH students post the nation's highest AICE test scores; vocal groups showing out; theatre troupe wins big at districts; computer science team wins Congressional App Challenge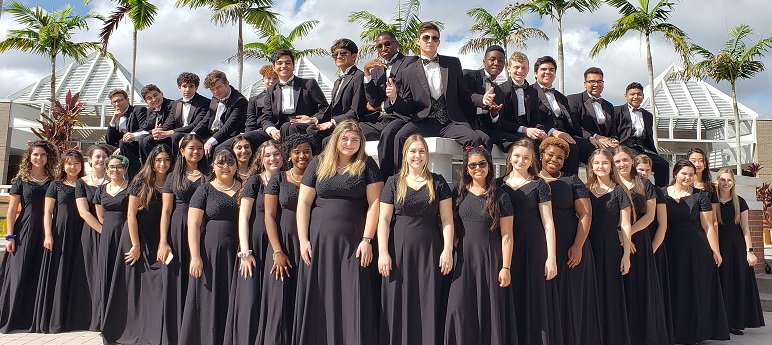 Several Olympic Heights students are recipients of Cambridge Learner Awards for their outstanding achievement in the June 2019 Cambridge AICE exams series, including three who posted the highest scores in the country on their respective AICE exams.
Senior Marie Preuss earned Top in Country for A Level Marine Science by posting the highest score in the U.S. on the A-level Marine exams. Preuss also earned the Scholar Award with Distinction for earning "A" scores in three or more Cambridge International AS Level subjects.
Junior Maria Sara earned Top in Country for AS Level Spanish Language for earning the highest score in the U.S. on the AS-level Spanish exams.
2019 OH graduate Connor Murphy earned Top in Country for AS Level Music for earning the highest score in the U.S. on the AS-level Music exams. Murphy's award makes it back-to-back awards in the category for OH as 2019 graduate Bria Beardsley won the award in 2018.
Additionally, Cambridge Scholar Awards for high marks in three or more Cambridge International AS Level subjects went to Michelle Berglass, Shane Ostfeld, Lior Polani, Daniela Ramirez, Aryeh Silver, and Nikola Zaklan.
OH VOCAL GROUPS KEEPING BUSY
The vocal program of the Fine Arts Department continues to enjoy exciting activities and has had a very busy first semester including being accepted into the Walt Disney World Candlelight Processional where they performed on December 10.
All five vocal students that auditioned for the Florida All-State Choir passed the very rigorous testing situation of theory and sight reading skill as well as vocal quality.  Alejandra Robayo and Edsel Goyo both scored high enough to be accepted into the 150 voice Florida All-State Choir.
Additionally, Rachel London and Robayo both earned superiors at the Florida Vocal Association Solo & Ensemble assessment in November.
The vocal programs also participated in the Stetson University and Florida Atlantic University Honor Choirs, giving the students the opportunity to visit a small and large university campus and experience working under the direction of fine conductors from around the state.
THEATRE DEPT SHINES AT DISTRICT COMPETITION
The OH theatre department once again impressed critics at the District X Thespian Competition held at West Boca Raton High School on December 7, earning 25 Excellent Awards, 33 Superior Awards, and 6 Critics' Choice Awards.
Wthe troupe With 78 students representing OH's Troupe 4992, this largest group of performers OH has ever sent to the competition, the troupe was really able to showcase their hard work and undeniable talent.
The OH Critics' Choice Award winners are:
Hannah Berkowitz for Student Direction: Moon over Buffalo, starring Nidal El-Mcharfie, Bryan Araujio, Isabelle Eisenberg, and Giovanna Costa.
Isabelle Eisenberg and Josh Mendes for Duet Musical: "A Stud and a Babe" from I Love You, You're Perfect, Now Change.
Jenny Paul for Costume Design: American Idiot.
Hannah Berkowitz for Choreography: American Idiot, starring Cameron Grippo, Giovanna Costa, Josh Mendes, and Isabelle Eisenberg.
Anna Vardanyan for Makeup Design: She Kills Monsters.
Hannah Berkowitz, Bella Hudoff, Liana Bergollo, Isabelle Eisenberg, Fernanda Cesar, Ashley Simonwosky, and Jade Krickstein for Small Group Musical: "Big Spender" from Sweet Charity.
OH STUDENTS WIN CONGRESSIONAL APP CHALLENGE
A team of OH students from Ms. Angela Mitchell's computer science classes won the 2019-20 Florida District 21 Congressional App Challenge for Florida District 21 on Friday, Dec. 13.
The winning team of Joseph DeMartini, Brianna Latine, Ethen Barco, and Zavian Torres won with their "Smiles Exchanged Anonymously" app, which is a messaging app that allows people to text each other if they are in need of emotional support or just need someone to talk with.
Additionally, of the 27 app submissions for District 21, 25 were from OH.