OH SPORTS WRAP: Winter sports teams update; Wrestlers win JoeMac Duals; Three OH athletes sign letters of intent; Anglin finishes 8th at states diving championships
Going into the Winter Break, the Olympic Heights girls soccer team has a 8-2-3 record, while the boys team has a 5-6-1 record. The girls basketball team has a 6-6 record, while the boys basketball team's record stands at 2-5. It is worth noting that two of the boy basketball team's losses were by one point and another was by two points; if not for four points in three games the boys' record could be 5-2.
OH WRESTLERS TAKE JoeMac DUALS CHAMPIONSHIP
The Olympic Heights wrestling team won the JoeMac Duals in North Miami held on Dec. 13 and 14. Undefeated wrestlers were: Carlos Garcia, Cole Bosch, Sean Heath, Pedro Azevedo, Max Wyatt, Oliver Alva and Nick Muro. Next up for the wrestlers is the Key West Invitational on Dec. 20 and 21.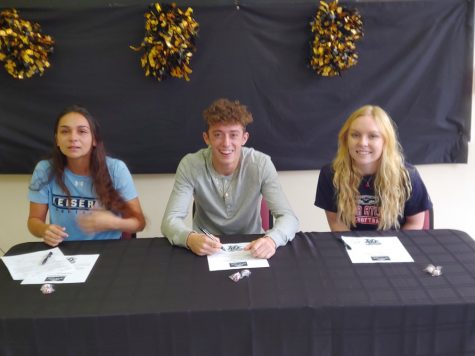 THREE OH ATHLETES SIGN EARLY LETTERS OF INTENT
On Nov. 15, three Olympic Heights senior athletes signed early letters of intent to continue their athletic careers at the collegiate level. Softball player Kaitlyn Cunningham signed with Florida Atlantic University, softball player Alexandra Perez signed with Keiser University, and baseball player Cameron Moss signed with Cleveland Community College in Shelby, North Carolina.
Cunningham actually verbally committed to FAU in her freshman year at OH, so she entertained no offers from other schools. Although she is primarily a pitcher for the Lions, Cunningham expects to play centerfield for the Owls, the position she played when not pitching. She is looking forward to playing under FAU head coach Joan Joyce and associate head coach Chan Walker.
Perez, also a pitcher and outfielder for OH choose Keiser over a few other schools because it is "not too far from home but not too close." Perez also expects to be used primarily as a outfielder at Keiser.
"It's amazing to be able to start a new program and set the first records," Moss, a centerfielder, said about suiting up for the inaugural baseball season at Cleveland C.C. He said he chose Cleveland C.C. over offers from two other schools because of the coach and the campus, adding that he likes the area.
DANIELLE ANGLIN FINISHES EIGHTH AT STATE DIVING CHAMPIONSHIPS
OH sophomore Danielle Anglin finished in eighth place during the FHSAA 3A, one meter state diving championships on Nov. 16.  Her amazing run to states began with a second place finish at the district championships and then a first place finish at the regional championships.
Anglin was in the top five throughout most of the meet until an unfortunate mistake lead to her hitting the diving board on her second to last dive. After getting treatment and composing herself, Anglin moved up to eighth place on her final dive of the meet.
Doing so well in her first year of high school diving has Anglin hungrier to return next year for a better performance.  "We couldn't have been more proud of Dani, she showed a lot today and had a passion over the last two meets that was unrelenting," Coach Jim Cappello said after the meet. "After hitting the board she could have just waived off the last dive and no one would have thought anything of it.  She is an amazing athlete, and we are so happy to have been a part of Dani's progress on the board, and cannot wait to get started again for next season."