Which are the best of the holiday movies?
We have your top five right here!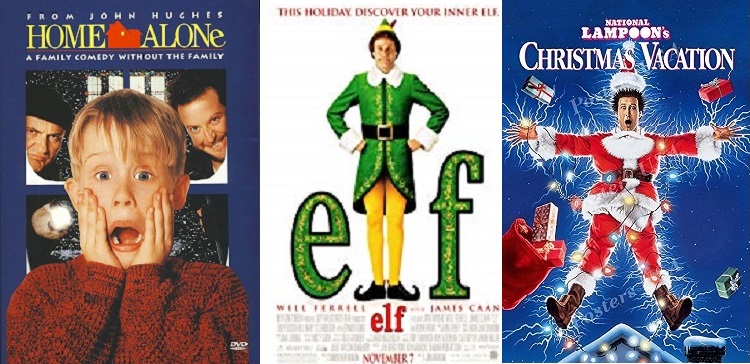 The holidays are here! Christmas, Hannakuh, and New Years are just around the corner! It might be ideal to stay inside due to the extreme low temperatures here in Florida. I mean it's like 70 degrees out there! Then what will you do in the meantime? Watching movies would be a great idea! Here's a list of my favorite holiday movies that go great with a blanket and a cup of hot cocoa:
5. Die Hard – One of the most debatable topics of our generation – is Die Hard a Christmas movie? I believe it is, and it is a good one. On Christmas Eve, a group of criminals take over Nakatomi Plaza to rob a vault. One legendary cop, John McClane, becomes the holiday hero, and saves Christmas. For those who think Die Hard is not a Christmas movie, here's some points to prove it: "Let It Snow" is on the soundtrack, it takes place on Christmas Eve, Nakatomi Plaza is decked for Christmas, and lastly, John McClane sends a message that says "Ho Ho Ho" in blood. 
4. How the Grinch Stole Christmas – Based on the story by Dr. Seuss, this tale is one we've all been familiar with since we were kids, but it's Jim Carrey's performance as "The Grinch" that puts this movie in the fourth spot. He was born to play this role. The Grinch is the tale of a "mean one" who takes away Christmas from the town of Whoville. He eventually learns that Christmas is about giving rather than getting. Also, here's a fun fact: this is not Jim Carrey's first movie with a green mask!
3. National Lampoon's Christmas Vacation – What's the best part of Christmas Vacation? Two words. Cousin Eddie. This Christmas comedy will have you laughing until you're at the bottom of your hot cocoa. Cousin Eddie steals the show with his shocking humor and questionable IQ. This film tells the story of a dysfunctional family that attempts to have a normal Christmas, but instead ends up with no gifts, no lights, and a Jelly of the Month subscription, which is, after all, the "gift that keeps on giving."
2. Home Alone – This Christmas classic is about a boy whose wishes come true when his family leaves him home alone. But what makes this movie so memorable is Kevin McCallister's pranks against the "Wet Bandits" to protect his home. The traps he sets up and one-liners that follow make this movie one of the best. Just like any Christmas movie, it ends with a cliché happy ending as the family reunites and understands the true meaning of Christmas. 
1. Elf – If you ask people what their favorite holiday movie is, they generally have one response: Elf. It's filled with classic one liners and reminds us all what's it's like to be a little kid at Christmas. After working for Santa for his whole life, Buddy the Elf leaves the North Pole to travel to New York City in search of his dad. He soon realizes how little Christmas spirit there is and hopes that he can make everyone believe in Santa again.
Since Will Ferrell probably won't show up at your home in an elf costume reminding you to have holiday spirit, I hope this list will remind you that holiday spirit and getting together with family is what makes this season jolly.