Jimmy The Greek: Atmosphere Derails Experience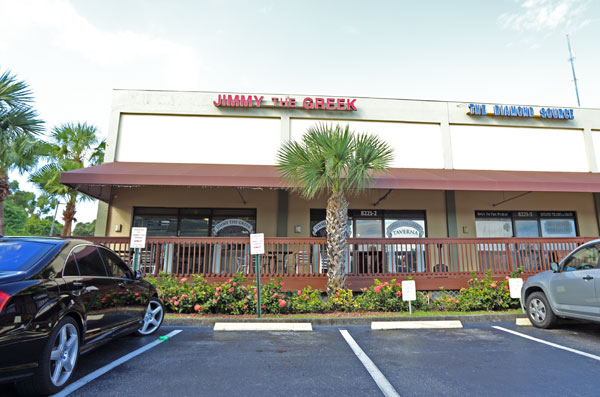 Jeff Ruben, Online Editor and Staff Writer
January 29, 2014
Hang on for a minute...we're trying to find some more stories you might like.
The phrase "don't judge a book by its cover" aptly applies to Boca Raton Greek restaurant, Jimmy The Greek. Located on Glades Road and Boca Rio, Greek food institution Jimmy The Greek is housed in a 1980s style building with a rickety wooden deck directly outside. Inside, you will be seated at decade old furniture and stare down at a gross tile floor with a substantial amount of grout buildup. But as soon as you bite into their famous homemade pita bread with a side of humus, your mouth will water and you will envision eating at a restaurant beside the Mediterranean on a warm summer day.
FOOD: Gourmet Greek cuisine… No other way to slice it. I started with a basic order of humus and pita to start my dining experience. The pita tasted just as if it was taken off of the stove and was so divine that it made my mouth water. The hummus tasted very fresh and was not very oily. For my main dish, I split the Greek Salad with Grilled Chicken and the popular Greek dish, Souvlaki. The Greek Salad tasted just as if the fresh greens had been picked out of the garden in the back; the grilled chicken was flavorful and grilled to perfection. The Souvlaki dish was extremely tasty, as well.
ATMOSPHERE: On the contrary, the atmosphere at this dining establishment severely lacks a cultural vibrance. Sadly, due to the restaurant's odd appearance and location, it always seems to be occupied by senior citizens. When you and your friends are looking for a restaurant on a Friday night, I doubt this is where you would want to end up. Taking that someone special on a date? Don't take her (or him) here if you want to impress.
SERVICE: Not to much to write about on the service end… The food was brought out in a reasonable time, and the waitress seemed to have a good attitude. It did take an abnormally long time to receive some water, but besides that, the service was fine.
FINAL VERDICT: 3.5/5 If you are craving a blissful, authentic and delicious Greek meal and don't mind a somewhat bland atmosphere, then this restaurant is for you.
Jimmy The Greek
8221 Glades Rd
Ste 1
Boca Raton, FL 33434
(561) 477-3272