Parasite takes Best Picture and Best Director Oscars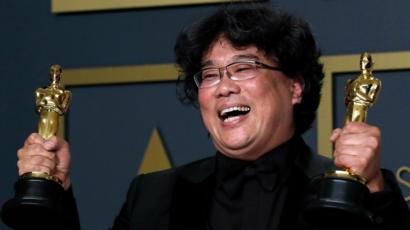 The 92nd Academy Awards, also known as the Oscars, were presented Sunday, Feb. 9. The Oscars celebrate the film industry every year by recognizing actors, actresses, and the people behind the scenes. Among the 25 categories, the most popular and anticipated awards are in the categories of Best Picture, Best Director, Best Actor, Best Actress, and Best Animated Feature Film. And the Oscars went to:
Best Picture: Parasite.  Parasite marks the first movie to win this award that is in a language other than English. The movie depicts a poor South Korean family finding a wealthy family to do work for. The film has a 99 percent rating on Rotten Tomatoes which really highlights how amazing the movie is and that it was definitely fit to win Best Picture.  
Best Director: Bong Joon-ho. Once again Parasite rises to the top as the director of the movie Joon-ho takes the award for Best Director. His directing skills were impeccable, as the movie had won Best Picture, as well. Clearly, Parasite is a must-see.  
Best Actor: Joaquin Phoenix.  Phoenix won Best Actor for his role as Arthur Fleck in Joker.  Phoenix delivered a lengthy acceptance speech, making mention of his late brother actor River Phoenix, emphasizing the importance of community and taking care of each other and the planet. This was Phoenix's third Best Actor nomination and his first win. He also has one nomination for Best Supporting Actor.
Best Actress: Renée Zellweger.  Zellweger won Best Actress for her role playing troubled actress/singer Judy Garland in Judy. Like Phoenix, her win was her first in three nominations in this category. She did win a Best Supporting Actress win in 2004 for her role in Cold Mountain.  
Best Animated Feature Film: Toy Story 4.  Throughout Toy Story 4, Woody, his friends, and Forky go on an adventure to prove that Forky is not trash. At the end of the film, Woody faces a decision he thought he'd never have to face. Toy Story 4 touches all the emotions and is enjoyed by kids and adults of all ages.   
A very entertaining part of the award ceremony was the performance by Eminem. He performed his hit single "Lose Yourself," which got the majority of the audience on their feet and singing along. It was ironic that he performed this song because years prior at the 75th Academy Awards, Eminem's "Lose Yourself" had won Best Original Song. Overall, the audience was very engaged with his performance and it looked like he was enjoying being on stage as well.  
All of the nominees and winners of the Oscars did an amazing job throughout the year. All the hard work and dedication that goes into every second of it makes it more enjoyable for the audience. This year's films were definitely one for the books!