TORCH NFL MOCK DRAFT: Dolphins pass on Tua, but still have solid first day of draft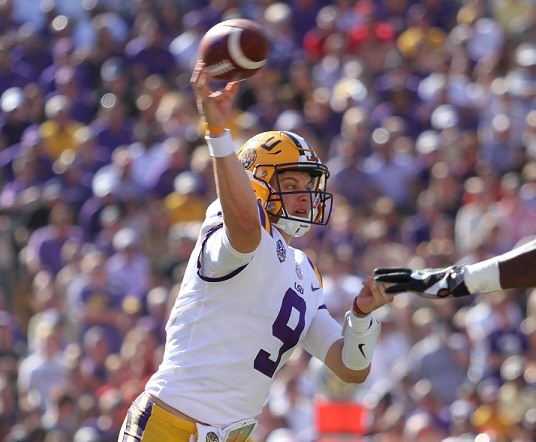 This year's NFL draft class looks to be a really talented group. From the top names, including Joe Burrow and Chase Young, to the lesser known guys, this prospect class is really deep. Here we will take a look at how the first round could turn out for the much anticipated 2020 NFL draft Thursday, April 22, with the NFL is holding its first virtual draft due to the COVID-19 pandemic. 
1. Cincinnati Bengals: Joe Burrow, QB, LSU – This pick has to be the worst kept secret in years. It's become very obvious that the Bengals want a franchise quarterback and believe Joe Burrow is that guy after bursting onto the NCAA scene by leading the nation in passing yards and passing touchdowns while throwing just six interceptions. This pick should solidify the Bengals at the quarterback position, but they still have gaping holes pretty much everywhere else on the roster. 
2. Washington Redskins: ChaseYoung, EDGE, Ohio State – Chase Young is possibly the best overall talent in this draft. He is a very athletic edge rusher who had little trouble pressuring quarterbacks even when up against the strongest offensive lines. The Redskins give their defense a cornerstone piece, but still sit in the same position as the Bengals, as they do not have many other players that can help turn the franchise around. 
3. Detroit Lions: Jeff Okudah, CB, Ohio State – The second Ohio State defensive player off the board, Okudah is a machine in man coverage. His footwork and ball hawking skills are unmatched by anyone in the draft, making him the top defensive back in this draft. The Lions having dealt Darius Slay earlier in the off-season opens up the door for Okudah. There is a good chance that Detroit deals this pick and moves down, but, should they stay at the three hole, it is certain they should and will pick the Ohio State product. 
4. New York Giants: Mekhi Becton, OL, Louisville – Mekhi Becton made a serious name for himself at the combine posting a 5.1 second 40 yard dash time. This may not look outstanding until you see that he is six foot seven 364 pounds. Becton is not the most polished offensive lineman, but neither is the Giants offense. Becton will develop and has the highest potential of all lineman this year with his athleticism and size. 
5. Dolphins: Justin Herbert, QB, Oregon – The Dolphins are making another "Drew Brees mistake" with this pick. In their situation, it makes the most sense for the Dolphins to select the top talent of the quarterback class and worry about medical reports later. If Tua Tagovailoa doesn't work out, the Dolphins could make a run at Clemson's Trevor Lawrence next year. Instead the Dolphins will go with the safer, but less rewarding selection, for their future signal caller. Herbert is 6'6" and very athletic. He can move in the pocket and can escape when needed. His arm is very strong, but his touch is lacking. Herbert is very good at seeing the whole field in front of him when it comes to his receivers and defensive backs, but he struggles greatly with sensing pressure from the defensive line. The Dolphins hope to mold Herbert into an NFL starter and bolster other positions of need with the rest of their picks. 
6. Los Angeles Chargers: Tua Tagovailoa, QB, Alabama – Tagovailoa is the most talented quarterback of this class. He is very mobile, can get out of the pocket and has an NFL ready arm. He can sling deep shots and make the shorter ones. His only legitimate downfall is his injury history. The Chargers look to take a step in the right direction of the rebuild with this pick. Tagovailoa will fit perfectly with pass-catching running back Austin Eckler. 
7. Carolina Panthers: Isaiah Simmons, LB, Clemson – Isaiah Simmons provides the Panthers with a replacement for Luke Kuechly. Carolina will need time to improve their roster to a championship level again, especially since franchise signal caller Cam Newton is gone. Building up a totally broken defense is a great start, and Isaiah Simmons is a perfect fit as he is very versatile and will allow for different plans of attack. 
8. Arizona Cardinals: Tristan Wirfs, OL, Iowa – The trade for DeAndre Hopkins leaves the Cardinals with a glaring need on the offensive line. This is not a long term need; this needs to be fixed quickly as last year's first overall pick and Offensive Rookie of the Year, Kyler Murray looks to take that next step in his development. This is a very difficult thing to do with an offensive line that ranked in the bottom five of the league. Tristan Wirfs is a very athletic lineman with good size and great hand technique who can definitely provide improvement to the Cardinals new passing attack. 
9. Jacksonville Jaguars: Derrick Brown, DT, Auburn – The Jaguars are in a tough spot here. The front office is still in win-now mode from 2017. The players from that roster have almost all expressed that they want to leave if they haven't already, and now they are looking to deal running back Leonard Fournette. Selecting Derrick Brown for the defensive line gives the defense some direction in a new rebuild.
10. Cleveland Browns: Jedrick Wills Jr., OL, Alabama – The Cleveland Browns were the most disappointing team of 2019. It's now 2020, though, and they can improve at their weakest position. As they proved last year, a team cannot win with just the best skill position players. A good offensive line is needed, and the Browns simply do not have that. Selecting one of the top offensive lineman in this draft will certainly help Baker Mayfield attempt to regain his mojo from 2018. 
11. New York Jets: CeeDee Lamb, WR, Oklahoma – The Jets have two big holes in their offense: a number one option wide receiver and at offensive line. With three of the four top offensive lineman taken in the first ten picks, Jets general manager Joe Douglas fixes the first issue. In his first off-season with the Jets, Douglas has done a brilliant job focusing on the offensive line, so going with a receiver at this point is a good pick to help quarterback Sam Darnold truly show his talent level and ability to lead the Jets to the playoffs in a much weaker AFC East division. 
12. Las Vegas Raiders: Jerry Jeudy, WR, Alabama – Finally in their new home of Las Vegas, the Raiders need to win fans over. Selecting the very exciting route runner Jerry Jeudy is an excellent pick toward becoming a more dynamic offense. This will also help evaluate Derek Carr's future with the team as there will be no other excuse for a poor offensive showing this season. 
13. San Francisco 49ers; Henry Ruggs III, WR Alabama – After showing out in his combine performance, Henry Ruggs III made his way up many team's draft boards. Giving Kyle Shanahan and Jimmy Garoppolo a replacement for Emanuel Sanders looks to be the top priority for a team that easily had the best defense and was 15 minutes away from a Super Bowl trophy. 
14. Tampa Bay Buccaneers: Andrew Thomas, OL, Georgia – After signing Tom Brady, the Buccaneers biggest priority needs to be protecting him. They have a few needs on the defensive line, but protecting the greatest quarterback in pro football history needs to be handled first. 
15. Denver Broncos: Justin Jefferson, WR, LSU – When Drew Lock took over at quarterback for the Broncos, they started to win ball games. Lock did not post super exciting numbers or create highlight reel plays, but he looks to be Denver's franchise quarterback. Putting Justin Jefferson opposite Courtland Sutton adds a very dynamic receiver to the young offensive core. 
16. Atlanta Falcons: K'Lavon Chaisson, EDGE, LSU – K'Lavon Chaisson has a good NFL body and can get low when rushing on the edge but his technique needs lots of work. The Falcons have the time to mold Chaisson as they are not in any serious playoff push yet, but they still need to act quickly on this rebuild if aging quarterback Matt Ryan is expected to lead it. 
17. Dallas Cowboys: CJ Henderson, CB, Florida – The Cowboys were a huge disappointment last season. With all the talent they have beginning with Dak Prescott and Ezekiel Elliot, this team is expected to be Super Bowl contenders. After losing Pro Bowl cornerback Byron Jones, Dallas needs to restock the position. CJ Henderson is a bit inconsistent at times but is a very strong and athletic cornerback able to hold down receivers in press coverage and mirror their routes. He can jump throws for picks and can make strong tackles. Henderson is the clear number two cornerback in this draft, and the Cowboys find their top cornerback for the future with this selection. 
18. Miami Dolphins: Isaiah Wilson, OL, Georgia – After selecting their quarterback, the Dolphins need to upgrade his protection. Selecting Isaiah Wilson is a big move in a deep offensive line class. The Dolphins have to improve at nearly every position on the roster and building the offensive line should be the top priority after selecting a quarterback. 
19 Las Vegas Raiders: Javon Kinlaw, DT, South Carolina – After trading Khalil Mack, the Raiders defense has been a mess. Not to say that Kinlaw is the second coming of the top defensive player in the game, but he can be the start to a rebuilding defense. The Raiders are trying to make a new name for themselves in Vegas, and Javon Kinlaw is another step to the quick turnaround. Kinlaw is a big interior lineman whose size and big hands can be utilized in the run stuff. 
20. Jacksonville Jaguars: AJ Terrell, CB, Clemson – The Jaguars look to replace Jalen Ramsey with a good athlete at the cornerback position. The Clemson defensive back will provide a corner who can stay with pretty much any receiver but struggles greatly with finding the ball. Terrell has the soft hands to make the grab, so this could be fixed at the NFL level, and the Jaguars have the time to develop him with their slow rebuild just getting underway. 
21. Philadelphia Eagles: Xavier McKinney, S, Alabama – The Eagles lost their starting safety Malcolm Jenkins in free agency, so replacing him with Xavier McKinney makes a lot of sense. The Eagles need to fill the void at receiver with all the dropped balls they experienced last season, but with the top of the class receivers already selected, the Eagles solidify the secondary with their first pick. 
22. Minnesota Vikings: Yetur Gross-Matos, EDGE, Penn State – The Vikings have a few holes to fill in order to reach Super Bowl contender level and hope to do so with their extra picks from the Stefon Diggs trade. From Penn State, Gross-Matos is a very raw talent needing to improve his technique, but he holds rare athleticism for his size, making him a day-one starter. The Vikings hope to terrorize opposing quarterbacks with the pairing of Gross-Matos and two-time Pro Bowler Danielle Hunter. 
23. New England Patriots: Jordan Love, QB, Utah State – The Patriots go in an unexpected direction with this pick. With one of the top quarterbacks in this draft still hanging around at the number 23 pick, Bill Belichick pounces on the opportunity. With a strong arm, Jordan Love may need a year or two to understand defensive coverages and how to stay patient, but if he can figure out the mental side of the game, he can be an outstanding quarterback in this league. 
24. New Orleans Saints: Patrick Queen, LB, LSU – New Orleans is in linebacker Patrick Queen's blood. He was born and raised in The Big Easy and went to LSU just an hour and 20 minutes away. Now, the Saints snag him with their first round pick to upgrade a good-but-not-great defense. New Orleans is looking to make that last Super Bowl run before Drew Brees retires, and this is a great spot to patch up. 
25. Minnesota Vikings: Jaylen Johnson, CB, Utah – With the second of their two first rounders, the Vikings continue to build the defense. Selecting Jaylen Johnson provides Minnesota with a physical corner who has the ability to shut down on WR1s in press coverage. With an eagerness to stay on top of his man, he does lose balance a little more often than most, but he has the quickness and agility to recover. Johnson is a bit raw in his talent, but definitely looks to be a future CB1. 
27. Miami Dolphins: D'Andre Swift, RB, Georgia – The Dolphins continue to pick offense with their final selection in the first round. as the top running back in the draft, D'Andre Swift is very quick on his feet and can stop on a dime. He can turn on the jets and get downhill very quickly, leading to big play potential. With their future quarterback, running back, and one piece to the offensive line, the Dolphins have a great draft on day one. 
28. Seattle Seahawks: Ezra Cleveland, OL, Boise State – The Seahawks achieved much more in 2019 than their talent level suggests they should have, but that's what happens when Russell Wilson is the quarterback. With a strong running back core and talented receivers, the Seahawks' offensive line really needs a boost. Selecting Ezra Cleveland provides an athletic lineman who needs to add to his strength. He's pushed back far too often, but he can fix that in the summer before the season. 
28. Baltimore Ravens: Tee Higgins, WR, Clemson – The Ravens should, once again, be the most dynamic team in the NFL. They have an explosive offense and a strong defense. Adding to one of their weaker positions, wide receiver, should only make Lamar Jackson's time on the field easier. Tee Higgins has great hands and can provide that tall goal line receiver the Ravens lacked last season. Baltimore needs to take another step in their development in order to win in the playoffs, and Higgins can help in their weakest area: the passing attack. 
29. Tennessee Titans: Ross Blacklock, DT, TCU – The Titans have locked up their future quarterback in Ryan Tannehill and should look to pay their running back Derrick Henry after this season. The offensive line was strong last year, and they managed to beat Tom Brady's Patriots in his final game with New England. Here the Titans look to boost their defensive line with a big run stuffer in Blacklock. 
30. Green Bay Packers-Brandon Aiyuk, WR, Arizona State – Giving Aaron Rodgers more offensive weapons is always a good idea. Selecting Brandon Aiyuk is a high-risk / high-reward move with his injury history, but should he maintain his health, he is a big receiver with soft hands, able to make difficult catches in traffic. This could be a scary sight for opposing defenses. 
31. San Francisco 49ers: Austin Jackson, OL, USC – The 49ers need to make sure that should Joe Staley leave, they have a backup. Selecting Austin Jackson does just that. The Niners are one of the more complete teams, so selecting backups does not really affect their game plan moving forward. 
32. Kansas City Chiefs: AJ Epenesa, LB, Iowa – One of the top linebackers in this class, Epenesa can really help the Super Bowl champion's defense. This pick feels like a steal so late in the first round, but the Chiefs do not mind getting a future possible Pro Bowler at the end of the first round.