Social justice, Coronavirus, and Lady Gaga dominate the 2020 MTV Music Video Awards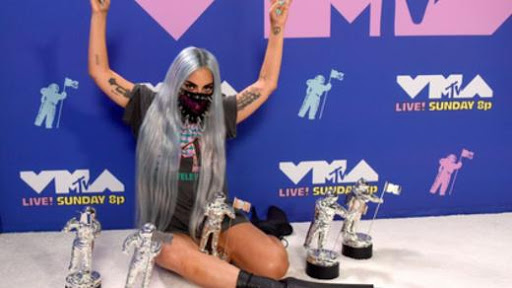 MTV held its 37th annual Video Music Awards show on August 30, which featured a wide range of celebrity performers and award winners, and this year's line up was not one to miss. 
Hosted by Keke Palmer, the awards show was held in New York City. During the show, many of the performers encouraged COVID-19 safety, including Lady Gaga and Ariana Grande performing their song "Rain On Me" while wearing masks. The two wore masks throughout their entire performance. "Rain on Me" won awards for Song of The Year, Best Cinematography, and Best Collaboration. 
The Weeknd also gave the opening performance of his song "Blinding Lights." His performance ended with an array of bright fireworks. The Weeknd took home the awards for Video of The Year and Best R&B. 
Miley Cyrus performed her new song "Midnight Sky," which she ended with climbing onto a giant disco ball in a move that Karen Mizoguchi and Melody Chiu of People Magazine pointed out was "reminiscent of her iconic 'Wrecking Ball' music video."
Not only were the performances upbeat and energetic, but they also came decked out in wild costumes. Doja Cat went for a unique outer space inspired look. "The VMAs is a show where you can push all the limits and keep people in Standards and Practice on the edge of their seats," explained Doja Cat's creative director Brett Alan Nelson told Janelle Okwodu of Vogue Magazine. "She told me she wanted to be a rainbow alien, and I ran with the idea." 
The VMAs also gave respect to frontline medical workers with a new category, Everyday Heroes: Frontline Medical Workers. The award was bestowed on five different frontline medical workers at this year's virtual VMAs. 
The VMAs also paid tribute to Lady Gaga by awarding her the first ever Tricon Award, which goes to a performer who has been an icon of the industry for at least three decades. Lady Gaga also won the most awards this year with five, putting her career total at 18.. 
Superstar K-Pop group BTS also made their VMAs debut with the performance of their new song "Dynamite," incorporating interesting choreographed dance moves in their performance. BTSp won the awards for Best Pop, Best K-Pop, Best Group, and Best Choreography. 
Host Palmer also delivered a strong message on the Black Lives Matter movement and police overreach. "We can never tolerate police brutality or any injustice," Palmer said. "We must continue the fight to end systemic racism." H.E.R. won the Video For Good Award for her song "I Can't Breathe," which is about the Black Lives Matter movement. 
In all, the 2020 MTV Video Music Awards honored the talented and hard working singers and performers that have grown to be loved by millions of fans all over the world. The music awards celebrate the uniqueness and diversity of the different artists and genres of music across the globe. 
View Comments (1)