Actor Chadwick Boseman's death stuns his fans; effect reaches beyond the entertainment world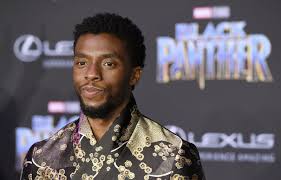 The world was stunned by the news of actor Chadwick Boseman's death on Aug. 28, after a four year battle with colon cancer that he and his family and close friends had managed to keep a secret. He died in his home with his wife and family at his side. He was 43 years old.
Boseman's breakout role was in the 2103 film 42, playing Jackie Robinson, the first African-American major league baseball player. In 2104, he played soul singer James Brown in Get on Up. In 2016's Captain America: Civil War, Boseman took on the role of T'Challa/Black Panther, a role he reprised in 2017's Black Panther, the film that elevated him to superstar status. 
Students at Olympic Heights High School expressed their views on Chadwick Boseman's career and his passing. "Every movie I saw by him had a big impact on me and every performance was so powerful," said sophomore Jesse Bloom. "[T'Challa] showed compassion while fighting for his life, and I believe that was very powerful."
Bloom added that Boseman's acting in Black Panther was very strong, as T'Challa was a character who had to show empathy in difficult situations. "Even though he was an actor who worked on many projects, it was very inspiring to learn that he found the time to help charitable causes," said Bloom.
Boseman visited children at St. Jude Children's Hospital in 2018 while battling cancer, according to NBC News. "'Two years ago, Chadwick visited the St. Jude campus and brought with him not only toys for our patients but also joy, courage and inspiration,'" wrote St. Jude in an Instagram post. 
On Sept. 12, 2018 Boseman visited St. Jude's hospital to celebrate a birthday with a little girl who had cancer. Bosman tweeted, "Had a birthday celebration with a beautiful princess, Mady. She let me throw confetti twice. I think I had as much fun as she did."
"The Black Panther movie gave young black kids and inspiration," sophomore Marcklen Cirius said. "Black children have grown up with primarily white superheroes, so seeing someone on the big screen with their same skin color proves that anything can be accomplished despite their skin color." 
Cirius points out that amidst the current Black Lives Matter protests, Boseman's death had a strong impact on the black community. "I don't appreciate…people saying all lives matter. They'll go ahead and post about Chadwick Boseman right?" asked Cirius. What I'm perceiving is – they'll appreciate our culture, our songs, our dances…but when it comes to somebody's life in the street, and they get shot because their skin color is perceived as a weapon to somebody else, they don't care." 
Boseman made his support of the Black Lives Matter movement clear when on June 24, he posted a picture on Instagram with the caption, "Prove Black Lives Matter To Hollywood" with the hashtags, #Hollywood4BlackLives and #DefundThePolice. 
"He was already being praised. and a lot of people respected him and admired his work,"  said Bloom. "So I think it would've been as big of a deal if Boseman's death [happened] years ago."
Though students had different opinions regarding the impact of his death, they collectively appreciated his work as an artist and a person. "He never told us he had cancer," said Cirius. "He wasn't trying to get the spotlight. He was just trying to put a smile on somebody's face. He always tried to spread positivity and make other people's lives happier."
View Comments (2)