NBA DRAFT Torch Preview: Anthony Edwards to be first pick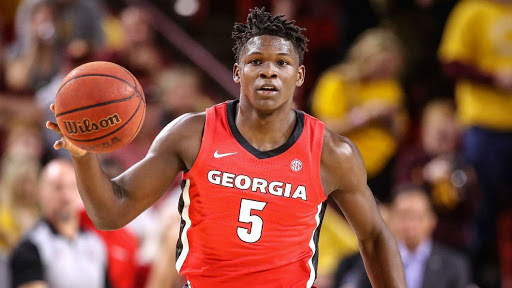 The 2020 NBA Draft takes place tonight as teams get ready for the start of the 2020-21 season which gets underway in just over a month from now on Dec. 22, making the selections in tonight's draft even that more important. Here is how The Torch sees the first 14 picks of the draft being played out.
Pick #1: Minnesota Timberwolves select Anthony Edwards, SG Georgia: Edwards is a bona fide bucket. He can go get his whenever he wants and has every move in his bag to go get a bucket. He is a freak athlete who can rise up at the rim and finish in many different ways. He doesn't have the break away speed, but he makes up for it with a great frame and a quick first step. The shooting percentages aren't anything to be excited about, but that is skewed a little by his terrible shot selection. He played on a terrible college team, so he was forced to do too much on offense and it ended with him taking a lot, and we mean a lot of bad shots. He shot 77 percent from the free throw line, which is usually an indicator of how a college player shoots in the NBA. He has a lethal stepback that he is very comfortable shooting out of. He projects to be a good NBA defender, as long as he learns the right way to play, and doesn't take plays off. Edwards should come in and fit well with D'Angelo Russell and Karl-Anthony Towns because he can go in and get his which moves D-Lo off-ball, where he showed he can play in college.
Pick #2: Golden State Warriors select James Wiseman, C Memphis: The Warriors have never played with a center even closely as talented as James Wiseman will be walking into the building. He can create so many matchup problems on the offensive side of the ball because of his 7'1" body with guard like handles. Wiseman is so ahead of the curve for his position as he is a reliable ball handler and shows flashes of shooting off the dribble. He is far too fast for any guy his size in the NBA and when he totally fills out, he will be able to bully smaller defenders down low. The jump shot looks really smooth, and one can already see Wiseman stretching out to the three-point line. On defense, Wiseman shows his athleticism to the max. He moves his feet very well which allows him to switch out onto guards on the perimeter and there is not one shot that gets by him untouched. His hands are incredible around the rim, and he is very good at securing the rebound after the shot goes up. He should come in and mesh well with the Warriors personnel, as they can really stretch the floor for him to work. The only knock on Wiseman is that he only played three games in college, so the experience in important games is lacking.
Pick #3: Charlotte Hornets select LaMelo Ball, PG NBL: Charlotte is not a destination for any marquee free agent, so when a team gets the chance to draft as talented a player as Ball, they take it. LaMelo has shown that he has an other-worldly playmaking ability, and at 6'7", he poses many problems for defenders. He is great as the pick and roll ball handler, as he has a great feel for how defenses play him, and his touch on 10 to 15 foot floaters is incredible. In transition he has the vision and ability to see over guys to make Magic Johnson-like passes. His handles are very tight for his size, and he has good combo moves to get by defenders. Sometimes he tries to toy with defenders too much and ends up turning to ball over, so he has to work on making one move and go. The shooting is alarming, but he is a confident shooter, and when he switched to a more set shot he was significantly more successful. His off the court activities are alarming, but teams don't draft a guy for what he does outside of basketball. LaMelo showed maturity as he moved to Lithuania as a 16 year old and Australia as an 18 year old. Ball is the cornerstone of a franchise type of guy, and he will get all the attention he needs in Charlotte.
Pick #4: Chicago Bulls select Deni Avdija, F Maccabi: Deni Avdija is a 6'9" SF/PF who plays a guard like role. His European style of play is evident in that he just plays at his own pace. When he is playing at his speed, he is very effective at beating defenders off the dribble. Avdija has a great feel for the game, and that is shown when he grabs defensive rebounds and just goes. Similar to Draymond Green, Avdija is a great decision maker in transition. Sometimes he may force passes in tight windows, but he will learn when and when not to be aggressive. His shooting percentages were not good, but his shooting mechanics aren't too bad, and he showed that he can at least knock down shots. On the defensive side of the ball, his body allows him to defend multiple positions and his awareness is great for a draft prospect, which may be due to his playing professionally in Europe for the entirety of his teenage years.
Pick #5: Cleveland Cavaliers select Obi Toppin, F Dayton: Obi Toppin was named the best college player in the country last year, but that doesn't tell his draft story. He is a non-factor on defense because he gets torched on switches and doesn't protect the rim at all. His offense is a totally different story. He is probably the best athlete relative to size in the draft, and he will come in the NBA and immediately become a top lob threat. He has a great feel for defenses around the rim and has the ability to rise up over defenders and dunk. He also showed the ability to stretch the floor in college. He shot 70 percent from the line, which is respectable, but he will come in right away with a reliable mid-range game and should soon be able to stretch it out all the way.
Pick #6: Atlanta Hawks select Onyeka Okongwu, C USC: Okongwu has potential to be the steal of this draft. He is the kind of undersized center that we have seen more and more as of late, most comparable to Bam Adebayo of the Heat. He plays so hard on defense, which usually pays off as he averaged just under three blocks last season. Like Wiseman, Okongwu is a willing rebounder and attacks both the offensive and defensive glass. On offense, Okongwu does most of his damage on layups and dunks. His back to the basket game is solid, and he can turn off of both shoulders, which is uncommon for guys this young. He runs the floor hard and puts himself in great position in order to catch and score or grab a rebound and score. Okongwu will be able to come in and produce right away with the ceiling to become an all-star caliber talent.
Pick #7: Detroit Pistons select Killian Hayes, G France: Killian Hayes is the definition of a European point guard. He plays with great pace, he is savvy with his handles and passing ability, and he somehow finds a way to get into open spots. Hayes does all this at 6'5", which gives his versatility to play both guard spots effectively. With the ball in his hands, Hayes is great at reading defenses and making the correct plays. He shows his passing ability in pick and roll situations, but often commits to the pass too much without looking to score. He is a lefty, which bodes well for him because of his slow feet. He will have to learn to get past quick defenders with change of pace and movement, a skill which takes time to develop in the NBA. His shooting isn't too bad, but again, he might take some time to completely develop. Hayes can come in right away and produce as a pass first PG, as well as playing a little 2-guard off ball. This would be a great pick by Detroit, as Hayes is a really good young player with a lot of room to grow.
Pick #8: New York Knicks select Devin Vassell, F FSU: At his best, Vassell projects to be a lethal scorer in the NBA, but coming into the league, he can provide versatility on defense and off-ball shooting. Vassell thrived his sophomore year at FSU, going from 4.5 to 12.7 ppg, which led the team in scoring. All of his shooting percentages were great for a college player, and at 6'7" with a 6'10" wingspan, Vassell has the potential to blossom into a legit three-level scorer. He showed that he can handle the ball, as well as get to his spot where he can rise up and get his jumper over anybody. He really shined on the defensive side of the ball at FSU, averaging a combined three blocks plus steals. He shows great anticipation of offense and often gets in passing lanes and forces turnovers. He was in a professional system at FSU, which makes him a guy that will come in and contribute right away with the room to grow into a very good NBA player. 
Pick #9: Washington Wizards select Patrick Williams, F FSU: Unlike his teammate Vassell, Williams isn't totally NBA ready at this point. He only played one season at FSU and started none of those games. This pick is purely based on talent and ceiling, which happens to be pretty high. Williams is a physical specimen at 6'8", 225 pounds, and he moves very well for his size. He is great in the interior on defense because of his strength, and he has the ability to go up and block shots. He is also a very disciplined defender, with great instincts on blocks and steals. He can switch onto guards and compete because of his length and closing speed. On offense, his jump shot is spotty at times, but the shots somehow seem to go in. His shot looks awkward, but we have seen many players excel with weird shooting forms. Williams also has the size and strength to impose his will on the glass. Williams is definitely a project, but he has the size and skill combination that every team looks for.
Pick #10: Phoenix Suns select Tyrese Haliburton, G ISU: Haliburton is a combo guard with really good measurements, besides weight. He is 6'5" with a  foot wingspan! What he lacks in strength, he makes up in length and speed. He is great as the ball handler in pick and roll situations because his feel for the way defenses play him is next level. His lob passes are on time and on the money, which are opened up by his patient attack. He creates space well, and once he's at the rim, his long arms extend to not get blocked. He has an awkward looking set shot, but it goes in. The only negative about the form is it's very difficult to take it off the dribble, which he struggles with. The set part of the shot restricts him from rising above defenders. His length also shows up on defense, where he is constantly jumping in passing lanes and getting dunks on the other end. 
Pick #11: San Antonio Spurs select Isaac Okoro, SF Auburn: Okoro is a defensive monster, and undoubtedly the best defender in the draft. He can guard the numbers 1 through 3, and may be able to guard the smaller 4s of the league. Okoro is simply a lock down defender, that is all that needs to be said. As for offense, his athletic ability allows him to score at the rim, but he has to get there. He shot isn't too off, but his percentages say otherwise. He shot well from the field at Auburn, which is clearly due to layups and dunks. Even if he only develops a three-point shot, Okoro will always be an impact player because of his defense.
Pick #12: Sacramento Kings select Saddiq Bey, F Villanova: Saddiq Bey is another guy who improved drastically between his freshman and sophomore years, doubling his scoring from eight to 16 ppg. He is very efficient, shooting a 45 percent from beyond the arch. He has good size at the SF position, and projects to be able to guard the numbers 2 through 4. On both sides of the ball, Bey is very disciplined, as he is never seen over-committing on defense, or dribbling into a trap on offense. His size and strength will be a big help on defense, which gives him something to come into the NBA and excel at right away.
Pick #13: New Orleans Pelicans select R.J. Hampton, G NBL: R.J. Hampton might be the best athlete for his size in the draft. At 6'5", he will be bigger than the PGs and faster than SGs. He excels at getting downhill and attacking the rim, where he uses his great body control to finish at all angles. He isn't the most consistent shooter, but his shot looks smooth, he will just need to be more confident with it. His playmaking ability is only scratching the surface, which will develop rapidly once he learns the NBA game. At this point, Hampton will need to gain some weight to compete with the bigger guards of the league, but when that happens, his defensive ceiling is very high. 
Pick #14: Boston Celtics select Tyrell Terry, G Stanford: Tyrell Terry showed his shot making abilities all year at Stanford. All of his shooting stats are excellent and complement with his stellar basketball IQ. We see that shine in his playmaking, either in transition or in the half court where he always seems to make the right decision. His problems lie on defense, where his 6'2", 160 pound frame doesn't bode well, but there is still room to fill out. Terry will come in right away and be a threat from the three-point line, as well as occasionally flashing his handles and quick twitch movements.
Leave a Comment