Olympic Heights winter sports programs look to keep winning as seasons draw to a close, postseasons approach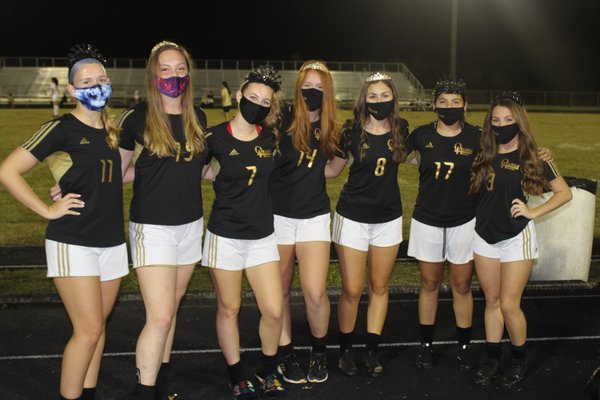 It is nearing the end of January, which means the Olympic Heights winter sports teams are nearing the end of their regular seasons and preparing for their district tournaments. From soccer to basketball to wrestling, all of these teams have been doing OH proud. A common thread that runs through all of the programs is a sense of teamwork and family. Take it from sophomore girls soccer player, Lindsey Osinoff, who says that "our success comes from us working so well together as a team and doing our best each time we get onto the field." 
GIRLS SOCCER
The Girls Soccer team currently has an 8-3-4 record. While waiting for goalie Olivia Calneck to return from ACL rehab, freshmen Talia Badalamente and Amelia Catto have filled that role very well by allowing only 9 total goals over 15 games. Seniors Alyssa Smith and Michelle Mar deserve credit for leading the team by example this season, according to head coach Jim Cappello. 
Cappello expresses that even "with the challenges of Covid, limited practices and a county-made schedule the girls have handled it well. We have had to really cut down on a lot of our team building events and activities, but the girls are still coming together like a family.  We just hope to continue to improve each game."
Sydney Durrance has started off very strong with 4 goals, 3 assists, and 11 points. Also at the top of the stats sheet are Ari Steigher is also at the top of the stat list with 5 goals and 10 points, Lindsey Ossinoff  with 3 goals, 2 assists, and 8 points, and Devyn Gilman with 2 goals, 4 assists, and 8 points. 
Junior Maddie Celce was selected CBS12 Athlete of the Week and the ESPN/Land Rover Player of the Week for the week of January 11.  Having made the move from defense to offense, Celce scored two goals in three games that week, including the game-winner against Palm Beach Central. "Having players such as Maddie, playing with the team-first attitude is what makes our program ahead of many others," Cappello told the West Palm Beach ESPN radio station.
And the girls have their eyes set on advancing well into the postseason. n asked about the postseason, Steigher, a senior, comments that the team has "a ton of talent and can most definitely make it to regionals, possibly states if we put our minds to it, work hard to get there, and stick together."
BOYS BASKETBALL
The Olympic Heights Boys Basketball team is currently sitting with a 7-0 record, but hasn't played a game in two weeks because of a COVID-19 outbreak that has been plaguing many of the Palm Beach County high schools' basketball programs. OH Athletic Director Chris Holly said he is hopeful and expecting that the team will be back on the court for its Jan. 27 scheduled game at Glades Central. Holly also indicated the team will be looking to reschedule some of the games missed due to the COVID-19 shutdown.
Head Coach Keith Mackrey points to the basketball team's overtime win over Suncoast, who was sitting at number five in the county at the time, as a key victory that has helped give his team the confidence to know it can compete with the best in the state. The team is being led by Micah Octave, who is averaging 22 points, 7 rebounds, 5 steals, and 2 blocks a game. Marc Steig is also putting up impressive numbers, averaging 18 points and 4 assists per game. Caleb Mackery is also playing very well, while averaging 12 points, 4 assists, and 4 steals a game. 
Coach Mackery said that his players "are never satisfied. We have our eyes on a bigger picture this year, and we are taking it one practice and one game at a time." 
BOYS SOCCER
On the boys side of the pitch, Matthew Labrador, who is in his third year on the boys varsity soccer team, explained that the team has been "exceeding expectations" and has a good chance to "win districts and make it to regionals." The team has a current record of 4-6-3, with a huge win over then undefeated Royal Palm Beach on Jan. 13.
"We are still working to find our identity on and off the field," explains Head Coach Emanuel Freitas, "At the halfway mark here in the season, we played well against a district rival and seem to be going in the right direction toward the postseason." 
Freitas points out the play of Labrador, Joe Rios, and Roberto Bontempi as being key to the team's postseason success. "Mathew has grown into the engine of our team, fighting until the last whistle," Freitas commented. "Joe has been an extremely vocal leader, realizing how important it is to speak while on the field. While Roberto has struggled a bit with injuries and living up to his potential, he is the flair every team needs to make it to the next level."
 Labrador is leading in goals and assists with nine and five, respectively. Goalkeeper Joe Rios has posted an impressive 43 saves. The goal for this team? As Coach Freitas states, "I hope to bring a second district title home a year after winning the first title in 18 years." 
WRESTLING
The OH wrestling team has looked great this season, with an undefeated record of 6-0, and along with this, a huge rival win over Wellington. The team won District Duals with wins against Deerfield Beach 72-6 and Douglas 57-16. The seniors that are really leading this team this year are Pedro Azevedo, Tristan Williams, Nick Muro, and Jaafr Abu-Iqab. 
Williams, a senior in his third season wrestling on the varsity squad, comments, "I believe that our hard work that we put in through drilling on the mat and lifting in the weight room has led to not only my success, but success in the team as well." On the postseason, Williams comments, "I believe that I will advance to the FHSAA 3A State Tournament and maybe place at State."
Third year varsity wrestler Abu-Iqab, a senior, strongly feels that "what led my team and I to success was hard work and dedication." Regarding the postseason, Abu-Iqab believes that he "can advance all the way up to state and even maybe nationals. There's always room for improvement." 
With the district tournament set to take place on Feb. 20, Head Coach Boomer Mears comments that "The team is grateful to be on the mat and enjoys each training day that gives an opportunity to improve." 
Whether it is out on the court, the field, or the mat, all of our OH sports teams are being led by "how much we respect one another and we treat each other like family," as girl soccer player Devyn Gilman said. 
Leave a Comment