OH tennis teams take to court amid pandemic protocols
This story has been updated to accurately reflect both the boys and girls tennis teams record after their matches of March 4, 2021.
The COVID-19 pandemic continues to take its toll on high school athletics across the county and country, and things are no different for the Olympic Heights tennis teams. This season, both the boys and girls teams will carry only eight players each and will follow new safety precautions to keep all players safe and distant from one another. Holding safe practices and safe games, the teams' Head Coach Jim Cappello and Assistant Coach Samantha Moore are making sure that the girls and boys are both keeping their masks on in between games and during practices.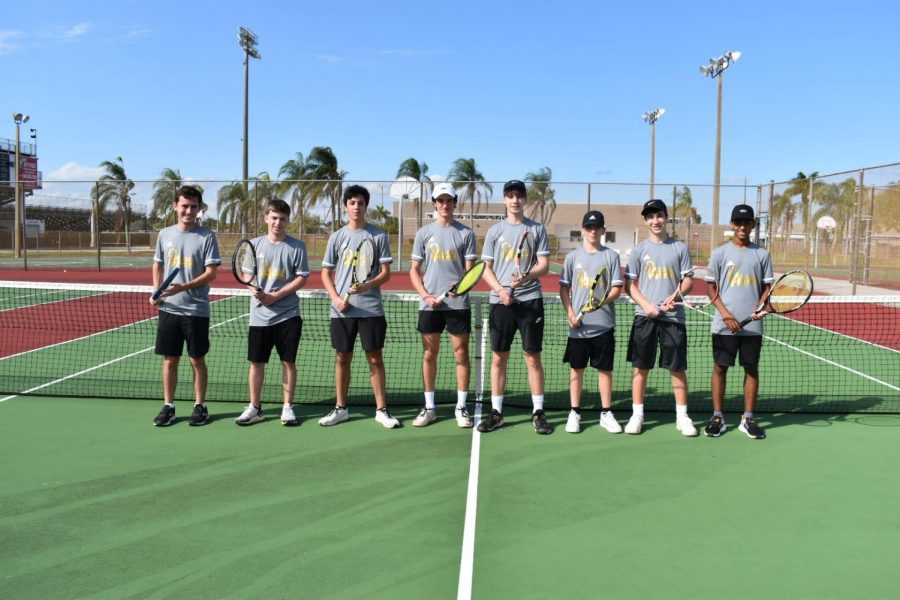 This year the school is competing against other very competitive schools and hoping to play around 10 matches. Cappello told The Torch that the teams are playing in a very competitive district and it's difficult to get a gauge on how his teams match up with the teams in the district. 
As of March 5, the girls team holds a 3-1 record with wins over Somerset Canyons, Boca Raton, and Saint John Paul II Academy. The girls' lone loss was a closely fought match against West Boca, with the Bulls  winning 4-3. The OH boys team is 1-3, having played the same schedule as the girls and also having beat Somerset Canyons.
Regarding safety precautions, Cappello explains how matches and practices are "going to be a lot more hands off than on," and that "a lot more separation and a lot more sanitation" will be required during practices and matches against the other schools. Cappello goes on to explain how the teams won't have as many spectators at their matches as in past seasons, as the parents and others will have to watch from their cars or at a considerable distance. 
Because tennis is not a contact sport, it is actually probably one of the safest sports to play during the pandemic. Besides touching the same tennis balls, there is little chance of coronavirus transmission as players are rarely close enough to each other during play to pose a significant risk.
To account for the touching of the same tennis balls, players are required to sanitize their hands between matches. Even the obligatory post-match handshake has been replaced with a friendly racket bump.
The two teams even now practice on different days, with the boys usually practicing on non-match Mondays and Wednesdays and the girls on non-match Tuesdays and Thursdays. A key component of the practices consists of teammates playing against each other for ranking purposes. Ranking is important because it is used to determine which players are pitted against the players for the opposing team in matches.
Rachel Schneider, a junior on the girls team, explains how "all the girls are doing well and work well together." This is Rachel's second year on the team and she is eager to play in the district tournament since last season's district finals were canceled due to the pandemic.
"Hopefully we will get the chance to play this year, unless there is another pandemic that we don't know about," Schneider jokes. 
Leave a Comment