GOOOAAALLL!!! Olympic Heights soccer players Skylar Deutch and Sydney Durrance reach 50-goal milestone
The Olympic Heights girls soccer team has featured some amazingly talented players over the years and this past season has been no exception as two of the team's athletes achieved an amazing milestone in their high school soccer careers as seniors Skylar Deutch and Sydney Durrance both reached the 50 goals scored during the 2020-2021 soccer season.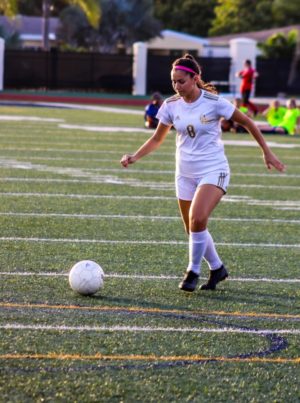 "Hitting the 50 mark was really exciting for me," Deutch told The Torch. "It's something that I was looking forward to for a while. You also don't hear about this happening often, and when my teammate and I had hit it, it was a really big accomplishment for both of us." Deutch is as equally as proud of the 50 assists she amassed over her high school career "because that means I had helped out my team in many scoring opportunities." 
Durrance is also proud of her 50 goals scored accomplishment because of what it means to the team. "It meant that I had impacted the team in a good way," Durrance told The Torch.  "Being a defender and a forward and scoring 50 goals meant that I could do anything if I put my mind to it even with the multiple setbacks, injuries, and challenges I faced along the way." 
Deutch played a total of 91 games for the Lions over her high school career, starting 70 of those games. Her high school career ends with a total of 52 goals scored out of 310 shots taken, with 170 of those shots on net. She has recorded 14 game-winning goals and 13 game-winning assists, along with three hat tricks. 
Girls head soccer coach Jim Cappello says of Deutch and her impressive accomplishments, "She was always hungry for the goal and wasn't afraid to take on a defender. With a shortened season due to Covid and an injury that held her out seven games, the 50/50 season was in doubt, but she managed to accomplish it in the final two games of the regular season." 
Cappello realized he had a very talented player in Deutch right from the start. "Skylar scored a goal in her very first appearance against Royal Palm Beach, and from there we knew we could expect big things from her.  Her presence on the wing, and being able to read a play really helped her excel."  According to Cappello, Deutch's most important goal was the game-winner in a district semifinals game vs. Ft. Lauderdale in her sophomore season.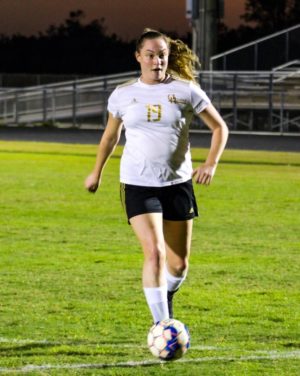 Durrance has played 86 games for the Lions, starting 59 of them. Her career stat line includes 51 goals scored out of 300 shots taken, 158 of those shots on net. She also recorded 27 assists with 10 game-winning goals, seven game-winning assists, and three hat tricks.
"Sydney actually started as a defender for our team her freshman year," Cappello explained as he reflected on Durrance's high school career. "With her build and height she was perfect for defending our goal. It was also that stature that had us move her forward, and she scored two goals against Northeast High School.  On the front line, she was like a train running through the defense. and on the back line, she was a wall that was hard to penetrate." 
On Durrance hitting the 50 goals scored mark, Cappello remarked, "Scoring 50 goals is impressive, especially when you factor in that she never knew what position she was going to play until game time. Due to her stature, we moved her back several times to defend against some of the county's best forwards; otherwise, she might have reached 60."
According to Cappello, Durrance's two most important goals were game-winners in district semifinal games, the first against West Boca in her junior year and the second against Seminole Ridge in her senior year.
Deutch has played soccer for 14 years and said that although she will not be playing soccer any further, she will "be going to the closest fields to train for fun." Her favorite part about soccer is that "it takes my mind off everything else and puts me in a different mindset. I get to play the sport that I love and I also get to be with the best teammates and friends." 
Deutch's post-graduation plans include attending Florida Atlantic University and studying for the realtor's exam. With her parents and coaches being her number one supporters over the years, it is very important to her that they "have always been there for me no matter what and have always believed in me." But Deutch made it very clear that the thing she enjoyed the most about playing for the OH soccer team was the bond that the team had and that it felt as if they were a family, always being there for each other. 
Durrance does hope to continue playing soccer in the future as it has been a very big part of her life. But as of now, after she graduates, she will be attending the University of Central Florida UCF as a biology major. "I plan to participate in intramurals, but don't plan on playing competitively in college my freshman year," Durrance explained. "I definitely plan on playing after my freshman year of college." 
Durrance's favorite part of being on the Lions soccer team was "making connections with fellow teammates. They become your family. You always see each other so it's easy to connect with them on a personal level, and on the field."  Throughout her soccer career since 4th grade, Durrance feels that her "parents have helped me the most with soccer. They always pushed me to do more. They always show up to my games to support me and make sure I'm ok if I get hurt. They are my biggest cheerleaders." 
Both Deutch and Durrance are examples of what it takes to be a successful student-athlete, which is hard work and dedication. Durrance wants other soccer players to understand that it takes "practice, practice, practice. Go all out. Put your heart and mind into it and it will come true. Yes, you will face some challenges, but nothing ever comes easy."
Deutch adds, "To other soccer players that are looking to make big accomplishments, I would tell you to never give up and make every second you step on the field worth it. Anything is possible if you push yourself and life can change in a blink of an eye so don't take anything for granted." 
Skylar Deutch and Sydney Durrance have made history at OH. But this is not the best part of them; both have shown others how hard work pays off and have motivated many to know that anything is possible. These are the kind of athletes that the OH community is proud to have representing the school as they both exemplify the meaning of Lion Pride.
Leave a Comment