The Torch NFL week 2 recap: the Good, the Bad, and the Ugly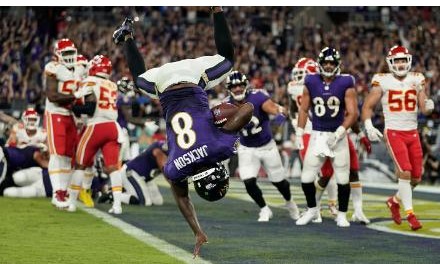 There was good, there was bad, and there was ugly in week 2. Just seven undefeated teams remain as well as seven winless teams. The injury bug made its first appearance in 2021, another game went to overtime, the Chiefs played the Ravens, and to cap off this eventful week: A whopping FOUR touchdown night from Green Bay Packers running back Aaron Jones. Here's how it all went down:
THE GOOD
SOUTH FLORIDA NATIVE AND BOYNTON BEACH HIGH GRADUATE LAMAR JACKSON BEAT THE CHIEFS!!! In thrilling fashion, the Baltimore Ravens took down the Kansas City Chiefs on Sunday Night Football giving quarterback Lamar Jackson his first win against Kansas City, and quite possibly, the greatest win of his young career. After throwing a pick-six on his first drive of the night, Jackson turned back the clock to 2019 when he won the NFL's MVP Award. He was electric for the rest of the game. The Chiefs could not find an answer for Baltimore's power-run offensive scheme, and defensively, the Ravens put a cap on superstar wide receiver Tyreek Hill. Establishing the run on offense, shutting down Hill on defense, a late-game Clyde Edwards-Helaire fumble, and a gutsy conversion on fourth down were instrumental to lead the Baltimore Ravens to their first victory over the reigning AFC Champs in the Lamar Jackson era.
Breaking news: The Buccaneers are still good. The ageless Tom Brady looked lights-out once again quarterbacking the Bucs, throwing for five TDs, giving him nine in two weeks. The Bucs have now won nine games in a row while scoring 30 or more points, which is a new NFL record.
Kyler Murray continued his MVP campaign, throwing for 400 yards and three TDs while adding another TD on the ground. Murray has been the most electric player on the field through the first two week of the 2021 NFL season, and his Cardinals are one of three NFC West teams who remain undefeated.
The Titans, specifically Derrick Henry, are back to form. Henry made his fantasy owners very happy with 47.7 points in point-per-reception scoring formats, the highest for any player so far this season. The Titans let the big dog eat this week, giving him 35 carries, which he exploited for 182 yards and three rushing TDs. He also looked better catching the football than he has in recent memory, pulling in all six of his targets for 55 receiving yards. Henry led the Titans to a narrow overtime victory this week against Russell Wilson and the Seattle Seahawks.
THE BAD
Joe Burrow and Zach Wilson. Oh no. The 2020 first overall pick and the 2021 second overall pick, respectively, threw for a combined seven interceptions, one of them being a pick six. Both quarterbacks were sacked four times, and both of their teams lost their games. The Jets fell to the bottom of the AFC East at 0-2, while the Bengals fell to 1-1, tied with every other team in the AFC North. These were definitely games to forget for the young signal callers.
Say what you want about the Jets and Bengals, but at least they scored points. The Miami Dolphins on the other hand, did not. The Dolphins lost 35-0 in front of their home crowd to their division rival Buffalo Bills. Josh Allen is a fantastic quarterback, and he threw for two touchdowns, but it was actually the Bills' rushing attack that the Dolphins defense could not seem to find an answer for. It's also very hard for a team to win when they can't score any points offensively. Dolphins head coach Brian Flores will undoubtedly use this as a learning experience for his team, as they look ahead to Las Vegas in week 3. and, yeah, the Dolphins lost quarterback Tua Tagovailoa for an undetermined number of games as a result of fractured ribs suffered on one of the six sacks his porous offensive line allowed. 
THE UGLY
It was a bad week for the health of starting quarterbacks. In the early window of games, fans watched in horror as starting QBs Tagovailoa, Baker Mayfield, Derek Carr, Tyrod Taylor, Andy Dalton, and Carson Wentz were all banged up.
For Tua, it's a rib injury, which the Dolphins say will at least leave him sidelined for Sunday's game in Vegas. After being carted into the locker room in the first half in seemingly significant pain, his X-rays came back negative. However, Wednesday afternoon head coach Brian Flores announced further testing on Tua revealed fractured ribs, which points to Jacoby Brissett quarterbacking the Dolphins in week 3.
Baker Mayfield had to be helped off the field after he injured his shoulder making a tackle after an interception. He was able to re-enter and finish the game in a winning effort for the Cleveland Browns, but he sure had the "Dawg Pound" holding their breath. Baker should be a full go in week 3.
Derek Carr threw a touchdown pass to TE Foster Moreau, but was seen walking off the field a little gingerly. He was able to finish the game after getting his ankle and foot taped and seemed to be okay, but is officially listed as questionable for week 3. After putting the backup quarterback Marcus Mariota on injured reserve, Nathan Peterman is currently serving as the number two QB, should he be needed.
Tyrod Taylor may be the only quarterback on this list with a serious injury. The Houston Texans quarterback injured his hamstring on a touchdown run in the first half of Sunday's game against the Cleveland Browns. Rookie third-round pick Davis Mills finished the game. Taylor was placed on injured reserve, sidelining him for at least three weeks. With Deshaun Watson still unavailable, the rookie Mills will be the Texans' QB1 for the foreseeable future.
It is Justin Fields time in the Windy City after Andy Dalton injured his ankle and knee on Sunday afternoon. Dalton was hurt in the first half and tried to re-enter the game, but decided he couldn't go, and the rookie Fields finished the game. Dalton has now been ruled out for Chicago's week 3 game in Cleveland. Justin Fields will start. Bears fans rejoice: the time has come.
After rehabbing from an ankle injury for most of the summer, Carson Wentz has once again injured his ankle. Wentz left in the fourth quarter of the Colts' loss to the Los Angeles Rams, and Colts head coach Frank Reich said Wentz rolled his ankle "pretty bad." Wentz is now dealing with sprains in both ankles, and his status for what could be a crucial divisional matchup against the Tennessee Titans in week 3 is uncertain. If he's unavailable, it will likely be Jacob Eason under center for Indianapolis.
FANTASY SPOTLIGHT
Waiver Wire Add of the Week: Rondale Moore, WR, Arizona Cardinals
Guess who leads the Arizona Cardinals in targets through the season's first two weeks? If you said DeAndre Hopkins, The Torch has some bad news for you. The correct answer is Rondale Moore, the Cardinals rookie receiver out of Purdue. The ex-Boilermaker is making his presence known in the Cardinals offense and is loved unconditionally by both head coach Kliff Kingsbury and quarterback Kyler Murray. Rondale Moore broke out in week 2, catching seven balls on eight targets for 114 yards and a TD, good for 24.4 fantasy points in PPR formats. He's at least a bench stash for now, but there are encouraging signs that he's carved himself a permanent role as a playmaker in Arizona's explosive offense.
Sell High Player of the Week: Rob Gronkowski, TE, Tampa Bay Buccaneers
Gronk is a 32-year-old TE with an extensive injury history, who is currently on pace for 34 TDs this season. He's currently the number 2 tight end in fantasy football, averaging over 24 points per game in PPR formats. If he keeps up this production while staying healthy, it will be impressive, but that's very unlikely. Trade him now while he's playing at a superstar level, before it's too late.
Buy Low Player of the Week: Antonio Gibson, RB, Washington Football Team
Fantasy football twitter is a ruthless place, and the chaos a J.D. McKissic late-first half TD caused should be taken advantage of. McKissic finished with more points than Gibson in week 2, something that shouldn't happen much more often, if it even happens again. If your league mate is panicking, now might be the time to grab yourself a top-15 fantasy running back in Gibson.
Highlight Reel:
Steelers RB Najee Harris vicious stiff arm against Raiders safety Jonathan Abram https://youtu.be/ujpsPUZJc6o
Patriots RB Damien Harris channels his inner Marshawn Lynch on this 26-yard TD run https://youtu.be/pXBGWuKwMwc 
Ravens QB Lamar Jackson gives Patrick Mahomes a taste of his own medicine on this jump pass to Marquise Brown for a TD: https://youtu.be/Ub6sTtMdapg 
Cardinals kicker Matt Prater drains this 62-yard field goal to take the lead at the end of the first half vs. Vikings: https://youtu.be/be1zbuG2Qqo 
Reigning NFL MVP Aaron Rodgers throws a 22-yard strike to TE Robert Tonyan to take the lead over the Lions on Monday Night Football: https://youtu.be/mvnhEUrS65k 
Leave a Comment