NFL Week 4 Recap: Arizona Cardinals only unbeaten team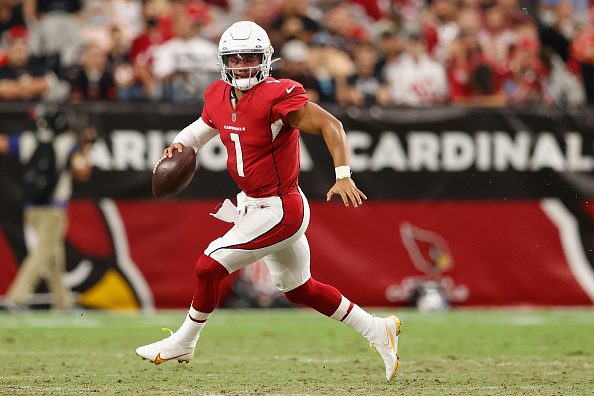 Last week, The Torch told fantasy players to buy low on Kansas City receiver Tyreek Hill in fantasy, and we seriously hope you took that advice because the majority of those fantasy players who had Tyreek Hill last week won their matchups. Hill exploded against a weak Philadelphia secondary for 11 catches, 186 yards, and not one, not two, but three touchdowns, totaling 47.6 fantasy points in PPR formats. All that and more came from week 4; here's where the league stands a month through the 2021 campaign:
Red Hot Red Birds: One undefeated team remains, The Arizona Cardinals. The Cardinals put together an all-around fantastic performance on Sunday. Quarterback Kyler Murray threw for 268 yards and two touchdowns. Running back Chase Edmonds ran for 120 yards on 12 carries, and the Cardinals' defense created two turnovers. The final score would've been 37-13 had it not been for a "garbage-time" touchdown reception by the Los Angeles Rams' Robert Woods. Alas, a win is a win, and the Cardinals have won their first four games of the season. The red birds have another divisional game coming up in week five at home against San Francisco, where all signs are pointing to rookie quarterback Trey Lance getting his first start for the 49ers.
The Jets Have Lift Off: Spirits were high on Long Island, N.Y. late Sunday evening after their beloved New York Jets won a football game for the first time in the Zach Wilson/Robert Saleh era. The Jets flew by the Titans 27-24 after Titans kicker Randy Bullock missed the potentially game-tying field goal in overtime. Despite throwing an interception early in the game, Jets quarterback Zach Wilson bounced back and finished with his best performance of the season thus far.
Wilson threw for 297 yards and two touchdowns, including an impressive one to wide receiver Corey Davis late in the game, in which Wilson rolled out to his right, directed Davis to sprint further down the field, and threw him a 51-yard laser in the endzone between two defenders. The Titans were without their two star receivers in A.J. Brown and Julio Jones, perhaps contributing to this loss, and running back Derrick Henry's 157 yards and touchdown were clearly not enough. The Jets travel across the pond to London next week for an international matchup with the 1-3 Atlanta Falcons, a game that is definitely winnable for them.
Brady Beats His Old Bunch: In the emotional, highly anticipated, return of "the GOAT," quarterback Tom Brady and the Buccaneers took down Head Coach Bill Belichick and the Patriots 19-17 in rainy Foxborough after a potentially game-winning field goal attempt by Patriots kicker Nick Folk doinked off the left upright. Brady was less than spectacular, but not awful. In the first half, it looked as if Brady was plagued by the intense emotions of being back in his old home, but he recovered enough in the second half to win the game. He also broke the all-time passing yards record in the first quarter on a 28-yard toss to wide receiver Mike Evans. 
Patriots quarterback Mac Jones, on the other hand, looked very poised, completing 31 of his 40 passes for 275 yards and 2 touchdowns. The Patriots went very pass-heavy in this game, something that we don't usually see from Belichick, but understandable given the state of the depleted Buccaneers secondary. Cornerback Richard Sherman made his debut for Tampa Bay, and experienced a "welcome back to the league" type of game, despite leading the Bucs in total tackles and recovering a fumble. Mac Jones attacked him all night. 
Offensively for the Bucs, it was clear that they were hurt by the loss of tight end Rob Gronkowski to broken ribs, another ex-Patriot legend who would've been returning to New England for the first time just like Brady, had he played. The Bucs now travel back home for their week 5 matchup against one of their intrastate rivals, the Miami Dolphins.
A Weather Delay? In a Dome?:  "I thought it was a joke," remarked Las Vegas Raiders Head Coach Jon Gruden after their Monday Night Football game at SoFi Stadium, the stadium shared by the Los Angeles Chargers and Rams, was delayed due to inclement weather. SoFi is a brand new, $5 billion dollar, state-of-the-art stadium in Inglewood, California, complete with a roof, and yet the game was still delayed. Despite having a roof, the stadium has openings on all sides, which is what merited the delay. 
Mass confusion and hilarious memes took over NFL Twitter as the ESPN broadcasting crew was allowed to stay on the field and desperately tried to kill time as they waited out the "storm." This was also the first Monday Night Football game without the new fan-favorite "ManningCast" starring Peyton and Eli Manning, and fans were livid. One Twitter user @JoshVitale tweeted "This weather delay is punishment for Peyton and Eli not being on TV tonight." 
The game finally got going at 8:45 p.m. Eastern time, 30 minutes after it was scheduled to start, and the Chargers went on to beat the Raiders 28-14 whilst remaining completely dry and in the process. It was quite bizarre.
Rapid Fire
Chicago Bears rookie quarterback Justin Fields got his first start on Sunday in a home game against division rivals Detroit Lions. Fields completed 11 out of 17 passes for 209 yards and one interception but came out with a victory 24-14.

Believe it or not, the league leader in rushing touchdowns one month into the regular season is not a running back. It's Carolina Panthers quarterback Sam Darnold, who found paydirt with his legs twice this past Sunday in Dallas, bringing his total rushing touchdowns count to five on the season.

Going into Sunday, the Baltimore Ravens had rushed for 100 yards in 42 straight games, just one game short of the league record currently held by the Pittsburgh Steelers from the mid-70s. With three seconds left in the game, the Ravens had 97 total rushing yards and up 23-7, could just take a knee to run the clock out. Instead, they ran a play in which Lamar Jackson ran for five yards, keeping the streak alive. Broncos head coach Vic Fangio was not a fan of the move, preaching a lack of sportsmanship, but Ravens head coach John Harbaugh justified it saying it's "one of those things that's meaningful." The Ravens will look to break the record against Indianapolis on Monday Night Football.
Fantasy Spotlight
Waiver Wire Add of the Week: Hunter Renfrow, WR – Las Vegas Raiders  Obviously Chicago Bears running back Damien Harris deserves recognition due to the injury to Chicago's RB1 David Montgomery, but Renfrow is only rostered in 51.1 percent of ESPN leagues, which is criminally low. Renfrow has been very solid for fantasy owners, averaging 14.7 points per game and has at least six targets in games this season. He is quickly establishing himself as Raiders quarterback Derek Carr's favorite target outside of tight end Darren Waller, especially on third down and in some red-zone situations. If Renfrow is on your waiver wire, pick him up while you can. Tight ends Dalton Schultz (Dallas) and Dawson Knox (Buffalo) are also deserving of honorable mentions, as they've both put up top-10 fantasy numbers over the last two weeks. 
 Buy Low of the Week: CeeDee Lamb, WR – Dallas Cowboys  After a hot start in the first two weeks, the production has fallen off for CeeDee Lamb, whose average draft position made it all the way into round three back in August. However, he only has two matchups for the rest of the year against defenses in the top 10 against wide receivers. The Cowboys are averaging 31.5 points per game, fourth in the NFL, and Lamb leads the team in targets and snap counts at wide receiver. Despite the emergence of tight end Dalton Schultz and the existence of wide receiver Amari Cooper, better days are ahead for Lamb. Try and trade for him if you're in need of pass-catching help.
Sell High of the Week: Clyde Edwards-Helaire, RB – Kansas City Chiefs  In each of his last two games, Clyde Edwards-Helaire has had over 100 yards rushing and a receiving touchdown, good enough for an average of 18 fantasy points. Sure, he's run the ball better in the last two weeks than he did in the first two weeks, but the weekly receiving touchdowns are simply unsustainable. He ran a season-low 44 percent of routes in week 4, which is discouraging, and Chiefs Head Coach Andy Reid has been giving most of the goal line carries to Darrel Williams rather than Edwards-Helaire. This is a Chiefs team with an excellent offense and a weak defense, the perfect recipe for lots of pass-heavy shootout games, which is what we've seen thus far. Use the last two weeks to your advantage, and sell CEH.
Highlight Reel
Jets quarterback Zach Wilson throws a 51-yard dime to Corey Davis to take the lead over the Titans late in the game https://youtu.be/JRgwhTxT1-A 
Rookie DeAndre Carter scores his first career touchdown for the Washington Football Team on a 101-yard kick return https://youtu.be/yrNN9sMX7sY
Running back Saquon Barkley weaves his way through traffic to score the game-winning touchdown in overtime to give the Giants their first win of the season https://youtu.be/hLNEBdz4HhQ
49ers rookie quarterback Trey Lance finds a WIDE OPEN Deebo Samuel for a 76-yard walk-in touchdown https://youtu.be/8NyNiyc28cs
Ravens wide receiver Marquise "Hollywood" Brown lays out to make a spectacular diving TD grab https://youtu.be/NKB5LDe7OwQ
Tom Brady receives a warm welcome from Patriots fans as he returns to Gillette Stadium for the first time as a member of the Buccaneers https://youtu.be/O6Ehsmht_mY
Raiders wide receiver Hunter Renfrow blows up the Chargers' fake punt attempt https://youtu.be/eLzgg5iavEs
Leave a Comment