Olympic Heights boys soccer team closes out regular season winning 10 of 12 games, clinches #1 seed in district playoffs
Olympic Heights, in recent years, has not been known as a school with a strong boy's soccer program, but this season's squad has seemed to turn that narrative around. A coaching change, followed by a new led culture,  has resulted in a 13-7-3 final regular-season record and the #1 seed going into the district playoffs.
Ever since taking over the program in late October, new head coach Keith Fries has brought in a new mindset to the Lions. Athletic Director Chris Holly, who was involved in the hiring of coach Fries, told The Torch, "I knew coach Fries from his past history. I saw what he was doing over at FAU with limited talent and how he develops players.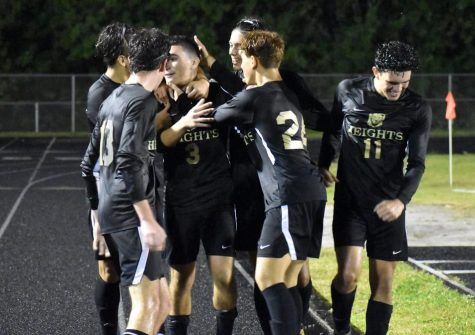 "Coach Fries is all about tough love, being that guy you can count on, and that is going to tell you how to get better," Holly continued. "Some of those things you might not like to hear, but he is going to tell you how to get better."
It hasn't been a swift ride throughout the entire season for the Lions though. Having a shorter pre-season, and needing to adapt to a new system, the boys started the season by losing four of their first six games and had a 3-6-2 record 11 games into the season. Following a second straight loss to cross-town rivals West Boca, Fries described the rocky start to the season as "frustrating and disappointing."
The boys needed to step up in order to qualify for the district playoffs, and they did just that. Spearheaded by senior Travis Trujillo's district leading 16 goals and senior Brett Mazo's team-leading six assists, the boys unfolded an eight-game win streak, closing out the regular season with 10 wins and a tie in their last 12 games.
"I would not say a slow start, just the beginning of a new culture, new players, new coach, new expectations, and a new system." Fries claimed. "The players deserve all the credit for their rapid progress this season. They had to adapt and believe, both of which they have done fantastically. The winning run is just the result of their effort and trust."
Not only did the culture change, but the players as well. Of the team's top five scorers, four of them made their high-school soccer debut this year. Seniors Trujillo and Mazo led the team with 16 and 10 goals each, followed by juniors Pedro Lagoeiro and Adrian  Thomas with seven and six respectively, and sophomore Ethan Casteneda with five. Of the five players, Mazo is the only one to have participated in the Lions boys soccer program in the past.
This is the team's first winning season since 2016, and the major and quick turn-around has made noise around the school. "Our principal couldn't believe the difference, from last year to this year," Holly mentioned. "The senior night, the expectations, everything. It's fantastic, and I love watching it. This is a really good opportunity, and there is light at the end of that tunnel."
This opportunity is only bound to get better. The Lions have secured the #1 seed in the District 13-6A playoffs and will play Seminole Ridge in the first round, Monday, Jan. 31 at 7:00 pm. In their regular-season matchup, the Lions defeated Seminole Ridge 3-0, with two goals by Lagoeiro and one by Trujillo.
"Everybody's commitment to the team has definitely improved, we are extremely focused and ready for playoffs," team captain Rafael Ferreira commented. 
"As long as we stay serious, the main goal is, of course, to win states, and although it's a far goal, I believe we can make it far," added Trujillo.
The expectations on the OH boys soccer team are as high as ever, and this is just the beginning of a new culture set to last for years to come. As far as the team's chances to make a run in the playoffs, Fries stated, "They are playing with a lot of enjoyment and confidence, and with a little more belief on what they can accomplish, I like our chances to go deep in this tournament."
Leave a Comment