Heights FBLA has 11 advance from district competition
"The Happiness that the students show when they have been successful in a competition or event and how much fun they have learning new things and experiencing field trips and community service" is Ms. Cheryl  Shimmel's favorite part of being the Olympic Heights Future Business Leaders of America (FBLA) advisor. 
Shimmel was able to experience the happiness of the OH FBLA students at the FBLA awards presentation at Palm Beach Gardens on Jan. 25, as 11 members of the OH FBLA took home honors as a result of their hard work and dedication at the district competition. 
First place winners from the OH FBLA were junior Luigi Delcanale In the Personal Finance category, senior Pearl Furman in Business Communications, junior Jordan Levitt in Business Plan, and juniors Michelle Knaz and Jordyn Kelman in E-business.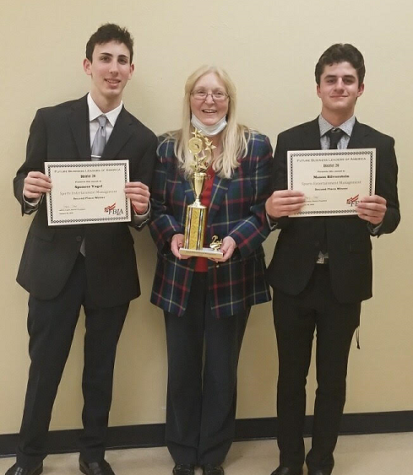 Second place finishers were senior Brooke Hollander placed second in Personal Finance, senior Ella Spencer in Agribusiness, and junior Mason Silverstein and senior Spencer Vogel In Sports Management and Entertainment. 
Rounding out the OH prize winners were juniors Reed Benson and Ian Salnovic who placed third and seventh respectively in the Personal Finance category. 
 Every member who placed will be moving onto the state competitions March 11 through 14. States is a several day event where FBLA teams from all over Florida compete in their respective competitions in hopes of moving onto the National competition. Aside from the competition, participants will be able to meet with leaders from the business world in order to learn from the business leader's expertise. 
As FBLA enters a new year of board positions for the district, the OH FBLA members were very excited to learn that their own co-president Levitt (11) was selected to be the FBLA district president for  the 2022-23 school year. . Levitt explained that his "favorite part of being a part of FBLA is not only about contributing and learning from a worthwhile organization, but I also get to be a part of a great team that works cohesively and gets along well." 
Levitt adds that FBLA is very beneficial for him as he plans on applying the communication skills that he has used, along with time management and productivity strategies that he has mastered, throughout the rest of his life. 
At OH, FBLA works very hard to benefit society in every way possible. The club has so far done three fundraisers so far this school year: a Thanksgiving food drive, Holiday Boxes for Families, and Presents for Patients. 
The officer team attended The Gardens Court nursing home, delivering Presents to Patients at the assisted living facility. This is one of many memories that Shimmel feels "will last the rest of my life." All members of the club look up to Shimmel, as she has taught everyone around her very valuable lessons, and she will take "the joy of knowing that I have touched so many lives in a positive way" with her for the rest of her life. Along with Shimmel, the members also appreciate everything advisor Ms. Olesa Svet does for the club. 
Although most outsiders might view it as just a club, to the members and officer team, it is much more than that. Junior Jordi Kelman described how the best part about being in FBLA is "being a part of a big family. Our friendship and bond is unbreakable!" 
The team spends a lot of time together planning out meetings, competitions, projects, and fundraisers. Not only is this important, but junior Michelle Knaz says the speech and leadership skills she has learned and developed through numerous competitions, meetings, and projects will be useful throughout her entire life. 
Leave a Comment