Lions football team starts 2022 season with high hopes
As the school year begins so does the high school football season. The Olympic Heights Lions football team starts their 2022 campaign tonight, Thurs., Aug.25, with a home opener against the Suncoast Chargers at 6:30pm. The Lions and second year head coach Mr. Brandon Knight look to improve on their 2021 record of 4-6.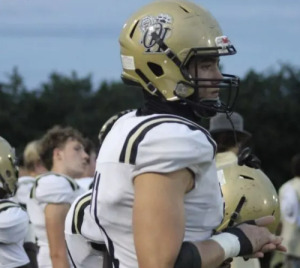 A much rejuvenated OH team go into the 2022 season looking to have their first winning season in five years, the last coming in 2017 when Lions posted a 5-4 record. Even with a talented young team, this task won't be easy as the Lions come into a fresh season in a new district – Division 4M District 12 – which now includes Monarch, Stoneman Douglas, and Coral Springs.
"I think we matchup well in this new district," Knight told The Torch, "I know Monarch is the powerhouse in this district; it's gonna be really tough, so I think it's a good opponent for us. Stoneman Douglas, they are very similar to us. We both have hard working kids who buy into what the coaches are trying to do. And then Coral Springs we should be able to play a very competitive game with them and come out with a win."
It has been a long summer for the Lions as work got started early. "Over the summer we've had pretty good attendance in the weight room, a lot of guys showing up, putting in the work," Knight said.
"Our expectations this year, as we look at our schedule, is to make a playoff run," Knight continued. "I think we have the guys to do it. I think our schedule is set up in a way that we can make a good run."
This is a big year for Knight and the team as it is the first season in the past few years of OH Football in which the team will have a full staff. The Lions second year head coach seems to be excited for what this staff can bring to the table this season.
"Having a full staff just allows us to have more individual time to really sharpen our tools and perfect our craft and what we're trying to do," Knight explained.
The Lions have lost close to 20 seniors from last season's team, some who had a big impact on the team, but the amount of lost players doesn't seem to bother Knight who is focused on the upcoming talent and the players he has on his hands now.
"Yeah we lost 20 seniors, but only eight used to really play for us," Knight commented. We lost our senior quarterback and our senior running back, but I think Sean Kay at quarterback is filling in really nicely, and then Sean Lutin at running back as well."
As far as the upcoming talent, this year's team includes four freshmen, and 18 sophomores. The 50-man roster is loaded with young players who will be able to leave an impact on OH for seasons to come.
"We got many young guys, I think Amir Holstick who is going into sophomore year is gonna be a really big surprise. And then the two outside backers Hunter Timmons and Carson Press. Both young guys filling up as linebackers," Knight added. "We're really high on some of these kids who will give us an opportunity. Jayden Phipps as well, who is a freshman. He was with us all summer, and he is someone we are really looking forward to in the future."
Alongside the younger side of the roster, the Lions also have some veteran players coming into this season with very high expectations. Knight also highlights senior defensive end/tight end Parker Poloskey and senior cornerback Bill Charles as team leaders and key components to this season's success. 
"Parker was just named Top-63 in Palm Beach and Treasure Coast Counties, coming in at number 31. He right now has two D1 offers, and I think more will jump along as the season goes on," Knight explained.
"Bill Charles is another guy who is starting to get some D1 interest from some other schools," Knight continued. "I think both of those guys are ready as far as living up to the challenges and expectations."
Poloskey, who has had the lights shining on him this off-season, looks to start the season off in style as he told The Torch, "I expect to start the season off with a big win in front of our home crowd. For the season I hope and expect a winning season and a playoff berth. As a young team we've been working real hard, and I hope this grind doesn't disappoint."
Leave a Comment