Lions football starts season with a 14-12 win over Suncoast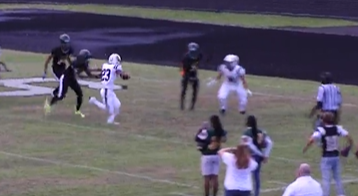 The Olympic Heights Lions football team won it's 2022 season opener with a 14-12 home victory over the Suncoast Chargers on Thursday, August 25. The win came as a result of two rushing touchdowns by senior running back Sean Lutin and a stiff Lions' defense that gave little ground.
Lutin's first touchdown came on a 3-yard run midway through the second quarter after the two teams went scoreless for the first quarter and a half. Lutin had runs of 13 and 10 yards on the 21-yard scoring drive. Junior placekicker Braden Kimmel's point after staked the Lions to a 7-0 lead.
The Lions were on what looked to be shaping up as a second scoring drive when Suncoast intercepted Lions' senior quarterback Shawn Kay's pass at the Suncoast 15-yard line and returned it 85 yards for a pick-six touchdown. A two-point conversion attempt by Suncoast failed, and the first half ended with the Lions leading 7-6.
Suncoast wasted no time in taking the lead early in the third quarter, taking the ball 75 yards on two plays for a touchdown on their opening drive of the second half. The drive consisted of two rushing plays, the first 26 yards and the second for 49 yards and the score. Once again, the Suncoast two-point conversion attempt failed, but the Chargers had a 12-7 lead just minutes into the second half.
Those two plays leading to the Chargers' score were two of the few big gain plays the OH defense allowed throughout the entire game. For the most part, the Lions defense held the Suncoast offense in check all night.
The two teams trades uneventful possessions until Lutin scored for the second time on a 7-yard run with 10:26 remaining in the fourth quarter. Kimmel added the point after, putting the Lions up 14-12.
Suncoast made a furious attempt to take the lead back late in the game, moving the ball down to the Lions' 13-yard line. However, the OH defense toughened-up, and the Chargers ran out of time, unable to score on their final possession.
The Lions put their 1-0 record on the line tomorrow night, Sept. 1, in a home game versus the John I. Leonard Lancers. Kickoff is at 6:30pm.
Leave a Comment