Olympic Heights Parent Teacher Organization aims to enhance school spirit and improve school environment
The Olympic Heights Parent Teacher Organization (PTO) is a group of adults who come together and work as a team to enhance education and appreciation through school spirit. It has a mission to create annual goals to improve the school environment. Their website's mission statement states: "The mission of our fun and rewarding volunteer-based organization is to enhance the educational and social experiences of the students at Olympic Heights Community High School, and to recognize the amazing work our teachers and administrators do throughout the year." The OH PTO has made a few changes and additions this year in order to improve the school quality and pride.
The PTO has created events that show appreciation for Olympic Heights staff and teachers. One recent event was the teacher appreciation theme night in September at a home football game. Special messages were announced for teachers and any staff at the game. Some cheerleaders took the opportunity to select teachers who have made their school-life better and enhanced their learning experience. Gifts showing appreciation were handed out along with plenty of thank yous.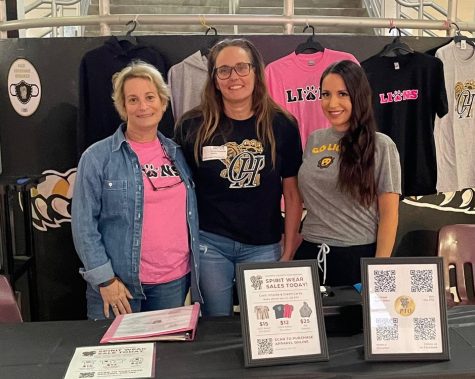 This year's PTO president is Ms. Alison Coppola, a parent of two current OH students, sophomore Ty and freshman Tommy. She, along with the rest of the PTO, is working to reinvigorate school spirit and teacher/faculty appreciation. Coppola, also an OH alumni (class of 1997) shared, "I have always been very active in my children's' schools; however, being back at Olympic definitely warms my heart. I am happy to be able to give back to my alma mater and use my parent-teacher organization experience to lead the way as president."  
The OH PTO has also reestablished a school spirit merchandise stand at Corey Lewis Stadium that had been vacant for several years. Ms. Laurie Polosky, an OH parent of ten years who has had four children graduate from OH and currently has two enrolled, Parker, a senior, and Ellie, a junior, has seen the PTO in action. "My role as a football parent volunteer includes fundraising, coordinating annual sponsor banners, concessions operations, organizing player pre-game meals, PAW painting and communications," Poloskey explains. "I have worked with many parent volunteers over the past nine years. It's a team effort!" 
Ms. Poloskey has noticed the outstanding effort that the PTO has put into the school, everyone loves what they are doing. She also mentioned that the new merchandise stand has helped increase school spirit at the football games. She feels this is because it offers fun spirit items such as pom-poms, cow bells, and spirit gear. 
The OH PTO also plays an important financial role by "providing faculty and staff with a means to request and receive much needed teacher and general school supplies, without having to dip into their own wallets,"  Marta Lautin, PTO Vice-President of Communications explained. "We are happy to report that we have already accomplished this goal by setting OH PTO up with an AmazonSmile account." Amazon users who select Olympic Heights PTO as their favorite charity will have 0.5 percent of the cost of their eligible purchases donated to the OH PTO. 
The OH PTO offers many ways for parents and students to share in the success of the Olympic Heights High School community. To learn more about how to get involved, follow @OlympicHeightsPTO on Instagram or visit www.ohpto.memberhub.com.
Leave a Comment