Little Lions Cheer event inspires future OH cheerleaders 
Fundraising and team "fair shares" are two of the most common ways high school athletic teams help offset seasonal expenses. The Olympic Heights cheer team does many fundraisers throughout the year to help cover the cost of choreography, specialty training, uniforms, travel costs and competition fees.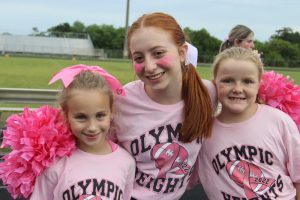 The team's most recent fundraising event was its annual Little Lions cheering program that culminated at the Homecoming football game with the varsity and junior varsity cheerleaders. Team members advertised and recruited this year's squad of Little Lions who were between five and 12-years-old and who have an interest in cheerleading, possibly even cheering at OH.
As part of the development program, the Little Lions squad attended training before the game to learn cheers, jumps, and other basic skills so they could feel confident and have fun come actual game day. Each OH cheerleader was assigned a Little Lion who becomes their partner and stood next to them at the Homecoming game.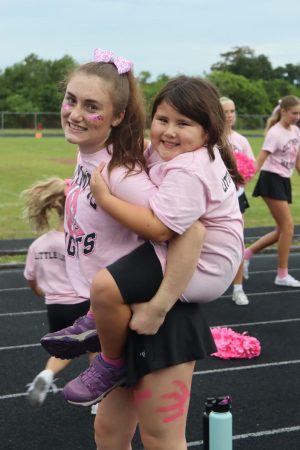 "The funds that are raised from Little Lions helps cover the season expenses," Varsity Cheerleading Head Coach Nicki Spears explained. "For example, help pay for pregame meals, cover uniforms, poms and signs." 
The Little Lions game day itself was a meaningful event for the Little Lions who participated. "I love seeing some of the same kids from prior years return. It allows me to feel as if I made an impact on their lives and that I inspired them," senior varsity cheerleader Anna Terra-Nova, who has done this fundraising event several times, shared.
The Little Lions who participated were able to do stunts and tricks with the actual cheerleaders and had a chance to feel part of the team. They were able to look into the stands, see their families, and feel a sense of accomplishment. The event also gave participants confidence and familiarity to try something new when they are older.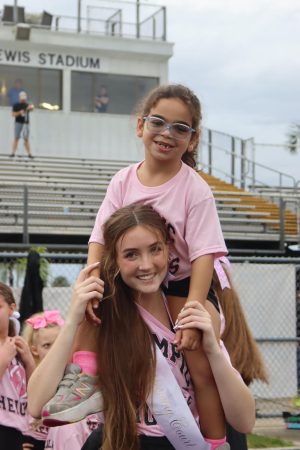 "Our first grader Lili participated in the program and loved every minute of the experience," said Ms. Celi Sweeney, parent of a Little Lion. "Lili felt so proud to be with the 'big girls' and had a night to remember."
The process begins several weeks in advance with promotions on social media, emailing past participants, and recruitment by OH cheerleaders. The next step is to have all the Little Lions come in and practice with the cheerleaders. Some cheerleaders are responsible for more than one Little Lion. At the pregame practice, a bonding experience is established amongst the cheerleaders and Little Lions.
"I look forward to the Little Lions cheerleaders looking up to me!" Junior varsity cheerleader Alex Mager shared. "I was inspired at such a young age and hope I can do the same for them!" 
Mager has always felt enthusiastic about cheerleading and wants to share her excitement and joy with others. This was her first time participating in Little Lions and she can not wait to continue on with it next year. 
Leave a Comment